What is a Fitness and Wellness Coordinator?
A fitness and wellness coordinator is someone who works for a gym or health facility and coordinates or plans all of their fitness and wellness activities - such as exercise classes, health seminars, and special events. The coordinator may also be responsible for performing a variety of administrative tasks for the facility. They help people stay fit and healthy, and help a gym or other fitness facility stay organized and in accordance with any national, state, or local laws and regulations.
What does a Fitness and Wellness Coordinator do?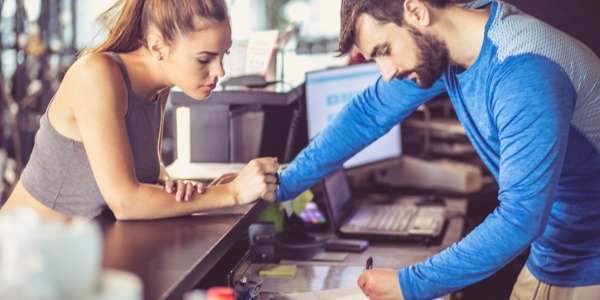 A fitness and wellness coordinator performs many different tasks to help a gym or health and fitness center stay in tip-top shape. One of the main duties of a fitness and wellness coordinator is to plan and schedule all of a fitness center's group exercise classes. This is usually updated on a monthly, quarterly, semesterly, or yearly basis. The coordinator is also responsible for hiring the instructors of the fitness classes, the gym's personal trainers, and other personnel.
The coordinator must perform routine inspections of the facility to make sure it is up to par with health and safety regulations. The coordinator will also perform routine evaluations of the employees. The fitness and wellness coordinator is the glue that holds the fitness and wellness facility together. They are responsible for ensuring the safety and enjoyment of all of the gym members. They must also ensure the safety and professionalism of the staff members. If there is ever some sort of problem at the facility, whether it be customer service related or regulation related, the coordinator will need to handle the problem diligently and with great care.
What is the workplace of a Fitness and Wellness Coordinator like?
Most fitness and wellness coordinators work in gyms, universities, and other fitness and wellness facilities. Some coordinators find work with local governments and school districts. Others may decide to open their own gym or fitness center. Still, others find employment in hospitals and assisted living facilities.
The duties within each workplace vary depending on the clients served. For example, a fitness coordinator at an assisted living facility may spend a lot of time planning gentle water aerobics courses, and other low-impact forms of exercise. However, a coordinator at a university may focus more on planning adventurous excursions for students, like rock climbing and white water rafting trips.
The coordinator will generally have a small, private office located somewhere in the administrative section of the facility. Most of these office have little to no frills, and are nothing more than a desk suitable for doing work. A coordinator is expected to spend around half of each day outside of their office, watching over the facility, and the other half of the day planning and completing paperwork in their office.
Fitness and Wellness Coordinators are also known as:
Fitness Health Wellness Coordinator Fitness Wellness Coordinator Certified Wellness Program Coordinator Certified Wellness Program Manager Wellness Coordinator Fitness Coordinator Fitness or Wellness Coordinator