What is a Medical and Clinical Laboratory Technician?
A medical and clinical laboratory technician is someone who conducts lab tests ordered by doctors and other healthcare providers. Working with laboratory machines, microscopes, and computers, they examine human tissue samples and bodily fluids in order to identify abnormalities and to determine diagnoses. A laboratory technician's work is vital to a patient's healthcare.
Difference between a technologist and a technician: A four-year medical laboratory degree program is needed to become a medical laboratory technologist. A similar two-year degree (or certificate) qualifies the graduate to work as a medical laboratory technician. Technologists generally earn a higher income than technicians do and have more opportunities for advancement.
What does a Medical and Clinical Laboratory Technician do?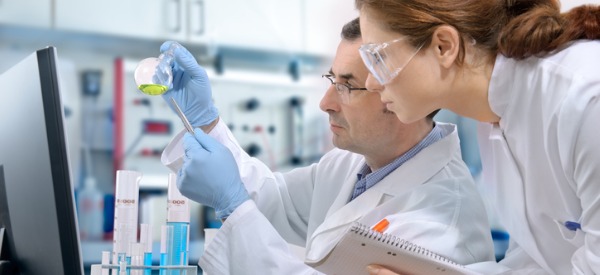 Medical and clinical laboratory technicians are the people who perform routine medical laboratory tests, giving physicians the information needed to diagnose, treat, and prevent disease. By examining and analyzing body fluids and cells, they can determine the chemical content of fluids, look for parasites, bacteria, and other microorganisms, look for abnormal cells in blood and body fluids, match blood for transfusions, and test for drug levels in blood.
Medical and clinical laboratory technicians use microscopes, cell counters, and other sophisticated lab equipment. They also use computerized instruments and automated equipment that can perform a number of tests simultaneously. After testing and examining a specimen, they analyze the results and relay those results to the physician.
Some of the duties performed by a medical and clinical laboratory technician:
set up, maintain, and clean medical laboratory equipment
collect blood or tissue samples from patients
test and analyze bodily fluids, such as blood and urine, by using a microscope or automatic analyzer
examine cells to locate any abnormalities
detect and decipher abnormalities or diseases
enter findings into computer, and record test data to issue reports
conduct blood tests for blood transfusion purposes and perform blood counts
prepare tissue samples for examination by pathologists
when abnormal cells are found, consult with a pathologist to determine a final diagnosis
supervise other technicians and laboratory assistants
What is the workplace of a Medical and Clinical Laboratory Technician like?
Medical and clinical laboratory technicians work in hospitals, medical or diagnostic laboratories, physician's and dentist's offices, and in state or federal agencies. Working hours may vary according to the type of employment setting. In hospitals or laboratories that operate as a 24-hour facility, technicians usually work the day, evening, or night shift and may work weekends and holidays. Technicians in small facilities may work on rotating shifts, rather than on a regular shift, and may be on call in case of an emergency.
When proper methods of sterilization are followed, few hazards exist. However, protective masks, gloves, and goggles are often necessary to ensure safety. The workplace is usually well-lit and clean; however, specimens and solutions used in the laboratory sometimes produce fumes.
Medical and Clinical Laboratory Technicians are also known as:
Certified Clinical Laboratory Technician Clinical Laboratory Technician Clinical Lab Tech Laboratory Technician Medical Laboratory Technician Medical Lab Technician