What is an Orthotist and Prosthetist?
Accidents, injuries, birth defects and disease are some of the many reasons why people lose limbs or suffer orthopedic difficulties. Orthotists and prosthetists help their patients regain mobility by fitting them with orthopedic braces and artificial limbs.
Orthotics is the branch of medicine that provides splints, braces or special footwear to their patients, and prosthetics is the branch of medicine that designs and creates artificial body parts that match the missing limb as closely as possible. Orthotists and prosthetists may work in both orthotics and prosthetics, or they may choose to specialize in one area.
What does an Orthotist and Prosthetist do?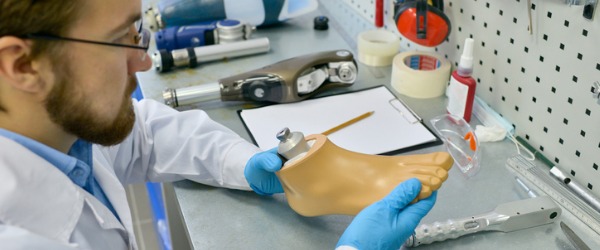 Some orthotists and prosthetists construct devices such as splints, braces, footwear, and artificial body parts for their patients, while others supervise the construction of these devices by medical appliance technicians.
Both prosthetists and orthotists are trained to use up-to-date digital imaging techniques and CAD (computer-aided design) and CAM (computer-aided modelling). In either role, orthotists and prosthetists work with physicians, nurses, podiatrists, physiotherapists, occupational therapists, and medical appliance technicians.
Orthotists and prosthetists typically do the following:
Evaluate and interview patients to determine what their needs are
Take measurements or impressions
Based on a physicians' prescription, design and fabricate orthopedic and prosthetic devices
Select materials for devices
Show patients how to use and care for their devices
Adjust, repair, or replace devices
Keep patient records
Prosthetists
Prosthetists work with people of all ages who may have been born with a limb missing, lost a limb in an accident or during military service, or had a limb amputated as a result of a condition such as diabetes. A prosthetist usually works in conjunction with physicians and surgeons to find the best prosthetic solution for the patient.
A prosthetist measures the dimensions and takes note of the nature of prosthetics that a physician has recommended for a patient. They make a model of the area where the prosthesis will be fitted. Assessing the patient and understanding what they want and need is an important part of their job (for example, some prostheses are designed for playing a particular sport). When fitting the made prosthesis, adjustments will most likely need to be made in order to make sure the patient is comfortable with the fit and the performance.
Orthotists
Patients must have a prescription from a physician to receive care or services from an orthotist. Orthotists are responsible for taking into consideration each patient's unique situation and medical needs. They aid a patient's movement, correct deformities, and relieve discomfort. They work with physicians to make and fit braces and splints for patients, and treat people of all ages with a wide range of conditions that may include arthritis, cerebral palsy, stroke, spina bifida, and scoliosis. They custom fit special devices for patients who have spine or limb injuries, as well as those who have deformities of the feet, limbs, or spine.
Orthotists will work with the patient's doctor, podiatrist, and physical therapist to prescribe appropriate braces and splints for their patients, and will also work with a medical appliance technician who will help with many aspects of the brace or splint fitting.
What is the workplace of an Orthotist and Prosthetist like?
The need for orthotic and prosthetic services is rising rapidly, due in part to increasing obesity, diabetes, and an aging population. The industries that employ the most orthotists and prosthetists are medical equipment and supplies manufacturing; health and personal care stores; ambulatory healthcare services; hospitals—state, local, and private; private clinics, and the federal government.
Orthotists and Prosthetists are also known as:
Certified Prosthetist/Orthotist CPO Licensed Prosthetist/Orthotist LPO Orthotic/Prosthetic Practitioner O&P Professional