Surgeons can choose to specialize in one particular area of medicine and perform surgery related specifically to that area. The following provides information on various surgical specialties:
Cardiothoracic
Cardiothoracic surgery focuses on issues and diseases of the heart, lungs, oesophagus and chest. Cardiothoracic surgeons can perform a variety of surgical procedures for issues such as: coronary artery disease, blockages of the arteries in the heart, blockages in the heart valve(s), leaking heart valve(s), abnormal enlargement or aneurysms of the large arteries in the chest, heart failure, and atrial fibrillation. Surgical procedures can often be complicated, such as in cases like replacement valve operations and coronary artery bypass grafting.
Monitoring patients in intensive care is an important part of a cardiothoracic surgeon's work. Complications can sometimes occur, including heart-beat irregularity (arrhythmias), stroke, post-operative bleeding, fluid around the lungs, infection, or thrombosis.
Within the specialty of cardiothoracic surgery, there are also several sub-specialties:
Adult Cardiac Surgery
Pediatric Cardiac Surgery (surgery on newborns and infants to correct issues that were present at birth)
Thoracic Surgery (benign diseases, tumors, cancer of the lungs and oesophagus)
Congential Cardiac Surgery
Heart and Lung Transplant Surgery
Heart Failure Surgery
Pediatric
Pediatric surgery focuses on children that need surgical intervention for medical conditions and illnesses. Pediatric surgeons are focused on the diagnosis, preoperative, operative, and postoperative management for fetuses, infants, children, adolescents, and young adults.
Surgical problems seen by pediatric surgeons are often quite different from those commonly seen by general surgeons, therefore it is common for them to work together with other specialists that may be involved in a child's medical care (such as neonatologists, pediatricians, and family physicians) in order to decide whether surgery might be the best option.
Some medical conditions in newborns and children do not lend themselves to a good quality of life unless they are corrected surgically. Examples of necessary surgeries may be things such as: birth defects, undescended testes, hernias, hydroceles and varicoceles, liver lacerations, tumours, transplants, bronchoscopies, esophagogastroduodenoscopies, and colonoscopies.
Sub-specialties of pediatric surgery include:
Neonatal Surgery (the surgical repair of birth defects)
Fetal Surgery (working with radiologists, surgeons use ultrasound during the fetal stage to detect abnormalities)
Pediatric Urological Surgery (illness or disease of the genitals or urinary tract (kidneys, ureters, bladder)
Pediatric Hepatobiliary Surgery (gallbladder and liver disease)
Pediatric GI Surgery (appendicitis, tumors, complex problems of the esophagus, liver, pancreas, stomach, and intestines)
Pediatric Oncological Surgery (malignant tumours and benign growths)
Obstetrics and Gynecology
Obstetrics and gynecology is a very broad and diverse branch of medicine. It includes surgery, management and care of pregnant women, delivering babies, gynecologic care, oncology, and primary health care for women. There are four sub-specialties in this field: gynecologic oncology, reproductive endocrinology and infertility, maternal fetal medicine, and female pelvic medicine and reconstructive surgery.
Obstetrician-gynecologists have extensive knowledge about the medical and surgical care of the female reproductive system and associated disorders. Surgical procedures include laser surgery, cervical biopsy, diagnostic laparoscopy, operative laparoscopy such as laparoscopic ovarian cystectomy, tubal ligation, diagnostic and operative hysteroscopy, dilation and curettage (D&C), and endometrial ablation. Inpatient surgical procedures include hysterectomies performed vaginally, abdominally, and laparoscopically.
Some obstetricians/gynecologists have a strong professional interest in a specific area such as urogynecology, pelviscopy, adolescent/pediatric gynecology, or infectious diseases.
General Surgery
A general surgeon is a physician who has been educated and trained in anatomy, emergency and intensive care, immunology, metabolism, pathology, physiology, shock and resuscitation, and wound healing.
General surgeons are trained to provide surgical care for the 'whole' patient (affecting almost any area of a patient's body) within a wide range of surgical conditions - which includes making a diagnosis as well as the preoperative, operative and postoperative care of a patient. They have knowledge and technical skills in taking care of medical conditions that relate to the head and neck, breast, skin, and soft tissues, abdominal wall, extremities, and the gastrointestinal, vascular, and endocrine systems.
A general surgeon's practice may vary depending on where the practice is. In rural areas, some surgeons may also perform gynecologic, urologic, orthopedic and ENT surgeries. In some academic centres, a general surgeon might limit his/her practice to one subspecialty.
Colorectal
A colorectal surgeon is a physician who specializes in treating diseases of the colon, anal canal, rectum, perianal area, as well as the entire gastric tract through medical and surgical means. Colorectal surgeons are also able to perform surgery on other organs and tissues (such as the liver, urinary, and female reproductive systems) involved with primary intestinal disease. Managing conditions such as hemorrhoids, fissures (painful tears in the anal lining), abscesses, and fistulae (infections located around the anus and rectum) can be managed in the office.
Since colorectal surgeons care for patients with diseases that affect the lower gastrointestinal tract, they can perform endoscopic procedures to detect and treat conditions of the bowel lining, such as cancer, polyps (precancerous growths), and inflammatory conditions, and can also perform abdominal surgical procedures that involve the small bowel, colon, and rectum, including treatment of inflammatory bowel diseases, such as chronic ulcerative colitis, Crohn's disease, diverticulitis, and cancer.
Vascular
Vascular surgery became a surgical specialty in its own right in 2012. Vascular surgeons are educated and trained to deal with conditions and diseases affecting a patient's vascular system (veins, arteries, blood vessels). Examples of some common surgical procedures include: carotid endarterectomy, angioplasty and lower limb bypass surgery.
A vascular surgeon is able to treat many conditions that affect the blood vessels in every part of a patient's body (except for the heart and brain). According to the Heart and Vascular Institute, some of these conditions may include:
Aneurysm - a bulge or weak spot in an artery
Atherosclerosis - a hardening of the arteries, where plaque builds up on the artery walls
Carotid artery disease or peripheral artery disease (PAD) - arteries that bring blood to the neck or limbs become narrow or blocked
Compression disorders - nutcracker syndrome and thoracic outlet syndrome
Dialysis access - placement of a graft or fistula that allows a patient to receive dialysis treatment for kidney disease
Deep vein thrombosis (DVT) - a blood clot in a vein deep below the skin
Spider veins - small webs of veins just below the surface of the skin
Trauma to arteries and veins - caused by accidents or injuries
Varicose veins - large, swollen, twisted veins that can cause pain or aching in the legs
Venous ulcers and arterial and diabetic (neuropathic) wounds - non-healing wounds that result from poor blood flow, especially in the legs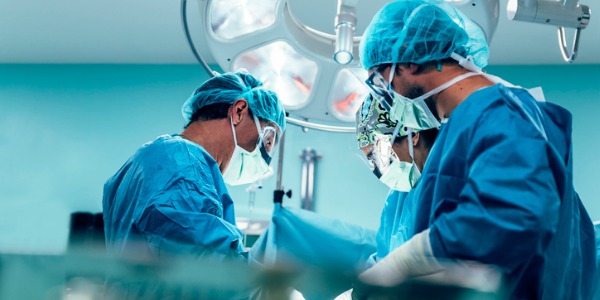 Urology
Urology deals with the urogenital system, specifically organs such as the kidney, prostate, bladder, urethra, testes, penis, and associated glands. Urologists are surgical specialists who treat patients for problems and diseases of the urinary tract, adrenal gland, and male reproductive system. This includes diseases and conditions such as: kidney stones, urinary tract stones, infection, blood in urine, cancer (prostate, bladder, testicle and kidney), incontinence, pelvic floor problems, erectile dysfunction, and traumatic injury to the urinary tract. Urologists also perform vasectomies and kidney transplants.
Specialist areas include: complex pelvic surgery, uro-gynaecology, andrology and paediatric urology. Some urologists are also specially trained in reconstructive surgery, and they perform surgeries on genitalia abnormalities that are present at birth, as well as assist with patients that have been injured in an accident.
Musculoskeletal
Orthopaedic surgery is specifically focused on the musculoskeletal system. An orthopaedic surgeon takes care of bones, joints, ligaments, arteries, muscles, tendons, and nerves, and also works with fractures and other injuries. Orthopaedic surgeons take care of a wide variety of problems, such as congenital deformities, trauma, infections, tumours, degenerative conditions, cerebral palsy, paraplegia, and metabolic disturbances that fall into the category of musculoskeletal abnormalities.
Orthopaedic surgery is a very broad field and includes a number of specialty areas, such as lower limb joint reconstruction, hip or knee, ankle and foot, upper limb, spine, bone tumours, paediatric orthopaedics, rheumatoid surgery, and sports and exercise surgery. Surgical procedures can take up much of the orthopaedic surgeon's practice, however many conditions can be treated medically or physically through the use of braces, casts, splints, or physical therapy.
Orthopaedic surgeons can specialize in various areas:
Hand Surgery - treatment of diseases, injuries, or abnormalities affecting the upper extremities, and includes the performance of microvascular surgery, which is necessary for reattachment of amputated fingers or limbs
Sports Medicine - injuries to the musculoskeletal system
Pediatric Orthopaedics - children with orthopaedic problems including scoliosis, cerebral palsy, congenital dislocation of the hips, clubfoot etc.,
Spine Surgery - major spine problems as a result of disease, degeneration, or trauma (orthopaedic spine surgeons frequently work with neurosurgeons)
Foot and Ankle Orthopaedics - involving the foot and ankle that are treated by both surgical and nonsurgical techniques
Joint Replacement - damaged or worn-out joints (usually hips or knees) are surgically replaced with artificial devices
Trauma Surgery - patients with critical or multiple injuries to the musculoskeletal system (involves close cooperative efforts with many other specialties in surgery)
Oncology - the management of benign and malignant tumours affecting the musculoskeletal system
Plastic
Plastic surgeons focus on repairing, replacing, and reconstructing defects of the body's covering and its musculoskeletal system underneath so as to restore normal form and function (eighty percent of all plastic surgery is reconstructive surgery). While cosmetic surgery is probably the most visible and perhaps the most glamorous aspect of plastic surgery, it's a relatively small part of the specialty. Plastic surgery may be used not only to enhance a person's looks, but also to restore a patient's appearance following an accident or a bout with cancer or another disease. Cosmetic surgery reshapes normal body parts for aesthetic reasons, while reconstructive surgery repairs or replaces body parts damaged by accidents, illness or malformation.
Plastic surgeons primarily focus on the upper and lower limbs, the craniofacial structures, the oropharynx, the breast, and the external genitalia. They also focus on structures patients feel are undesirable and perform 'aesthetic' surgery on those areas. There are many reasons why people seek out the services of a plastic surgeon, for example: injuries on the face, body, or limbs; burns and scalds; congenital abnormalities; hand and upper limb surgery; facial deformities; cleft lip and palate; excess skin removal; breast reduction and augmentation; and breast reconstruction.
Oral and Maxillofacial
Oral and maxillofacial surgeons work on the facial bones, face and neck (which includes both hard and soft tissue), and treat dental and medical problems involving the oral cavity and the maxillofacial area. The maxillofacial area of the body includes the bones of the forehead, face, cheekbones and the soft tissues. These types of surgeons can specialize in head and neck oncology; adult facial deformity; orthognathic surgery; cleft surgery; and facial trauma management.
A facial and oral abnormality could not only interfere with someone's ability to function normally, it can affect every part of their life. Oral and maxillofacial surgeons have the skills necessary to restore a person's function and appearance, but foremost, a person's ability to live normally. An oral and maxillofacial surgeon is really a combination of both a dentist and a medical doctor - many oral and maxillofacial surgeons have degrees in both dentistry and medicine.
Bariatric
Bariatric surgeons are specialists who specialize in the treatment of obesity with surgery. Bariatric surgery (or weight loss surgery) includes a variety of procedures performed on people who have obesity, such as: reducing the size of the stomach with a gastric band; through removal of a portion of the stomach (sleeve gastrectomy or biliopancreatic diversion with duodenal switch); or through gastric bypass surgery (resecting and re-routing the small intestine to a small stomach pouch).
Brain
Neurosurgery involves the brain, central nervous system, and spinal cord, and covers everything from pre-operative imaging to the removal of tumours. These types of surgeons diagnose, evaluate, and treat disorders of the central, peripheral, and autonomic nervous systems. They may choose to specialize in: paediatric neurosurgery, neuro-oncology (cancer of the brain), functional neurosurgery (neurological problems such as pain, epilepsy, and movement disorders), traumatology, neurovascular surgery, skull-base surgery, or spinal surgery. Spinal surgery and paediatric neurosurgery are the two largest sub-specialties.
Neurosurgeons often perform multiple procedures in a single day, ranging from simple outpatient treatments to complex brain surgeries. Patient problems may be the result of abnormal development from birth (congenital), from aging or "wear and tear" (degenerative), trauma from a definite injury, infectious, neoplastic from a tumour, or related to other medical conditions or disease.
Otolaryngology
Otolaryngologists (commonly referred to as ENT physicians) are specialists trained in the medical and surgical diagnosis and treatment of patients with diseases and disorders of the ear, nose, throat (ENT), and related structures of the head and neck. These specialists are trained in both medicine and surgery.
These types of physicians/surgeons may specialize in: paediatric ENT; head and neck; voice and complex airway; otology (ear); and rhinology (nose). Head and neck oncology and facial plastic and reconstructive surgery are also areas of expertise for the otolaryngologist. As well as seeing patients in an office setting, most otolaryngologists also perform surgeries in an outpatient centre or in a hospital. Otolaryngologists can perform up to 250-300 surgeries annually.
Academic
Academic surgery involves clinical work as well as some research or teaching in a higher education setting. An academic surgeon generally refers to a medical school's department of surgery faculty member. This type of surgeon operates, teaches, and also does research.
Clinicians from the Michael E. DeBakey Department of Surgery at Houston's Baylor College of Medicine wanted to highlight the attributes of these physicians. They turned to their own faculty colleagues at Baylor to uncover how those surgeons effect advancements in medicine. Their analysis produced seven attributes common to each of the surgeons. They:
Identify complex clinical problems ignored or thought unsolvable by others
Become an expert
Innovate to advance treatment
Observe outcomes to further improve and innovate
Disseminate knowledge and expertise
Ask important questions to further improve care
Train the next generation of surgeons and scientists
An academic surgeon is a physician-scientist who "typically devotes years of careful observation, analysis, and iterative investigation to identify and solve challenging or unexplored clinical problems," and then employs available resources in their medical community to support these endeavours.
Podiatric
The specialty of foot surgery may be performed by a physician, such as an orthopedic surgeon, or a podiatrist. Advanced surgical podiatrists focus on advanced surgical techniques, including foot and ankle reconstruction after injury. There are also specialties in geriatrics, dermatology, orthopedics, vascular medicine, diabetes and other areas.
Ophthalmology
An ophthalmologist is a medical and surgical specialist that deals specifically with the structure, function, diseases, and treatment of the eye. An ophthalmologist can perform eye surgeries such as: cataract extraction; lens replacement; cornea reshaping; transplants; retinal detachment repair; and glaucoma treatment. Most of these procedures are often performed with the aid of lasers and computerized surgical tools, but the majority are still done by hand.
Ophthalmologists can also operate on animals, as the eye's anatomy and physiology have few differences among closely related species. However, a veterinary eye doctor is often considered a different specialist with separate licensing and regulation.
Related Careers
A CEO (Chief Executive Officer) is the highest ranking executive, and head of an organization or corporation.