What is a Shipping/Receiving Clerk?
A shipping/receiving clerk is someone who completes tasks that help a warehouse run smoothly. They send, accept and record the movement of parts, supplies, materials, equipment and stock to and from an establishment. In addition to tracking inventory and keeping records, they may also package items, inspect merchandise and complete other related duties.
What does a Shipping/Receiving Clerk do?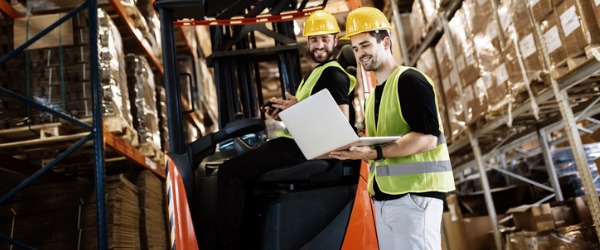 A shipping/receiving clerk typically works in a warehouse environment and is responsible for tracking inventory levels, handling all aspects of shipping and receiving, and keeping accurate records. On the shipping side, they package items, print labels, weigh packages and determine appropriate postage. As receiving clerks, they are responsible for comparing bills of lading against actual merchandise received, inspecting for damaged goods and, once approved, distributing merchandise to the correct departments.
Shipping/Receiving Clerk's Duties and Responsibilities:
Determines method of shipment and prepares bills, invoices and other shipping documents
Receives merchandise - checks and signs delivery slips, and assists with unloading as necessary
Inspects and verifies incoming goods against invoices or other documents, records shortages and rejects damaged goods
Accepts or returns merchandise according to established company procedures. Calculates prices according to guidelines, and affixes bar codes, prices, and security tags as necessary.
Organizes distribution and shipping of merchandise. Makes necessary verifications against documents, unpacks and routes goods to appropriate storage areas. Handles customer pick-ups.
May operate forklift, hand truck or other equipment to load, unload, transport and store goods
Maintains internal record-keeping systems
Contacts resource people for various information. Contacts transport companies and suppliers in order to expedite, trace or return merchandise that does not conform to specifications or purchase orders.
Assembles containers and crates, packs goods to be shipped and prepares identifying information and shipping instructions
Knows safe storage and handling procedures for various chemicals and materials
Knows proper shipping procedures for transportation of dangerous goods
Takes inventory, maintains storage area, organizes and places stock on shelves. Ensures area is secure at all times.
What is the workplace of a Shipping/Receiving Clerk like?
A shipping/receiving clerk can be employed by retail and wholesale establishments, manufacturing companies, and other commercial or industrial establishments. Clerks employed in new shipping centres or large department stores usually work in comfortable areas that are air-conditioned, well-heated and lighted.
Workers may be required to work outdoors. As a result, they may be exposed to extreme temperatures - both cold and heat. Where the temperature in the building cannot be controlled adequately, work may be done in hot environments (especially during summer months). Alternatively, shipping/receiving clerks assigned to work in cold or frozen storage areas may experience cold stress. Noise may also be a concern depending on the types of activities carried out.
Shipping/Receiving Clerks are also known as:
Receiver Shipper Receiving Clerk Receiving Manager Shipping and Receiving Clerk Shipping Clerk Shipping Coordinator Traffic Manager Warehouseman