What is a Sound Engineering Technician?
A sound engineering technician sets up, operates, and maintains the electrical equipment for radio and television broadcasts, concerts, sound recordings, and movies.
This is a great career choice for those who have a good ear for music and sound, but prefer to work on the technical side of things.
What does a Sound Engineering Technician do?
Sound engineering technicians operate equipment that synchronize, mix, or reproduce music, voices, or sound effects in recording studios, sporting arenas, theatre productions, or movie and video productions. They record audio performances or events, and may combine tracks that were recorded separately to create a multi-layered final product.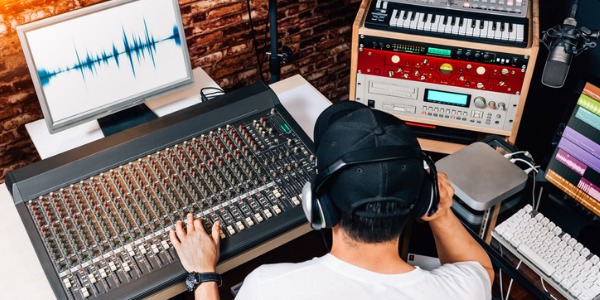 Sound engineering technicians operate transmitters to broadcast radio or television programs and use computers to program equipment and to edit audio recordings. They may also set up and operate custom lighting systems. They connect wires and cables and set up and operate sound and mixing boards and related electronic equipment. They work with microphones, speakers, video screens, projectors, video monitors, and recording equipment.
Sound engineering technicians typically do the following:
Operate, monitor, and adjust audio and video equipment
Ensure quality in radio and television broadcasts, concerts, and other performances
Set up and tear down equipment for events and live performances
Record speech, music, and other sounds on recording equipment
Synchronize sounds with action taking place on television or in movie productions
Convert video and audio records to digital formats for editing
Install audio, video, and sometimes lighting equipment in hotels, offices, and schools
Report and repair equipment problems
Keep records of recordings and equipment used
Sound engineering technicians that work for smaller radio and television stations may have a wider range of responsibilities, whereas those who work for larger stations are more likely to specialize.
They frequently work directly with clients and must listen to, understand, and provide solutions to problems in a simple and clear manner. In addition, many audio and video equipment technicians are self-employed and must spend time marketing themselves to prospective clients.
What is the workplace of a Sound Engineering Technician like?
A sound engineering technician typically works indoors in radio, television, movie, or recording studios. However, some work outdoors in all types of conditions to broadcast news and other programs. They also set up audiovisual systems in offices, schools, government agencies, hospitals, and homes.
Sound Engineering Technicians are also known as:
Broadcast and Sound Engineering Technician Broadcast Engineering Technician Broadcast and Sound Technician Broadcast Operations Technician