What is a Wind Turbine Services Technician?
A wind turbine services technician is someone who is specially trained to prevent wind turbines from malfunctioning or stopping completely. This is done by providing wind farms with routine inspections, troubleshooting any problems, and repairing the wind turbines when necessary.
What does a Wind Turbine Services Technician do?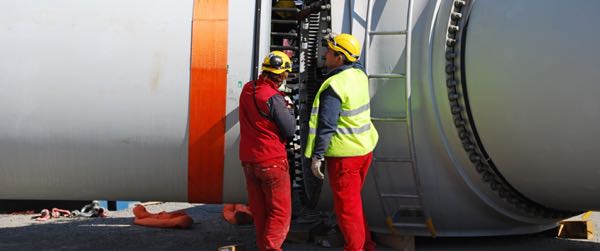 Wind turbine services technicians routinely inspect wind turbines to make sure they are in good working order. Wind turbine inspections require the technician to climb the turbine and inspect all the parts of the turbine. If any problems with the turbine are found, then the technician will note the problems and schedule it for repair. It is also the wind turbine service technician's responsibility to make sure that the wind farms' storage facility has the proper parts to make the repair, or to order the parts if they are not in stock.
Routine maintenance or common repairs of wind turbines include component replacement, hydraulic system repair, troubleshooting electrical issues, fluid changes and torquing the turbine.
What is the workplace of a Wind Turbine Services Technician like?
Wind farms are found all over the world, but they are almost always in isolated rural areas. The isolated locations require wind technicians to live near the farm to decrease the amount of time it takes to arrive at the job site. This is especially important if a wind turbine suddenly stops working and must be repaired immediately.
Traveling technicians have the added responsibility of maintaining more turbines in a larger area than those who only specialize in one particular area.
Wind Turbine Services Technicians are also known as:
Wind Turbine Maintenance Technician Certified Wind Turbine Technician