What is a Data Scientist?
Big data is a term used to describe sets of data so large that traditional data processing applications aren't able to handle them. This has led to a growing need for data scientists - individuals who can interpret the required data sets to help businesses make better strategic decisions.
Data scientists collect and report on data, and communicate their findings to both business and technology leaders in a way that can influence how an organization approaches a business challenge. They have a solid foundation in computer science, mathematics and algorithms, human behaviour, and knowledge of the industry they're working in.
What does a Data Scientist do?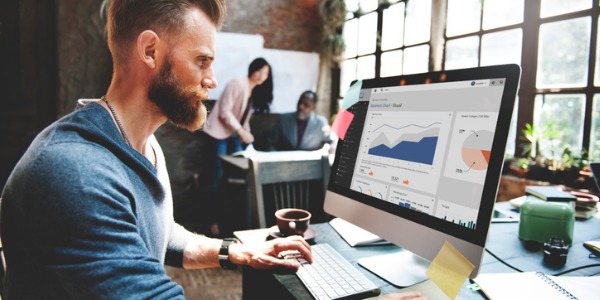 Today's businesses track everything from website visits and customer transactions, to individual consumer reviews - we are living in a world of data overload. Hidden within this huge amount of data are new revenue streams and business efficiencies. Data science comes into play when there are complex systems generating lots of data that needs to be taken advantage of. That means more than just analyzing the data. It means building models using intricate algorithms to explain or predict behaviour. These models need to be testable and this is where the scientific process comes in.
Data scientists not only have to pay attention to the data and what it means, but understand the problems and know about matching algorithms to those problems, and understand the engineering to come up with solutions. Combining skills within statistics, computer science and analytics, the data scientist will extract meaning from the data that will allow businesses to realize hidden revenue streams and business efficiencies.
A typical day for a data scientist involves extracting data from various sources, running it through an analytics platform, and then creating visualizations of the data. They will then proceed to spend hours sifting and analyzing the data from multiple angles, looking for trends that may uncover problems or opportunities. Any insight is then communicated to business and technology leaders with recommendations to adapt existing business strategies.
Duties and requirements of a data scientist:
Conduct extensive research
Sift through huge volumes of data from multiple internal and external sources
Use complicated analytics programs, machine learning and statistical methods to prepare data
Go through data to discard irrelevant information
Examine data from various angles to see hidden weaknesses, trends and/or opportunities
Come up with data-driven solutions to pressing challenges
Invent new algorithms to solve problems
Clearly explain findings to management and IT departments through visualizations and reports
Recommend cost-effective changes
What is the workplace of a Data Scientist like?
The term data scientist can cover many roles across many industries and organizations from academia, to finance, or government. The finance, retail and e-commerce sectors are leading the way in hiring data scientists to help them better understand different audience groups and target them with products specific to their tastes. However, progress is also being made in industries such as telecoms, transport, and oil and gas, as more companies come to rely on big data to make decisions that impact their sales, operations and workforce.
Data Scientists are also known as:
Business Intelligence Consultant