What is a Database Administrator?
Are you detail-oriented, organized, and like working in a structured environment? You may want to consider a career as a database administrator!
A database administrator uses software to store and organize data, such as financial information and customer shipping records. They make sure that data is available to users and is secure from unauthorized access.
Database administrators work in many different types of industries, including computer systems design and related services firms, insurance companies, banks, and hospitals.
What does a Database Administrator do?
Database administrators, often called DBAs, make sure that data analysts can easily use the database to find the information they need and that the system performs as it should. DBAs sometimes work with an organization's management team to understand the company's data needs and to plan the goals of the database.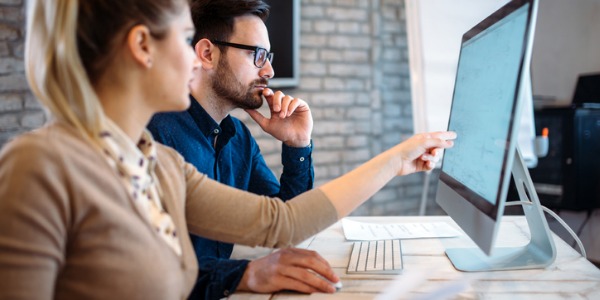 Database administrators often plan security measures, making sure that data is secure from unauthorized access. Many databases contain personal or financial information, making security important. Database administrators are responsible for backing up systems in case of a power outage or other disaster. They also ensure the integrity of the database, guaranteeing that the data stored in it comes from reliable sources.
DBAs must be able to monitor a database system's performance to determine when action is needed. They must be able to evaluate complex information that comes from a variety of sources. Most database administrators work on teams and must be able to communicate effectively with developers, managers, and other workers.
Working with databases requires an understanding of complex systems, in which a minor error can cause major problems. For example, mixing up a customer's credit card information can cause someone to be charged for a purchase he or she didn't make. Database administrators use software to make sense of information and to arrange and organize it into meaningful patterns. The information is then stored in the databases that these workers administer, test, and maintain. When problems with a database arise, administrators must be able to diagnose and correct them.
Some responsibilities of a database administrator include:
Identifying user needs to create and administer databases
Ensuring that the database operates efficiently and without error
Making and testing modifications to the database structure when needed
Maintaining the database and updating permissions
Merging old databases into new ones
Backing up and restoring data to prevent data loss
Many database administrators are general-purpose DBAs and have all these duties. However, some DBAs specialize in certain tasks that vary with the organization and its needs.
There are two common database administrator specialties:
System DBAs
System DBAs are responsible for the physical and technical aspects of a database, such as installing upgrades and patches to fix program bugs. They typically have a background in system architecture and ensure that the database in a firm's computer system works properly.
Application DBAs
Application DBAs support a database that has been designed for a specific application or a set of applications, such as customer service software. Using complex programming languages, they may write or debug programs and must be able to manage the aspects of the applications that work with the database. They also do all the tasks of a general DBA, but only for their particular application.
What is the workplace of a Database Administrator like?
Most database administrators work for computer systems design and related services firms, such as Internet service providers and data-processing firms. Other DBAs are employed by firms with large databases, such as insurance companies and banks, both of which keep track of vast amounts of personal and financial data for their clients.
Some DBAs administer databases for retail companies that keep track of their buyers' credit card and shipping information, and yet others work for healthcare firms and manage patients' medical records.
Database Administrators are also known as:
Network & Database Administrator Network and Database Administrator DBA