What is a Doula?
A doula is a person trained to advise, inform, and offer physical and emotional support to a mother before, during, and shortly after childbirth to help her achieve the healthiest, most satisfying experience possible. The word doula comes from the Greek word 'doulē' meaning female helper or 'someone who serves.'
A birth doula is a companion who supports birthing mothers and their partners during pregnancy, labor, and birth. A postpartum doula is trained in assisting families during the immediate months after birth, known as the fourth trimester, and sometimes through the newborn's first year. Many doulas learn to be both a birth doula and a postpartum doula.
The term full spectrum doula may be used to refer to a doula who offers support to people during the full spectrum of pregnancy — from preconception, to birth, to abortion, to miscarriage, to adoption, to postpartum. All doulas recognize the profound impact of childbirth on the mother and offer non-judgmental support, guidance, evidence-based education, and practical hands-on support and comfort measures.
Note: It is important to make the distinction between a doula and a midwife. A midwife is a licensed health professional — often a qualified nurse — who has undertaken supplementary training to become a registered midwife, or has completed a university degree in midwifery. A doula is not a trained medical professional and does not provide healthcare advice or medical care, or perform clinical tasks such as cervical exams or fetal heart monitoring. Because their roles are different, an expectant mother may choose to engage the services of both a midwife and a doula.
What does a Doula do?
In the simplest of terms, doulas provide support to women and their families during pregnancy, labor, and birth. They can also continue to mentor new mothers after their babies are born. It is up to each individual client to decide how they would like to utilize their doula's expertise.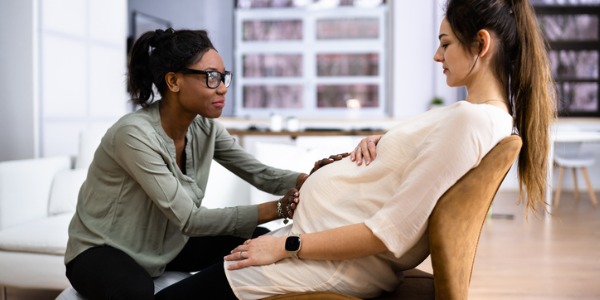 The following is a summary of what doulas do and the different types of support they can provide.
A birth doula offers birth support that can be summarized into four areas, each aimed at providing comfort, confidence, and empowerment:
Informational
Offer and help the couple find evidence-based information about different options in childbirth
Help explain medical procedures before or as they occur
Keep the birthing person and partner informed about what is going on during their birthing time
Suggest techniques, such as breathing, relaxation, movement, and positioning
Help the partner understand what is going on during labor (for example, interpreting the different sounds the birthing person makes)
Emotional
Help the birthing person to feel cared for, and to feel a sense of pride and empowerment before, during, and after birth
Be a continuous presence
Provide reassurance, encouragement, and praise
Help the birthing person see themselves or their situation more positively
Help the birthing person and partner work through fears and self-doubt
Debrief after the birth — listening to the mother with empathy
Physical
Soothe with touch through massage, counter pressure
Assist with positioning for comfort and labor effectiveness
Help to create a calm environment, like dimming lights and arranging curtains, music, and aromatherapy
Assist with hydrotherapy (shower, tub)
Apply warmth or cold
Advocacy
We often think of the word advocacy to mean speaking on behalf of someone. In the doula world, however, advocacy is about helping the expectant couple to find their voice and supporting the mother's right to make decisions about her own body and the baby. This can take more than one form and may include:
Encouraging the birthing person or their partner to ask questions and verbalize preferences
Asking the birthing person what they want and supporting their decision
Teaching the birthing person and partner positive communication techniques
Creating space and time for the birthing family so that they can ask questions, gather evidence-based information, and make decisions without feeling pressured
Facilitating communication between the birthing couple and care providers
The tasks of a postpartum doula include:
Assessing the needs of the family
Providing recommendations and referrals
Emotional support of the individual's parenting choices
Encouragement and positive affirmations
Newborn care – hands-on education and care including normal newborn behavior; newborn appearance; sleep habits; feeding, bathing, dressing the baby; when to call the doctor; and more
Breastfeeding counseling – advanced breastfeeding education, help knowing what is normal or when specialized care is needed, help with comfortable positions for mother and baby, establishing helpful routines, establishing a good latch, establishing a good milk supply, learning to use a breast pump, proper milk storage
Preparation of bottles and washing / cleaning / sterilizing
Cord and circumcision care
Establishing routine
Organizing the nursery
Light housework
Sibling education and transition
Care of big siblings
Creating shopping lists
Food shopping
According to some studies, the emotional support of a doula can result in a more positive labor and postpartum experience for some mothers-to-be. Potential benefits include shortened labor time, a lesser chance of needing pain relief medication during labor, reduced incidence of Caesarean section, a decrease in anxiety and/or depression in new mothers, and a more positive experience for mothers post delivery.
What is the workplace of a Doula like
Most doulas are independent contractors and set their own schedule. They typically work from their home and travel to the hospital, birth center, or home where the woman has chosen to have her baby. While their work hours are flexible, they are often on-call.
Doulas are also known as:
Birth Doula Labor Doula Labor Support Postpartum Doula Birth Coach Labor Coach Full Spectrum Doula Loss Doula