What is an Environmental Restoration Planner?
An environmental restoration planner conducts laboratory and field tests to monitor the environment and investigate sources of pollution, including those affecting health.
Many work under the supervision of environmental scientists and specialists who direct their work and evaluate their results.
What does an Environmental Restoration Planner do?
Most environmental restoration planners work for the state, local government, or for private consulting firms.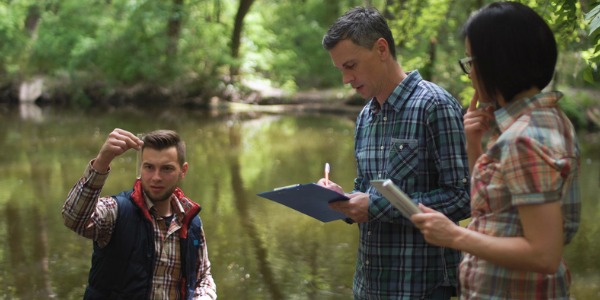 In local governments, environmental restoration planners enforce regulations that protect the environment and people's health. They spend a lot of time inspecting businesses and public places, and investigate complaints related to air quality, water quality, and food safety. They may issue fines or close establishments that violate environmental or health regulations.
In private consulting firms, environmental restoration planners help clients monitor and manage the environment and comply with regulations. They help businesses develop cleanup plans for contaminated sites; they recommend ways to reduce, control, or eliminate pollution. In addition, they conduct feasibility studies for, and monitor the environmental impact of, new construction projects.
Environmental restoration planners work on teams with scientists, engineers, and technicians to solve complex problems related to environmental degradation and public health. They also work with geoscientists and hydrologists to manage the cleanup of contaminated soils and ground water.
Environmental restoration planners typically do the following:
Inspect establishments, including public places and businesses, to ensure that there are no environmental, health, or safety hazards
Set up and maintain equipment used to monitor pollution levels, such as remote sensors that measure emissions from smokestacks
Collect samples of air, soil, water, and other materials for laboratory analysis
Perform scientific tests to identify and measure levels of pollutants in samples
Prepare charts and reports that summarize test results
Discuss test results and analyses with clients
What is the workplace of an Environmental Restoration Planner like?
Most environmental restoration planners work for professional, scientific, and technical services firms, or for state or local government. They work in laboratories, offices, and in the field.
Fieldwork offers a variety of settings; a technician may investigate a chemical spill inside a manufacturing plant or spend time outdoors testing the water quality of lakes and rivers. When doing fieldwork, technicians spend most of their time on their feet, which can be physically demanding. They may need to set up monitoring or testing equipment, which can involve some heavy lifting and frequent bending and crouching.
Environmental Restoration Planners are also known as:
Environmental Restoration Project Planner Environmental Restoration Project Manager