What is an Equestrian?
Due to the wide range of professions available within the horse industry, an equestrian can be anything from a horse trainer and manager, to an equine sports massage therapist.
The common denominator between all positions is the hands-on working environment where horse care and training are an integral part of the daily routine.
What does an Equestrian do?
Equestrians prepare horses for competition in a variety of disciplines, manage equine diet and nutrition in preparation for breeding, and work with students of all ages to improve equitation.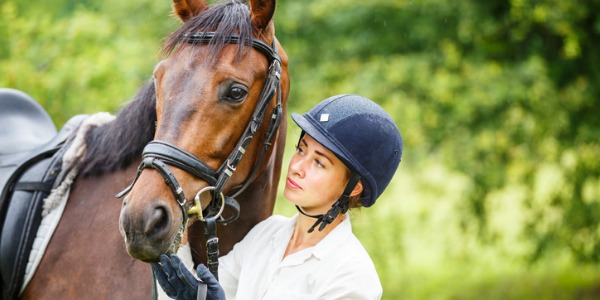 Typical duties for most equestrians are divided into four main areas: the training of horses for competition, the daily management of a stable or other equine facility, the training of beginner to advanced students in equitation and general riding, and the education of future equestrians in two-year or four-year degree programs. Responsibilities and required skills vary widely depending on the position.
Horse Trainers are responsible for working with client's horses and developing a program that will allow the horses to perform to their potential in the competition arena. Trainers work outside most of the day, or in an indoor arena. They ride horses with a goal of increased responsiveness, suppleness, collection and physical fitness. Trainers also interact with clients and network in order to expand their customer base.
Barn managers, also known as stable managers, are responsible for managing the daily healthcare and nutrition of a large group of horses. In addition, most barn managers take over financial management of the facility in which they work, order feed and supplies, and handle employment for the barn or stable. Most responsibilities are delegated to employees, but it is not unusual for barn managers to clean stalls or groom if needed.
Riding instructors work with clients to improve equitation, also known as riding ability. They spend long hours outdoors or, more rarely, in an indoor riding arena. Hours can be irregular and riding instructors often travel to the client's barn to give lessons. In addition to teaching students the principles of riding, instructors usually ride in competition in order to establish a larger client base and interact with the equine community.
Equestrian educators, instructors, or professors work in accredited degree and certificate programs to educate college students pursuing a career in the horse industry. They have all the responsibilities of a traditional professor, including creating course syllabi and lecturing classes, in addition to teaching riding instruction and preparing horses for class work. Equine educators usually benefit from a more structured schedule than other concentrations in the industry. They also spend a greater amount of time indoors, grading papers and attending meetings.
What is the workplace of an Equestrian like?
Most equestrians work outside year-round. Their careers are labor-intensive and require a great amount of athleticism and physical fitness.
Each position in the horse industry is available in a variety of concentrations, or disciplines. Horse trainers, for example, may work in the fast paced three-day eventing discipline or choose the slower paced alternative of training horses for a lifetime of kid's lessons. Barn managers may choose the rigorous responsibilities of an elite dressage facility or a structured but less intense position at a therapeutic riding camp.
Riding instructors and trainers have a flexible schedule, but often cater to client's scheduling needs and spend time on the road, traveling to horse shows and private lessons. Barn managers and equestrian professors usually have a more structured work environment, coming to work when classes start or when it's feeding time at the barn.
Equestrians are also known as:
Barn Manager Stable Manager Riding Instructor Equestrian Educator Horse Rider Horseback Rider Horseman Horsewoman