CareerExplorer's step-by-step guide on how to become a financial advisor.
Step 1
Is becoming a financial advisor right for me?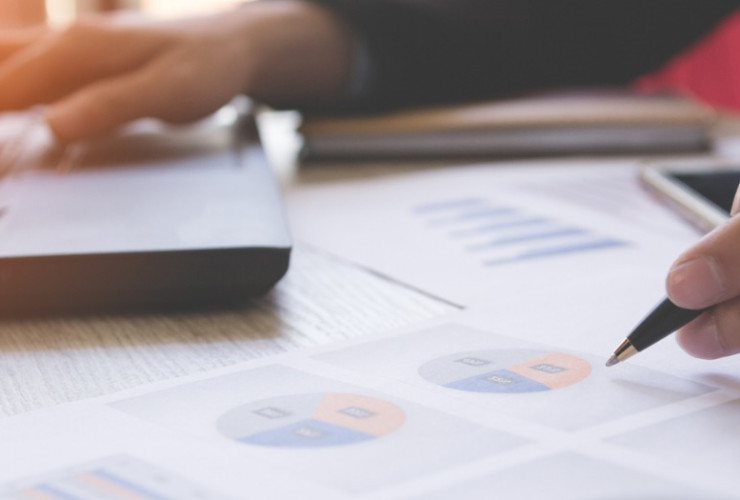 Step 2
Bachelor's Degree
Most financial advisors have at least a four-year bachelor's degree. Getting a specific major typically doesn't matter, however degrees in financing, accounting, economics, mathematics, or computer science can look good on a resumé.
Step 3
Certification
There are a number of different professional certifications or licenses that financial advisors can get. Once you know the path you want to follow, you'll know which certifications or licenses you will need. For example, if you plan on becoming a Certified Financial Planner (CFP), it is advisable to complete a program specifically designed for the certification examination process.
Step 4
Internship
An internship can give aspiring financial advisors connections and experience in the financial services industry. Many start their careers as unpaid interns before they complete their degree, and some internships may be eligible for class credit towards a degree.
Step 5
Master's Degree
Having a master's degree enables a financial advisor to command a higher salary and, if they own their own firm, they can charge their clients more for their services. Also, having a master's degree or Ph.D. in finance, business, or economics may eliminate the need for any licensing and certification exams.
Step 6
Continuing Education
Many licenses and certifications have requirements for continuing education that must be met to maintain good standing. There is also a renewal fee that must be paid every year.
Frequently Asked Questions
How long does it take to become a Financial Advisor?
There is no one specific way to become a financial advisor, however most individuals have at least a bachelor's degree in finance, economics, accounting, business, mathematics, or law. Financial advisors who are not pursuing certification can start seeking work immediately after earning their bachelor's degree.
It takes seven or more years to become a Certified Financial Planner (this includes the four years getting a bachelor's degree). Major firms or high-end clients may require their financial advisors to continue their education at the master's degree level (typically another two years).
Should I become a Financial Advisor?
Besides feeling good about giving sound advice and creating a strong financial foundation for their clients, financial advisers can reap other rewards for themselves, such as unlimited salary, work schedule flexibility, and control over their practice. However, this career also carries certain disadvantages, such as a high-stress environment, difficulty in building a client base, and meeting regulatory requirements. Evaluating the pros and cons of this career will help you make an empowered decision as to whether or not this career is a right fit for you.
PROS
Giving Worthwhile Advice Giving clients meaningful advice is one of the most rewarding aspects of this career. Providing education to overwhelmed and confused clients and guiding them to investments or insurance vehicles that are most suited for them is very satisfying. Financial success for a client is strongly connected to a financial adviser's success.
Employment Options Financial advisors can work for private or public firms, or can be self-employed and work from home. Creating working hours that fit best with lifestyle and household demands allows financial advisors the ability to balance between personal and professional responsibilities.
Unlimited Income Potential There is no limit on earning potential for most financial advisers, as most advisors work on a commission basis. This means income is based on how much new business or recurring revenue there is each year. Financial advisers have the ability to earn as much, or as little, as they are able to earn. There is, of course, much work to do initially in order to build a strong client base from scratch. Over time, an advisor's reputation and hard work will help him/her earn what they're worth.
Schedule Flexibility Once a financial adviser establishes a solid client base, they will have more flexibility in their work hours. Financial advisers that have been working for several years and have a solid client base have the advantage of scheduling client meetings around their personal calendars.
Low Start-Up Costs There are very few expensive fees that are associated with this career outside of the licensing requirements and regulatory costs. This makes it very feasible to start working part-time if necessary to build up a client base.
Niche Opportunities There are a variety of products and strategies available in this career, which allows one the opportunity to craft a niche career that can be different from the other financial advisors in your specific area (for example, serving baby boomers or millennials). Firms also provide a variety of products and services, such as investment management, life or disability insurance, retirement plans, and fee-based financial planning, which gives financial advisers full control over how they want to practice.
CONS
High-Stress Industry The financial services industry is deeply interwoven with the performance of the financial markets. Clients reach out to their financial advisers when markets perform poorly, and are often emotional and distraught when there is a downturn in the market. It can be very stressful to manage the emotions of clients.
Finding Clients Starting a career as a financial adviser is not easy, as most firms have sales quotas that need to be met each month. Therefore, advisers are constantly in need of new prospects, and a great deal of time and money can be initially spent creating and maintaining profitable prospecting systems. Financial advisors need to be prepared to repeat their marketing efforts many times, especially when first getting started, to secure the needed client base. This aspect of the career can be the most challenging.
Concentration Having this quality is especially true for financial advisors that are self-employed and working from home. Social media distractions, talking on the phone, or running errands are all easy distractions and hinder concentration. Work has to come first, and not everyone is good at making this a priority.
Regulatory/Compliance Requirements Obtaining licenses can be lengthy. Additionally, financial advisers are required to complete certain continuing education courses each year to keep their licenses in good standing. They must also carry errors and omissions insurance coverage throughout their careers. Keeping up with these regulatory requirements can be costly and time-consuming.
Sponsorship Most licenses can only be obtained when a sponsorship from a brokerage firm is received. Since firms don't typically hand out sponsorships, the typical path is to find work at a company, work for a certain amount of time, get the license, and then strike out on one's own after the contract has been resolved.
Long Work Weeks It isn't uncommon for beginning financial advisors to put in work weeks that are 50 plus hours. There can be a lot of uncertainty in the first five years that can be difficult to deal with if there isn't other income coming in. However, with a strong work ethic and a lot of tenacity, it is very possible to create a long-term and profitable career.
How to become a Financial Advisor
Financial advisors typically need a bachelor's degree. A master's degree and certification can improve chances for advancement in the occupation. Although employers usually do not require a specific field of study, a degree in finance, economics, accounting, business, mathematics, or law is good preparation for this occupation. Courses in investments, taxes, estate planning, and risk management are also helpful. Programs in financial planning are becoming more available in colleges and universities.
Financial advisors who directly buy or sell stocks, bonds, insurance policies, or specific investment advice need a combination of licenses that varies based upon the products they sell. In addition to those licenses, smaller firms that manage clients' investments must be registered with government regulators, and larger firms must be registered with whatever federal government agency regulates these services.
Financial advisors should be good at mathematics because they constantly work with numbers. They determine the amount invested, how that amount has grown or shrunk over time, and how a portfolio is distributed among different investments.