CareerExplorer's step-by-step guide on how to become a florist.
Step 1
Is becoming a florist right for me?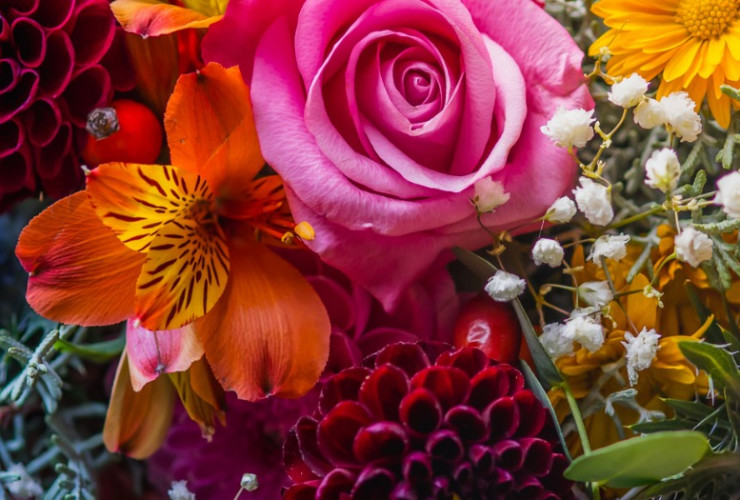 Step 2
High School
Most florists have a high school diploma or a GED. Biology, botany, art, and design classes will prepare students for entry into the field. Business and economics classes are recommended for students who foresee opening their own shop.
Step 3
Training
Employers looking to hire florists typically seek high school graduates with talent and enthusiasm for working with flowers. While undergoing on-the-job training, you should do three things regularly:
 Look for inspiration everywhere. Like fashion and art, the floral industry is always evolving. Find inspiration in books, magazines, architecture, paintings, or a walk in the park.
 Practise as much as you can. Spend your free time designing and creating new arrangements. Keep a sketch book of designs that you plan to create; include the materials and techniques you would like to use in each design.
 Cultivate your own style. What colors are you drawn to? Do you like unexpected combinations of flowers? Do you prefer delicate arrangements? Monochromatic arrangements? Play with different textures, shapes, and materials. Borrow from and merge different styles to come up with something that reflects your personality.
Aspiring florists who prefer to pursue formal education may choose between certificate, Associate's degree, or Bachelor's degree programs in floral design or floriculture. In this case, it is important to look for programs that are approved by the American Institute of Floral Designers (AIFD) or licensed by the state. To varying levels, these curricula may include coursework in the following subject areas:
 Horticulture
 Outdoor foliage
 Greenhouse maintenance
 Crop care
 Interior plants / storage requirements / lifespans
 Principles of floral design, including color, shape, proportion
 Design styles: horizontal, landscape, waterfall, etc.
 Vase and container arrangements
 Wedding design
 Hand-held bouquets
 Corsages and boutonnieres
 Funeral wreaths
 Event planning
 Creating a portfolio
 Floral shop management
 Marketing
 Retail costing
 Hiring employees
 Employment options: independent flower shops / markets and grocery stores / florist chains / wholesalers
Step 4
A Portfolio
A professional portfolio of arrangements you have created is the perfect way to showcase your best work to potential employers and clients. The most effective portfolios include a variety of work (bouquets, funeral tributes, centerpieces, wedding designs, etc.) and demonstrate a full range of skills.
Step 5
Certification (optional)
The American Institute of Floral Designers (AIFD) offers the Certified Floral Designer (CFD) designation. To earn this voluntary credential, candidates must fulfill a formal education requirement; compete a training course; pass a written exam and a design demonstration; and join the AIFD. They must earn continuing education credits to maintain their certification.
Step 6
Advancement / Marketing / Resources
Several schools offer standalone classes for florists who wish to learn specialized techniques.
Florists who have opened or plan to open their own shop may enroll in courses in business, customer relations, marketing, and accounting. A website highlighting their work is often one of the marketing tools used by these entrepreneurs.
Among the resources available to florists are:
 The American Institute of Floral Designers (www.aifd.org)
 The National Alliance of Floral Associations (www.aboutnafa.org)
 A Magazine for Floral Designers (www.floraldesignmagazine.com)
Frequently Asked Questions
Steps to becoming a Florist
Becoming a florist may not entail a rigorous educational track. It does, however, demand a particular talent and aesthetic that touches most lives many times over.
How long does it take to become a Florist?
Many florists enter the field after completing high-school, without formal training. They typically learn the craft on the job. Others choose to take classes at community, vocational, or floral schools; or enroll in a one-year certificate program. Some aspiring florists earn a two-year Associate's degree or a four-year Bachelor's in floral design or floriculture/horticulture.
Are Florists happy?
Florists rank highly among careers. Overall they rank in the 79th percentile of careers for satisfaction scores. Please note that this number is derived from the data we have collected from our Sokanu members only.
It has been said that happiness is only real when shared. At its core, the work of florists is the work of sharing celebration, surprise, comfort, and happiness. In a world that is often overly complicated and sometimes misguided, that florists are so happy is both unsurprising and uplifting.
Should I become a Florist?
Of course, florists love flowers. A love for flowers, though, is not the only prerequisite for entering the field. Working in a flower shop is a much more fulfilling experience if you possess certain characteristics:
Creativity There is a definite art to arranging flowers. Being inventive and having a keen eye and an original edge will put you ahead of the competition.
Color coordination skills Understanding the color wheel and which colors work well and not so well together is a trait shared by most accomplishes florists.
Communication skills It is not uncommon in this industry to come across customers who know in their mind what they want, but have no idea of the flower names or how to easily explain their preferences. Furthermore, as in all service industries, there will be times when you will have to deal with difficult customers. Patience and the capacity to probe and ultimately identify customer wishes are significant advantages.
Ability to manage deadlines Whether it's Valentine's Day, a wedding, a funeral, or a last-minute 'Thank you!' bouquets, you need to be able to work to deadlines. Not doing so will mean arrangements don't make it to events on time, people will be let down, and eventually you won't have any clients.
Willingness to work early mornings Depending on your location and where you get stock, you may need to wake up at very early hours to go to suppliers and markets to buy the flowers you need for your inventory. You may find yourself doing a full day's work before you even open your shop.
Willingness to work under sometimes imperfect conditions The temperatures in floral shops may be lower than normal because of the need to keep flowers and greenery fresh. Work hours may be long, especially during holiday seasons, and require standing for long periods of time.
Business management skills Organizational, budgeting, and staff management abilities are especially important for florists who intend to open their own shops.
As a florist, you will be involved with some of the most significant times in people's lives. You will have every opportunity to use your creative talents to brighten their homes and, if even for isolated moments, gladden their hearts.
What are Florists like?
Based on our pool of users, florists tend to be predominately artistic people. It is reassuring that this is the case, because if the hands that arrange our flowers are not artistic, which hands are?
How to become a Florist
Many florists enter the field after earning a high school diploma and learn their craft via apprenticeships and on-the-job training. However, Associate's and Bachelor's degree programs in floral design and floriculture/horticulture are available, as are certificate courses through community colleges, vocational schools, and private floral schools. The American Institute of Floral Design administers a certification course comprised of written and practical exams.
Regardless of the learning track they choose, aspiring florists must become skilled in all floristry styles. The three basic styles are Ikebana, which originated in Japan and represents heaven, man, and earth; English Garden, which showcases seasonal flowers; and Modern/European, also known as high style floristry, which features linear and asymmetric designs.
Complementing florists' knowledge of styles should be an understanding of which flowers and arrangement types are appropriate for various events, from weddings to funerals. In addition, florists must be familiar with different plant species and know when each is in season, so that they keep appropriate plants in stock and are able to maintain them. Finally, to meet customer demands and remain profitable, florists need to stay current on trends in floral design.
Clearly, working in this field calls for more than a love of flowers and plants. The best florists combine their appreciation for flora with practical skills, creativity, and artistic talent.