What is a Gerontologist?
A good place to start answering this question is to clarify what a gerontologist is not. People sometimes interchange gerontology and geriatrics, but it is important to distinguish between the two.
Geriatrics is a medical specialty that focuses on the health of the older population. A geriatrician, also known as a geriatric physician, is someone who is either a family practice physician or internal medicine doctor who has completed additional training in geriatrics. Geriatricians diagnose and treat illnesses and injuries among the elderly.
Gerontology is the study of aging. Gerontologists are the professionals who specialize in the field of aging and the related dimensions of change over the lifespan. They view aging from four distinct perspectives and processes:
Chronological aging is aging based on a person's years lived from birth.
Biological aging refers to the physical changes of organ systems.
Psychological aging includes the changes that occur in sensory and perceptual processes, cognitive abilities, adaptive capacity, and personality.
Social aging encompasses an individual's changing roles and relationships with family, friends, and other social contacts.
There is more than one type of gerontologist:
Research gerontologists conduct research on the aging process – physiological and psychological – and senior living environments, with the goal of understanding and enriching the lives of elders.
Applied gerontologists work directly with the elderly in some capacity, providing care to the elderly and communicating with them and their families.
Administrative gerontologists use their training and management skills to develop programs and coordinate services delivered by applied gerontologists.
What does a Gerontologist do?
By 2029, the baby boomer population will be 65 and older. This aging phenomenon is of particular interest to gerontologists, who look at aging from different vantage points and try to understand how to best serve the older population.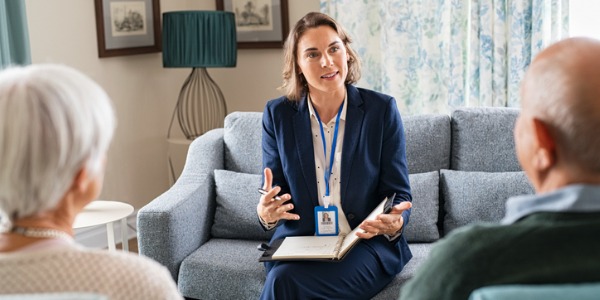 In the simplest of terms, gerontologists look for ways to help the aging live better lives. They take a big picture approach, asking practical questions like: Where are you having some challenges? Are there things that might be missing from your life that we could help recover or restore? What can we do to help you maintain your connection to the community?
Their objective, of course, is to come up with practical answers to these questions, that is to come up with services and resources that allow people to age with grace and dignity.
This goes beyond the notion that older people only take from society. In studying and understanding how we age, gerontologists are natural advocates for the elderly. They act as links between older adults and the world around them.
They see the elderly not only as people who may need various kinds of assistance and support, but also as capable citizens experienced in contributing, in giving to society. In other words, they seek to dispel some of the myths that surround old age. They work to connect older adults not just with senior living options or social activities, but with employment, education, and volunteer opportunities.
Researchers and practitioners in gerontology liaise with professionals in many other fields. They collaborate with individuals working in biology, nursing, medicine, physical therapy, occupational therapy, psychology, psychiatry, sociology, economics, political science, architecture, geography, pharmacy, public health, community health, housing, and anthropology, among others, to advance the quality of life for the aged population. Their work involves:
Studying physical, mental, and social changes in people as they age
Investigating the biological aging process itself, like muscular, skeletal, and hormonal changes (biogerontology)
Investigating the social and psychosocial impacts of aging (sociogerontology)
Investigating the psychological effects of aging (psychogerontology)
Investigating the interface of biological aging with aging-associated disease (geroscience)
Investigating the effects of an aging population on society
Applying this knowledge to policies and programs, from both macroscopic (for example, government planning) and microscopic (for example, running a nursing home) perspectives
Gerontologists are also responsible for educating other health professionals and community practitioners, as well as the community at large, about the process of aging and how to age well. They give presentations, publish books about aging and health, and produce relevant films and television programs.
Gerontologists, it could be said, are the guardian angels of the aged. Thanks to their research, their development of programs that support seniors, their advocacy, and their direct interaction with the senior community, the aged among us have significantly richer lives.
What is the workplace of a Gerontologist like?
Gerontologists apply their knowledge of the aging process in a variety of environments dedicated to aging adults and their family caregivers. Their workplaces include assisted living facilities, community health clinics and senior centers, hospitals and hospices, government agencies, long-term residential care facilities, private consulting firms, and rehabilitation centers.
In recent years, opportunities for gerontologists have expanded to less typical workplaces. Sectors such as business, banking, education, and travel and entertainment are realizing the value of catering to a larger demographic of aging consumers.
Some gerontologists are finding employment opportunities in the emerging field of segment marketing, which builds market subsets based on demographics, needs, priorities, common interests, lifestyle, habits, behaviors, and other psychographic factors. Segment marketing that targets the aging demographic is presenting gerontologists with the possibility of a business career inside the healthcare field.
The nature of the gerontologist's job means that they do not necessarily work a standard Monday to Friday work week. Depending on their specific role, they may need to work weekends or be on call. While on the job, they may handle bodily fluids or work with older individuals who have difficulty communicating.
Gerontologists are also known as:
Research Gerontologist Applied Gerontologist Administrative Gerontologist