CareerExplorer's step-by-step guide on how to become a gunsmith.
Step 1
Is becoming a gunsmith right for me?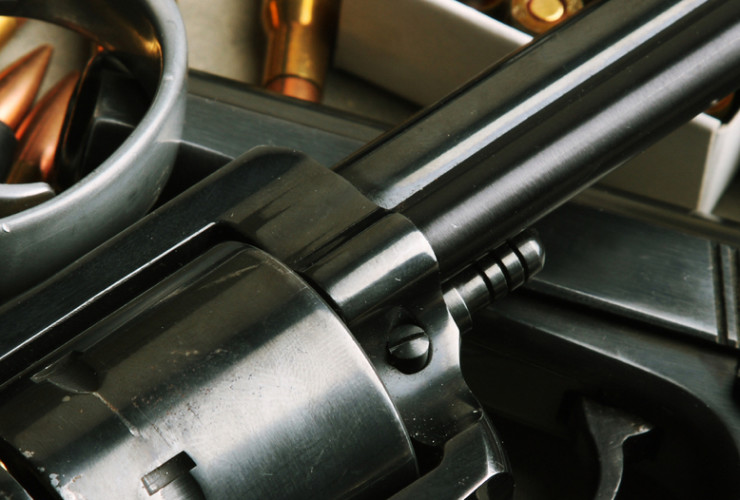 Step 2
Pass Background Checks
To be admitted to a gunsmith program, prospective students must first pass a background check to ensure that they are legally permitted to work on firearms. Prohibited from possessing guns and therefore inadmissible to a gunsmith program are convicted felons and individuals convicted of a domestic violence misdemeanor or with restraining orders against them. Program applicants must also not have been adjudicated mentally incompetent or have been committed to a mental health institution.
Step 3
Complete a Gunsmith Program
Gunsmithing programs are available from colleges and technical schools throughout the United States. They range from six-month technical diploma or certificate programs to two-year associate degree programs.
Step 4
Find an Apprenticeship
As an alternative or in addition to receiving a degree or diploma in gunsmithing, seek out a local gunsmith or apply for apprenticeship status through The Association of Gunsmiths and Related Trades (TAOGART). Applicants to TAOGART must be sixteen years of age or older and must be legally permitted to own a firearm in compliance with federal and state laws. If still in high school, applicants must graduate with at least a 'C' average and obtain permission from their legal guardians and school officials.
Step 5
Obtain a Federal Firearms License (FFL)
Gunsmiths often retain possession of clients' firearms for more than a day. For this reason, they are required by federal law to have a firearms license. License applicants must be at least twenty-one years of age and provide information similar to that required for the firearms background check. To become licensed, applicants' place of work must be detached from their place of residence and guns must be stored in a locked safe when they are not working on them. Licensees must maintain detailed records of all transactions. Before a license is granted, a field agent from the U.S. Bureau of Alcohol, Tobacco, Firearms, and Explosives (ATF) interviews the applicant and conducts an inspection of the premises where the business will be operated to ensure compliance with federal regulations.
Step 6
Consider a Specialty
Some gunsmiths find success by focusing on custom gun design and building; stock-making (building the gun stock using wood); gun engraving to add aesthetic value; pistolsmithing (the custom design and building of pistols only) or concentrating primarily on rifles or shotguns.
Step 7
Join Professional Associations
Although not a legal requirement, gunsmiths who are new to the field may consider joining gun-related professional associations. The American Custom Gunmakers Guild and the National Rifle Association (NRA), for example, offer varied opportunities to network with and learn from experienced gunsmiths.
Frequently Asked Questions
How long does it take to become a Gunsmith?
Although a gunsmith degree or certificate can be earned in two years or less, it often takes several years of practice for gunsmiths to achieve the level of expertise required to open and operate their own businesses. Some gunsmiths enter the field after gaining experience in the military or working as a machinist. This route, of course, adds time to the learning curve.
Associate degree programs in gunsmithing take approximately two years to complete and commonly include general education coursework in English, mathematics, and science. Certificate programs take less time to complete and do not cover general education courses. Some schools form partnerships with the National Rifle Association (NRA) and offer basic skills training via short-term or summer school curricula.
What are Gunsmiths like?
For most gunsmiths, their occupation is more than a job. It is very much a lifestyle. Without a love of firearms, or at least a significant interest in all things mechanical, it would be difficult to take on a position as a gunsmith and feel good about it. Most gunsmiths are extremely focused practitioners. They find great satisfaction in being able to manipulate the capabilities of a firearm. They attain a sense of awe and a feeling of legacy in knowing that their personal touch becomes part of every gun on which they work.
Should I become a Gunsmith?
To answer this question, aspiring gunsmiths need to first ask themselves several other specific, targeted questions:
Do I enjoy technical work? As a gunsmith, you must understand the inner workings of firearms and be able to solve technical, weapon component issues.
Do I possess the qualities and characteristics that I will need to obtain a gunsmith position? To construct or repair the various components of firearms, gunsmiths must possess exemplary mechanical skills. Manual dexterity, excellent hand-eye coordination, and attention to detail are also required, due to the need to sometimes work with very small weapon components, such as levers and springs. Troubleshooting skills also come into play, as gunsmiths often have to identify and diagnose firearm issues.
Do I have the necessary customer service and marketing skills? Being that much of your income will come from customers who request specific items, you will need to be comfortable interacting with a diverse clientele. In addition, you will be most successful if you operate your own business, which will demand that you have some degree of understanding of business management and marketing. Building and maintaining a wide professional network and a strong reputation is critical to success in this field. This can be achieved by attending gun fairs, industry events, or through volunteering at local gun related events, shooting matches, and gun clubs.
Does the gunsmith work environment suit me? Gunsmiths work indoors in workshops equipped with grinders, drill presses, lathes, saws, drills, and various metalworking tools. Test firing is noisy. Other hazards include fumes, heat, and powder smoke. The environment calls for workers with normal hearing and no skin allergies.
What sort of lifestyle am I seeking? While gunsmiths derive a lot of personal satisfaction from doing quality work, the trade does not typically support a flashy or extravagant lifestyle.
Are Gunsmiths happy?
Creating, repairing, customizing, and designing a variety of guns can prove rewarding and fascinating for individuals interested in working with firearms. Gunsmithing is certainly among the careers which for some practitioners start out as a hobby and transition to a way to earn a living that really does not feel like work. The fact that this occupation does not require expensive, lengthy university studies is also appealing to many aspiring gunsmiths. The variety of work environments is another draw to the field; in addition to the possibility of establishing a private business, opportunities exist with gun shops, sporting goods stores, firearms factories, the military, and police forces. Job satisfaction for gunsmiths may also come from combining a passion for firearms with a desire to promote firearm safety. Some gunsmiths find fulfillment in the self-expression which the field offers: those with artistic talents may take great pride in adding engraved designs and other decorative touches to guns. Finally, the popularity of firearms and the practical need for high-quality guns ensures job security and also ensures that the gunsmith's skills will be useful throughout the U.S.
On the downside, industrialization and design improvement have, to some degree, curtailed specialization and artisanship in the industry. Most people can obtain a quality product at a reasonable price directly from a manufacturer, therefore reducing the need for custom gunsmithing. Still, among more affluent purchasers, there is a trend towards more expensive, much more elaborate custom firearms.
How to become a Gunsmith
The ability to design, modify, and add custom parts to weapons is crucial to improving their performance. Therefore, the gunsmith profession requires a diverse set of skills. The construction, repair, and maintenance of firearms may necessitate woodworking, metalworking, and mechanical knowledge; even some aptitude in mathematics, chemistry, and science. In addition, gunsmiths must know how to read blueprints and have some experience with computer-aided design (CAD) software.
Most companies hiring in the field demand formal training. Gunsmiths generally learn their craft through some combination of apprenticeships, military training, and completion of a degree or certificate program. There is a small number of schools in the United States that offer certificate or associate degree programs in gunsmithing. Earning a degree through one of these program is a highly-recommended way to learn how to gunsmith. Such programs ensure qualified and experienced instructors and cover all aspects of the occupation, including firearms safety, machine shop safety, firearms repair, stock-making, and firearms conversion. Skills like welding; metal finishing; materials fabricating and engineering; gun blueing; and working with complex machine tools and measuring devices are also emphasized. Because many gunsmiths go on to operate their own businesses, most gunsmith programs also provide instruction in management and marketing. This coursework tends to include learning how to interact with a wide variety of customers and remain abreast of and comply with federal, state, and local laws, ordinances, and requirements.
Many gunsmiths specialize in only a few of the skills required of the general gunsmith. Alternatively, some gunsmiths learn many or all of the skills of the trade, but apply them to just a few weapon types (e.g., only pistols; only shotguns; only specific brands or models).