What is an Industrial Designer?
An industrial designer develops the concepts for manufactured products, such as cars, home appliances, electronics, and toys. By combining art, business, and engineering, they make products that people use every day.
What does an Industrial Designer do?
Industrial designers imagine how consumers might use a product and test different designs with consumers to see how each design looks and works. They generally focus on a particular product category.
For example, some design medical equipment, while others work on consumer electronics products, such as computers or smart phones. Yet other designers develop ideas for new bicycles, furniture, housewares, or automobiles.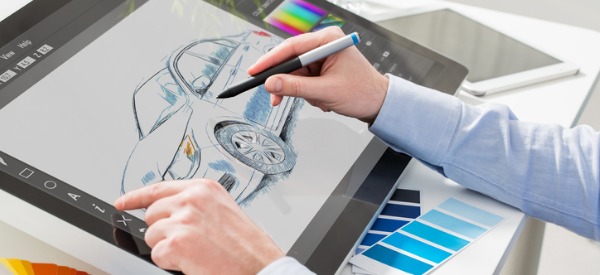 Industrial designers often work with engineers, production experts, and marketing specialists to find out if their designs are feasible and to apply their colleagues' professional expertise to their designs. For example, industrial designers may work with marketing specialists to develop plans to market new product designs to consumers.
Computers are a major tool for industrial designers. They use computer-aided design software (CAD) to sketch ideas because computers make it easy to make changes and show alternatives. If they work for manufacturers, they may also use computer-aided industrial design software (CAID) to create specific machine-readable instructions that tell other machines exactly how to build the product.
An industrial designer will typically do the following:
Research who will use the product and the various ways it might be used
Sketch out ideas or create blueprints
Use computer software to develop virtual models of different designs
Examine materials and production costs to determine manufacturing requirements
Work with other specialists to evaluate whether their design concepts will fill the need at a reasonable cost
Evaluate product safety, appearance, and function to determine if a design is practical
Present designs and demonstrate prototypes to clients for approval
What is the workplace of an Industrial Designer like?
Work spaces for industrial designers often include drafting tables for sketching designs, meeting rooms with whiteboards for brainstorming with colleagues, and computers and other office equipment for preparing designs and communicating with clients.
Although they work primarily in offices, they may travel to testing facilities, design centres, client's exhibit sites, users' homes or workplaces, and places where the product is manufactured. Most industrial designers work full time, especially if they are employed by manufacturers, large corporations, or design firms.
Many industrial designers are self-employed or work for firms that hire them out to other organizations that need industrial design services. In these cases, industrial designers frequently adjust their workday to meet with clients in the evenings or on weekends. In addition, they may spend some of their time looking for new projects or competing with other designers for contracts.
Industrial Designers are also known as:
Industrial Design Professional Industrial Design Specialist