What is a Lifeguard?
The idea of working as a lifeguard may conjure up an image of hunky guys and gorgeous girls who are tanned, muscular and beautiful and who perform daring Baywatch-style rescues along the beach. In reality, of course, the job is quite different from how it is depicted on television. Lifeguards come in all sizes and shapes, and they work inside as often as on the beach. It is, however, an extremely important job because it involves keeping people safe.
Lifeguards are expert swimmers who work at almost any location where people swim. They know how to save a person who is drowning or who has sustained an injury while swimming, and they can give artificial respiration if required. They keep a close eye on all the people under their care. The job of a lifeguard has a great deal of responsibility.
What does a Lifeguard do?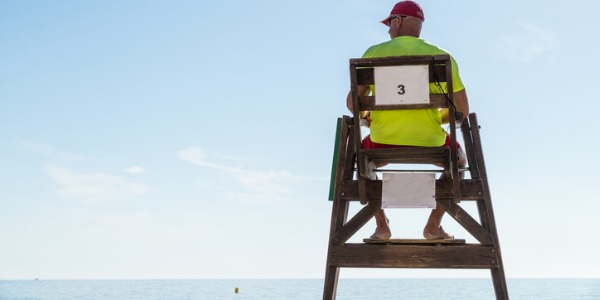 In general, a lifeguard monitors a recreation facility or a beach to make sure swimmers are following safety rules and no one is having trouble. He or she generally sits on a tall chair with a good view of the water and the swimming area. Binoculars are sometimes necessary, and if working outdoors, a large umbrella usually protects them from sunburn. Lifeguards working outdoors must also monitor the beach for hazards, such as sharks, jellyfish or stingrays, as well as dangerous waves and undertows.
Lifeguards may be responsible for designing activities for particular groups, such as seniors or children, and make sure any equipment used is kept organized and in good condition. They sometimes maintain sports equipment, are often in charge of keeping the pool area clean and safe, and are sometimes responsible for pool maintenance (for example, adding chlorine and pool chemicals).
Lifeguards sometimes give swimming lessons or teach safety classes. They may give demonstrations of proper ways to use equipment and educate people on swimming safety rules. They need to assess swimmer competency and make sure swimmers are not in an area of water depth that is beyond their skill level. An extremely important part of their job is safety. Lifeguards are trained in rescue and first aid techniques. They must explain safety rules to swimmers and enforce them. Should an accident or potential drowning occur, guards must administer first aid, rescue breathing, or artificial respiration.
What is the workplace of a Lifeguard like?
Lifeguards work in both indoor and outdoor locations. These can include schools and athletic departments, sports associations, community centres, summer camps, municipal parks, recreational facilities, beaches, resorts, and health clubs. There are also opportunities to work in hospitals and residential treatment facilities, helping individuals with special needs or the elderly.
Lifeguards may be exposed to the sun for long periods of time, and wind and inclement weather may also be a factor. Seasonal fluctuations impact the workplace, with greater employment opportunities during warmer weather, and work is often part-time. Although the workplace is generally safe, there are always risks around large bodies of water, and a lifeguard could be injured in the process of rescuing someone.
Lifeguards are also known as:
Ocean Lifeguard Pool Lifeguard Beach Lifeguard