What is a Lifeguard?
The idea of working as a lifeguard may conjure up an image of hunky guys and gorgeous girls who are tanned, muscular, and beautiful, performing daring Baywatch-style rescues along the beach.
In reality, the job is quite different from how it is depicted on television, and comes with a great deal of responsibility. Lifeguards are expert swimmers, and know how to save a person who is drowning or who has sustained an injury while swimming. They are also trained to give artificial respiration if required.
What does a Lifeguard do?
Lifeguards monitor a recreation facility or a beach to ensure that swimmers are following safety rules and no one is showing any signs of distress. Those working outdoors also monitor the beach for hazards, such as sharks, jellyfish, or stingrays, as well as dangerous waves and undertows.
Lifeguards typically sit on a tall chair with a good view of the water and the swimming area. Binoculars are sometimes necessary, and if working outdoors, a large umbrella usually protects them from sunburn.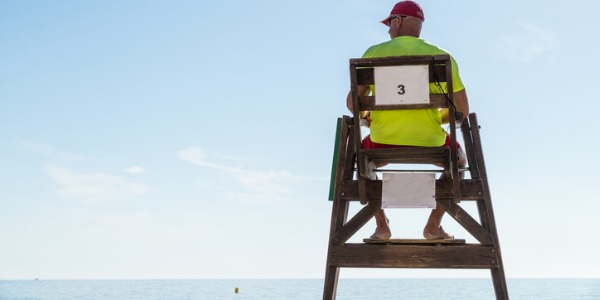 Lifeguards may be responsible for designing activities for particular groups, such as seniors or children, and make sure any equipment used is kept organized and in good condition. They sometimes maintain sports equipment, are often in charge of keeping the pool area clean and safe, and are sometimes responsible for pool maintenance (for example, adding chlorine and pool chemicals).
Lifeguards sometimes give swimming lessons or teach safety classes. They may give demonstrations of proper ways to use equipment and educate people on swimming safety rules. They need to assess swimmer competency and make sure swimmers are not in an area of water depth that is beyond their skill level.
An extremely important part of their job is safety. Lifeguards are trained in rescue and first aid techniques. They must explain safety rules to swimmers and enforce them. Should an accident or potential drowning occur, guards must administer first aid, rescue breathing, or artificial respiration.
What is the workplace of a Lifeguard like?
Lifeguards work in both indoor and outdoor locations. These can include schools and athletic departments, sports associations, community centres, summer camps, municipal parks, recreational facilities, beaches, resorts, and health clubs. There are also opportunities to work in hospitals and residential treatment facilities, helping individuals with special needs or the elderly.
Lifeguards may be exposed to the sun for long periods of time, and wind and inclement weather may also be a factor. Seasonal fluctuations impact the workplace, with greater employment opportunities during warmer weather, and work is often part-time. Although the workplace is generally safe, there are always risks around large bodies of water, and a lifeguard could be injured in the process of rescuing someone.
Frequently Asked Questions
Should I become a Lifeguard?

Perhaps the first fact to recognize about being a lifeguard is that it is not an easy job. It calls for a special skill set and, like most occupations, has its benefits and its drawbacks.

Requirements

You must be at least fifteen years old by the time you complete your training
You must be able to swim three hundred to four hundred yards; tread water for two minutes; hold your breath for two minutes; and grab a ten-pound brick from eight to twelve feet of water, with a feet- first surface dive
You must learn cardiopulmonary resuscitation (CPR), First Aid, and how to use an automatic external defibrillator (AED)
You must be able to collaborate with team members and interact with people of all ages and personalities

Benefits

Respectable pay
Flexible work schedule in a casual environment
Opportunity to gain extensive customer service experience
Opportunity to learn responsibility and how to anticipate dangerous situations
Opportunity to learn and practise lifesaving skills that can be valuable in other jobs and in life, in general

Drawbacks

Lifeguarding can be boring and tedious: the quiet, less busy days can feel extremely long
Lifeguarding can be annoying: there are days when 'babysitting all of the neighborhood kids' can become tiresome
Requirement to work in various types of weather

It should also be noted that, depending on their place of employment, lifeguards' responsibilities may extend beyond the lifeguard chair. At some facilities, the role may involve regularly testing the water for chlorination or salinity, changing pool chemicals, teaching swimming lessons, cleaning the grounds, handling customer complaints, operating the cash register, and even cleaning restrooms.
What are Lifeguards like?

Based on our pool of users, lifeguards tend to be predominately investigative people. This finding is expected, as these practitioners are trained to effectively scan a body of water and the surrounding area to prevent and respond to emergencies. Their work is, by nature, investigative.
Steps to becoming a Lifeguard

Becoming a lifeguard can take between two and six months. The shorter process applies to individuals who have already learned how to swim and can commence lifeguard training immediately. The longer time-frame includes approximately twenty to thirty hours of lessons over the course of three or four months to learn how to swim.

In the United States, lifeguards must be certified. Certification classes are offered by the American Red Cross, American Pool (endorsed by the American Red Cross), the U.S. Lifesaving Association, the National Aquatic Society, the YMCA, pool and waterfront management companies, and safety and risk management firms.

Generally, classes cover and test water skills; cardiopulmonary resuscitation (CPR); First Aid; and use of an automated external defibrillator (AED). The water skills component of training programs focuses on swimming, in-water strength, and specific rescue elements. Lifeguards must, of course, be physically fit enough to get in and out of the water quickly to rescue a drowning swimmer.

Many lifeguards who enter certification programs have earned a high school diploma or equivalent. Most employers expect this, as the job of lifeguard is about more than water safety. The position calls for a well-rounded individual with established life skills, capable of communicating with pool/beach/water park patrons, working in teams with other guards, and becoming a role model to the children visiting swimming facilities.

Individuals with a bachelor's degree or five years of experience in lifeguarding are eligible to pursue certification from the U.S. National Recreation and Park Administration.

Because lifeguards interact closely with children and teens, some employers require a criminal background check. Lifeguards who work in treatment or care facilities with particular clientele, such as the elderly or the disabled, typically need special training.
Lifeguards are also known as:
Ocean Lifeguard Pool Lifeguard Beach Lifeguard