What is an Occupational Therapist Assistant?
Occupational therapist assistants help patients use therapeutic activities and exercises in order to help them recover their full, independent and healthy lifestyles in spite of injury or disability. This is a rewarding career with the everyday opportunity to improve someone's quality of life.
An occupational therapist assistant works under the direction of an occupational therapist. The occupational therapist will diagnose an injury and prescribe treatment, and the occupational therapy assistant is often responsible for directly working with the patient to achieve the treatment goals.
What does an Occupational Therapist Assistant do?
Occupational therapists work with people who have been injured or disabled in some way that hinders their ability to live independently. Occupational therapist assistants, under the supervision of occupational therapists, help a wide range of people and assist in helping them achieve independence and boost their productivity.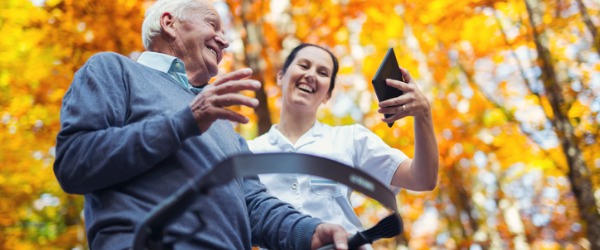 Occupational therapist assistants work with individuals and groups experiencing and/or recovering from a variety of disabling conditions. Treatment plans are all unique, depending on a patients' needs and capabilities. However, the goals are ultimately geared towards enabling individuals to:
Perform self-care — eating, getting dressed, moving around the house
Enhance overall development and well-being
Prevent disability
Enjoy leisure activities – sports, gardening, social activities
Be productive and achieve goals of independence — going to work, attending school, participating in the community, etc.
While the occupational therapist evaluates and develops treatment plans for patients, the occupational therapist assistant puts those plans into action, teaching individuals how to overcome the challenges of performing daily activities. Some of the duties and responsibilities may include the following:
Helping patients with therapeutic activities, such as stretching or recommending mobility changes to everyday equipment
Ensuring that patients are carrying out their activities and therapies correctly
Encouraging patients to complete their treatment plan at home
Teaching patients how to use specific equipment
Leading children with developmental disabilities in activities that promote coordination and socialization
Recording patients' progress throughout treatment and reporting back to the occupational therapist
Scheduling appointments and helping patients with insurance forms when needed
Setting up therapy equipment for each patient before appointments and cleaning treatment areas and equipment between appointments
Physically helping to move patients when needed, which may involve supporting patient weight, bending, and lifting
Instructing patients, families, and other caregivers on how to carry out a treatment plan
Occupational therapist assistants work with a variety of people with physical limitations — they may work with young children in schools, helping to improve their fine motor skills, or work in helping elderly patients adjust to the natural aging process. No matter the situation, occupational therapist assistants need to have a friendly and calm demeanor and demonstrate patience, understanding, and compassion for others.
The skills and qualities required from an occupational therapist assistant include:
Having excellent verbal and written communication skills in order to communicate with various people
Having the willingness to provide a high level of service to people of all demographics
Having compassion and empathy for others and offering encouragement when needed
Seeking appropriate guidance from an occupational therapist when needed — if an occupational therapist assistant is not seeing desired results in a patient, the occupational therapist and occupational therapist assistant can then work together to adjust the treatment plan
What is the workplace of an Occupational Therapist Assistant like?
Traditionally, occupational therapist assistants worked in hospitals, but increasingly they are employed in rehabilitation facilities, mental health facilities, home health agencies, outpatient clinics, private practice offices, schools, assisted living centres, and nursing care facilities.
Occupational therapist assistants typically work a 40 hour work week, which may involve weekends and early morning and/or early evening schedules. There are opportunities for full and part time work. The work can be physically demanding since assistants help patients perform exercises throughout the day which may involve supporting the patient's weight, as well as bending, stooping, and lifting.
Occupational Therapist Assistants are also known as:
Certified Occupational Therapy Assistant Occupational Therapy Assistant Licensed Occupational Therapy Assistant Certified Occupational Therapist Assistant