What is an Ocularist?
The successful rehabilitation of an individual who has lost an eye requires the attention of several eye care specialists: ophthalmologists, optometrists, opticians – and ocularists.
Ocularists are sometimes referred to as the fourth 'O' in eye care. They are the ophthalmic technicians who create ocular prostheses, also called prosthetic or artificial eyes, for people who have lost an eye or need to have an eye removed due to trauma, disease, or congenital malformation. While sight will never be recovered, ocularists are the eye care specialists whose work is to restore the appearance of the eye the patient had.
Ocular prostheses are so lifelike that you may not even notice if someone has one. Ocularists can achieve this result because the field has come a very long way. No longer are artificial eyes made of glass. Now they are made primarily of hard, acrylic plastic, resulting in a much more realistic and comfortable prosthesis.
In addition to fabricating and fitting prostheses, ocularists also paint the iris and pupil of artificial eyes. It is, therefore, often said that the work of the ocularist is an art form in medicine. It is this blend of science with art that gives patients much more than the appearance of their human eye. It gives them improved self-image and the confidence to return to independent, productive living.
What does an Ocularist do?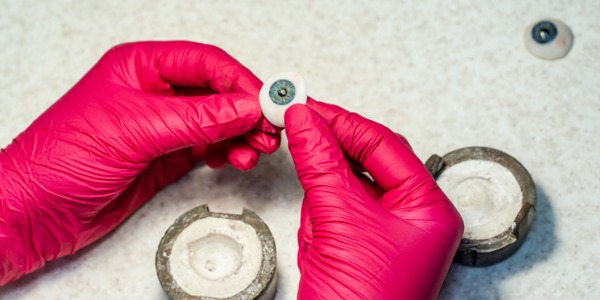 Patients are referred to an ocularist after surgical removal of the eye. Once the eye is removed, the patient must allow at least six weeks for healing prior to the first visit to an ocularist. During this first visit, the ocularist removes the 'conformer' that is usually placed in the orbit (eye socket) immediately after surgery to ensure that the socket does not contract. A conformer is a clear acrylic shell fitted to an anophthalmic or microphthalmia socket. Anophthalmia is a birth defect where a baby is born without one or both eyes. Microphthalmia is a birth defect in which one or both eyes did not develop fully, so they are small.
Here is a snapshot of the ocularist's day-to-day duties:
Examining and measuring the patient's eye socket, reviewing the orbital shape, and matching the color of the prosthesis to the iris and sclera (the white outer layer of the eyeball) of the companion eye
Demonstrating to patients examples of the natural, realistic appearance of prosthetic eyes and the mobility of the prosthesis
Designing, fabricating, and fitting custom ocular prostheses
(Stock or ready-made ocular prostheses are mass-produced; a 'stock eye' is not made for any particular person and therefore is rarely a perfect fit or color match. A 'custom' ocular prosthesis is designed and fabricated by an ocularist to fit and match a specific patient's companion eye in all aspects and to promote long term health and development of the patient's eye socket.)
Making impressions of eye sockets
Designing, fabricating, and fitting conformers
Painting the iris and pupil of artificial eyes
Performing minor adjustments to perfect the overall appearance of the prosthesis
Cleaning and restoring ocular prostheses
Advising patients concerning the loss of depth perception and the insertion, removal, and proper care of ocular prostheses
Recording patient data
Maintaining and repairing fabrication and laboratory equipment
Consulting with ophthalmologists concerning insertion of ocular prostheses
Some ocularists may elect to focus on a subspecialty of the field. Among the most common ocular subspecialties are:
Pediatric eye replacement
Implants that can move, simulating normal eye tracking
Scleral shells, which fit over a disfigured or discolored but functional eye, restoring its appearance
While ocularists are most often called upon to replace human eyes, they may fabricate and fit prostheses for animals that have lost an eye.
What is the workplace of an Ocularist like?
The vast majority of ocularists work in prosthetic / artificial eye laboratories. Some are self-employed, contracting their services to one or more labs. Creating artificial eyes requires superior manual dexterity, strength, and stamina, along with extreme focus, patience, and meticulous attention to detail. The ocularist's workday, therefore, can be both physically and mentally tiring. Depending on their place of employment, these technicians may work in isolation or as part of a team. Working closely with ophthalmologists and oculoplastic surgeons is essential in solving socket fitting problems.
Ocularists may also be employed in optometry or ophthalmology offices or clinics. These roles call for compassion and a delicate touch in dealing with patients who have been through a traumatic loss of an eye, who are often in physical pain and experiencing trepidation about their future.