What is a Physical Therapist Assistant?
A physical therapist assistant performs components of physical therapy procedures and related tasks, as directed by a supervising physical therapist. They help patients who have movement difficulties due to injury or disease.
Physical therapist assistants work side-by-side with physical therapists, assisting with therapies designed to improve a patient's mobility, relieve their pain, prevent or limit permanent physical disability, and promote overall fitness and well-being. Patients may include accident victims, as well as individuals with short- and long-term conditions (such as low back pain, fractures, head injuries, arthritis, heart disease, and cerebral palsy).
What does a Physical Therapist Assistant do?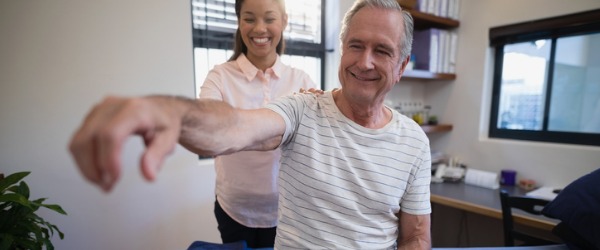 A physical therapist assistant works as part of a team to provide physical therapy services under the direction and supervision of a physical therapist — the physical therapist is responsible for the services provided by the assistant. They may choose to utilize a physical therapist assistant in the provision of certain components of the physical therapy treatment. The physical therapist, assistant, and patient then work together to make sure goals are met.
Physical therapist assistants treat individuals of all ages, from newborns to the very old, who have movement difficulties due to injury or disease that limit their abilities to move and perform functional activities in their daily lives.
Care provided by a physical therapist assistant may include teaching patients exercise for mobility, strength, coordination, training for activities such as walking with crutches, canes, or walkers, massage, and the use of physical agents and electrotherapy, such as ultrasound, and electrical stimulation.
What is the workplace of a Physical Therapist Assistant like?
Physical therapist assistants work in a variety of settings including outpatient physical therapy clinics, skilled nursing facilities, hospitals, rehabilitation centres, home health agencies, schools, and sports and fitness facilities.
Most physical therapist assistants work Monday through Friday, although work hours may vary depending on the facility and employment status. For example, most hospitals and skilled nursing facilities provide reduced coverage on weekends, and many outpatient physical therapy offices and clinics have evening and weekend hours to accommodate patients' schedules.
This job can be physically demanding, as physical therapist assistants often have to walk, stoop, kneel, crouch, lift, and stand for long periods of time. In addition, they may be required to move heavy equipment and lift patients or help them to turn, stand, or walk.
Frequently Asked Questions
What are Physical Therapist Assistants like?

Based on our pool of users, physical therapist assistants tend to be predominately investigative people. And no wonder! Investigation is vital to the work of PTAs.

They observe patients before, during, and after therapy. Using the evidence they gather and their intricate understanding of the human body, they prudently integrate stretching, exercise, and massage to reduce pain, build physical strength, and improve mobility.

This job also calls for emotional intelligence. Physical therapy patients must often deal with challenging situations, and the emotions brought on by their condition or injury. The capacity to communicate and be compassionate will go a long way in connecting with patients, in helping them to improve their outlook, and in contributing to their healing and recovery.
How long does it take to become a Physical Therapist Assistant?

The road to becoming a physical therapist assistant (PTA) starts with an early, keen interest in the workings of the human body and continues through a career-long commitment to learning and understanding its capacities.

In most cases, it takes two years to complete a physical therapist assistant program. It may take additional time to pass the National Physical Therapist Assistant Examination and receive a state license.
Physical Therapist Assistants are also known as:
Certified Physical Therapist Assistant Licensed Physical Therapist Assistant Physical Therapy Assistant