CareerExplorer's step-by-step guide on how to become a principal.
Step 1
Is becoming a principal right for me?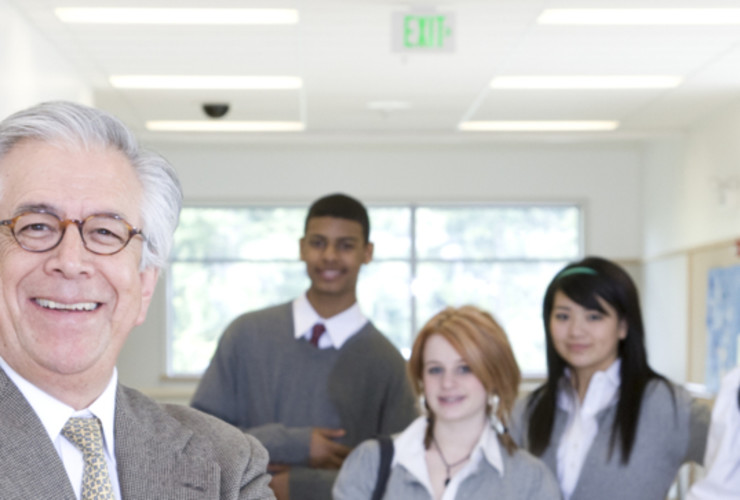 Step 2
Bachelor's Degree (B.Ed. or BA/B.Sc.)
School principals usually begin their careers as teachers, which generally requires a Bachelor's degree in education (B.Ed.) or a specific subject field (Bachelor of Arts-BA or Bachelor of Science-B.Sc.) Many colleges and universities offer degree programs in elementary, secondary, and special education. Coursework is structured according to grade levels and subjects that the student intends to teach. Most degree programs feature classes in educational philosophy, classroom management, and working with diverse students. To become certified, education majors are also commonly expected to fulfill a student teaching internship – often referred to as a practicum – during the course of their Bachelor's degree program.
In states that allow prospective teachers to work as substitutes while attending university, students of the profession should seek out opportunities to do so. State boards of education may need to issue special permits or licenses to participate in these programs. Of course, working as a substitute teacher provides the chance to gain in-class experience, develop the teacher skill set, and interact with and learn from seasoned professionals.
Step 3
Teaching Certificate
All states require public school teachers to be licensed before they start teaching. Licensing/certification qualifications vary by state, but most boards stipulate that candidates complete a Bachelor's degree and supervised in-classroom internship. Many licensing boards also require that candidates pass an exam that tests general teaching skills, methods, and subject knowledge.
Receiving a National Board Certification is an advanced credential that supplements state teaching certificates.
Step 4
Work Experience and Research
The experience that aspiring school principals gain as teachers lays the foundation for their career in educational leadership and administration. This experience, at least two or three years of it, is not only irreplaceable; to acquire licensure as a principal, it is commonly mandated by state laws. The specific number of years of required teaching experience varies by state.
In addition to the formal requirements, it is highly recommended that while gaining their teaching experience, prospective principals teach a variety of subjects and at as many different grade levels as possible. Furthermore, they should seek out opportunities to demonstrate their leadership skills by spearheading school and community activities and committees.
Finally, teachers wishing to become principals should research the school principal qualifications of the school boards to which they will likely apply. Knowing this information early in the education process will reduce stress and streamline transitions to graduate programs and ultimately to a position as a principal.
Step 5
Master's Degree and Letters of Recommendation
To prepare for advancement to school principal positions, teachers typically earn a Master's degree in educational leadership or education administration. These degree programs are generally two years in duration and enrollment is often contingent upon obtaining a state teaching license. Courses normally include instruction supervision, curriculum development, administrative leadership, school law, and school finance. Master's candidates may also be required to complete an internship and a capstone project as further conditions of graduation.
While working toward a graduate degree, students are encouraged to secure letters of recommendation from administrators and principals at schools where they have taught and from professors who have instructed them. Consulting with these professionals may also provide useful information about applications, school districts, and states to consider.
Step 6
School Administrator Specialist License
According to the U.S. Bureau of Labor Statistics, the majority of states require school principals to have a school administrator license. To be eligible for licensure, most states require that applicants hold a graduate degree and sit for a state licensing exam. Work experience and mentoring experience may also be necessary to meet eligibility standards for the license. Specifications vary by location, but many states permit an individual to add a principal endorsement to a current teaching license.
Step 7
Consider Becoming a Vice Principal
Many intermediate and high-school level institutions in larger areas hire vice principals. Depending on the district, this role may also be known as a dean of students or assistant principal. Since this position supports a principal, it is a great stepping stone to becoming one.
Step 8
Doctorate Degree (optional)
In competitive school districts, a doctorate may provide an edge in being hired as a principal. It may also mean an increase in wages.
Frequently Asked Questions
Steps to becoming a Principal
The path to becoming a school principal is multi-layered. It is a precise combination of formal education, certification, experience, research, professional networking, and individual conviction.
How long does it take to become a Principal?
Most states require that a newly licensed principal have a minimum of five years of teaching experience. Some may also demand experience as a vice principal, curriculum consultant, or school board intermediary. It is also recommended that candidates for school principal positions have taught a wide range of subjects and students at various age and grade levels. These stipulations ensure an acceptable level of knowledge in the areas of curriculum development, creating a safe learning environment, evaluating student performance, and overall classroom management. Add the required years of teaching to a four-year Bachelor's Degree and approximately a one-year practicum or internship, and the total minimum time required to assume a school principal position is generally at least ten years.
What are Principals like?
Based on our pool of users, principals tend to be predominately enterprising people. The very word, 'enterprising' speaks to their capacity to balance a commitment to education with the management, administrative, and organizational skills often associated with professionals in the corporate sector. School principals are the supervisors and managers of their schools. And as is true for practitioners in business, principals in school systems are frequently called upon to exhibit patience, tenacity, flexibility, confidence, innovative thinking, and sound decision making. Principals and business leaders alike understand that they are responsible for establishing a successful culture and climate of continuous improvement. They know, quite simply, that the proverbial buck stops in their offices and it is largely up to them to maintain and promote the overall health of their enterprises.
Are Principals happy?
Principals rank highly among careers. Overall they rank in the 70th percentile of careers for satisfaction scores. Please note that this number is derived from the data we have collected from our Sokanu members only. This above-average happiness quotient is clearly reflected in the comments of some teachers:
'As a classroom teacher, I was able to directly affect only those students assigned to me for the year, but in the role of principal, I am able to support and positively affect all teachers and students in my school.'
'I guess I gravitate toward it because it allows me the luxury of creating a vision.'
'Building a community among students, staff, and families is the foundation that everything else is built on.'
Should I become a Principal?
Becoming a school principal can lead to a long and satisfying career. Before embarking on the quest to enter the occupation, however, it is important to ask yourself these three rather big questions:
Do I have a love of teaching? Do I enjoy administrative work? Do I have a desire to impact the lives of others through education? To succeed as a principal, a Yes reply to each of these questions is essential.
Expanding on the implications of these self inquires will likely reveal whether you should become a principal.
Do I have a love of teaching?
If you care deeply about teaching and learning, should you stay in the classroom or move into a leadership role? It depends on whether you are comfortable trading your direct impact for having a bigger, but less direct impact. As a leader, it is not your job to fix everyone's problems. Your job is to build reliable systems to keep students learning and from falling through the cracks; systems to help teachers grow professionally; and systems for dealing with the countless problems that inevitably arise in a building full of complicated, very human beings.
Do I enjoy administrative work?
Making the move from teacher to principal offers a chance to make broader changes and have positive impact on a larger group of people. Along with this very significant opportunity come significant responsibilities and all of the associated administrative duties and paperwork.
Are you ready to… -manage the overall operation of a school? -set academic objectives and ensure that teachers have what they need? -implement local school board policies and federal standards? -evaluate teacher performance? -deal with an ineffective teachers; help them improve; or terminate them? -administer discipline when required? -act as the public face of the school?
Do I have a desire to impact the lives of others through education?
Understand that no one person in a school building has more influence or control over culture and change than the school principal. Great administrators inspire change and passionate learning. They are visible and transparent. They honor confidentiality and don't allow secrecy to breed division among their staff. They focus on kids first and remember that they are at their core, teachers.
How to become a Principal
Educators seeking to become principals begin their career as teachers. They typically transition to a position in education administration by first becoming an assistant or vice principal or by pursuing a department head or curriculum specialist position.
Most states require that principals be licensed school administrators. Licensing requirements vary by state. In general, public school principals must hold a Master's degree or other graduate-level training credentials. In some jurisdictions, prospective principals must pass a standard exam and maintain their license via continuing education in the field. Some school principals go on to earn a Doctorate; this advanced degree, of course, widens employment possibilities in the field.
Leadership is typically cited as the most important trait of a successful principal. The ability to establish goals and objectives and design strategic plans to achieve them is vital. Equally important is the capacity to create a sense of community and family within the school that fosters mutual trust and respect. The best principals know that they are not successful all on their own. They apply their leadership skills to create other strong leaders and teachers around them.
While cultivating the educators they lead, principals must also be student-centric. They must always make decisions based on what is best for students, their progress, and their personal development. To achieve this, principals may sometimes have to make unpopular decisions and stand resolute in their convictions. The quintessential principal is a believer in lifelong learning and a role model to both teachers and students.
In many ways, the career of school principal is located at the intersection of education and business. The role calls for a dedicated and experienced teacher, as well as a competent and innovative manager. Thorough knowledge of and familiarity with curricula is only one subset of the principal's required skill set. Also crucial to the role is the aptitude to interact and communicate at all levels – with staff, students, parents, school boards, and communities at large. Add to this responsibilities for school safety, school budgets, teacher evaluations, and disciplinary matters and 'school principal' easily emerges as one of the most complex and demanding careers.