CareerExplorer's step-by-step guide on how to become a professor.
Step 1
Is becoming a professor right for me?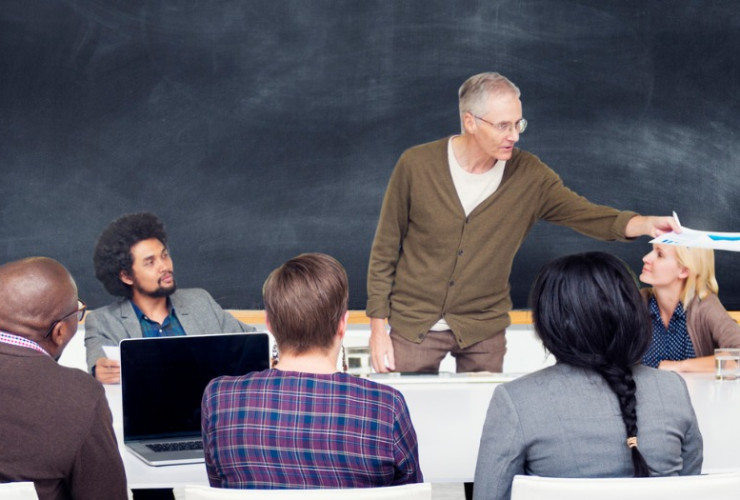 Step 2
High School
Even in high school, there are some preliminary ways that aspiring professors can prepare for their career:
• Keep up your grades / aim for a strong grade point average (GPA).
• If you have an idea of the subject you would like to teach, try to take as many classes in that subject as possible.
• Tutor in your spare time. This will expose you to the demands of teaching and will look great on your college applications.
Step 3
Bachelor's Degree
A four-year Bachelor's Degree may be sufficient education to teach so-called career courses at a technical school. For individuals wishing to teach at higher levels, an undergraduate degree is only the prerequisite and foundation for further study.
It is not always necessary to pursue a Bachelor's in the subject you eventually intend to teach. Some professors earn an undergraduate degree in one discipline before moving on to a different – though, typically, related field of study – at the graduate school level.
Step 4
Master's Degree
A Master's Degree is often the common requirement to teach at two-year colleges. In certain fields of study and for part-time positions, some universities may hire individuals with only a Master's and some practical experience.
While in graduate school, students can expect to form strong academic relationships with their professors. They may even have the opportunity to co-author and publish a paper with one of them. This is invaluable, because publication is vital for individuals who want to become professors. Establishing a publication record during graduate school makes job candidates more attractive when applying for tenure-track teaching positions.
Step 5
Gain teaching experience
Working as a Teaching Assistant is among the most valuable extra-curricular experiences for an aspiring professor. TAs not only receive a wage, but they learn a great deal about teaching at the post-secondary level.
TA duties typically include the following:
• Grading papers and assignments
• Leading small discussion or lab sections of a class, which supplement the large lecture section conducted by professors
• Performing administrative tasks for the professor
• Holding office hours during which students can ask questions or request assistance on a one-on-one basis
The only negative aspect of being a TA is the time commitment. Individuals who take on the role must be prepared to dedicate themselves to the job without sacrificing their grades and academic pursuits.
Another way that future professors supplement their learning track is by teaching online classes.
Step 6
Doctoral Degree
A Ph.D. is required for most full-time university faculty positions. Some doctoral programs allow students to pursue their Doctorate without first earning a Master's Degree.
In addition to completing the required coursework, doctoral candidates choose a specialized topic for original research and write a dissertation exploring the results of their research before qualifying to receive their Ph.D. The final step to earning a Doctoral Degree is successfully defending one's dissertation in front of a faculty committee. This process normally involves between four and six faculty members. Their role is to ask critical questions about the strength of the arguments presented in the dissertation and to offer other perspectives on the work.
Step 7
The Job Market
Most academic candidates go on the job market in the last year of their program, when they are still ABD (all but dissertation), with the intention of having defended their dissertation and earned their Doctorate by the time the tenure-track jobs begin in the fall of the next academic year. Generally, these jobs have the title of Assistant Professor.
Tenure-track positions are not easy to come by. Therefore, more Ph.D. holders are taking limited term or contingent faculty positions. It is estimated that these non-tenure track jobs make up more than 70% of teaching positions in American universities. Some of these titles include Post-doctoral Research Fellow, Visiting Assistant Professor, Lecturer, Senior Lecturer, and Adjunct. Adjuncts are Ph.D. holders who are often kept on a part-time basis, so they do not receive health insurance or other benefits from the university. They are paid a per-course fee versus an annual salary. Because institutions are generally hesitant to grant adjuncts course loads that would make them full-time employees, many adjuncts are forced to teach at multiple schools in any given semester. The role provides very little job security.
There is another option that exists for aspiring professors who have just obtained their Doctorate Degree. Instead of diving immediately into the market for a long-term teaching job, they can apply for postdoctoral (postdoc) positions. A postdoc is someone who temporarily engages in 'mentored research and/or scholarly training.' Postdocs are employed on a short-term basis at a college or university to allow them to conduct additional research, get more of their findings published, and gain more teaching experience. All of these opportunities naturally lead to enhanced resumes.
Step 8
Ongoing Research & Publication
While publications of independent research are often the key to finding a job as a full-time professor, they are also the pathway to maintaining prominent and career-long academic presence.
At most research universities, professors must continue to contribute to research in their field and publish scholarly articles. To compete for tenure-track teaching positions, they need to publish larger works and/or books.
Frequently Asked Questions
Steps to becoming a Professor
The pathway to becoming and being a professor is a rigorous one, involving a multi-level educational track and a career-long commitment to research, writing, and publication.
How long does it take to become a Professor?
It generally takes between eight and eleven years to become a professor.
• Undergraduate Education – four years • Graduate School / Doctoral Dissertation – four to seven years
Are Professors happy?
Professors rank highly among careers. Overall they rank in the 79th percentile of careers for satisfaction scores. Please note that this number is derived from the data we have collected from our Sokanu members only.
While a career in academia is not without challenge, the high happiness index among professors may be rooted in the community aspect of their jobs. They are typically closely connected to their faculty colleagues, to their research groups, and to the students they teach. And it has long been believed that happiness does not come in a vacuum; it comes in a community, with the help of others.
What are Professors like?
Based on our pool of users, professors tend to be predominately artistic people. The work of professors is to teach and to conduct research. Both of these endeavors are artistic in their essence. Teaching must be creative or artistic in that one single, unwavering, approach will not reach every student. The goal of research – to increase knowledge – naturally encourages creative dialogue, discovery, and sometimes even drama.
Should I become a Professor?
As is the case when considering any career, it is wise to listen to those who have gone before you, to insiders who speak from experience. Below is some practical information from a compilation of interviews and writings of several working professors.
Summer off? Not exactly If the lure of three months off in the summer, a month off at Christmas, and spring break is prominent in your mind as you contemplate becoming a professor, think again. While those breaks do, of course, exist, most professors spend them grading, preparing for the next semester, writing a paper to stay relevant in their field, or teaching an extra class. In the words of one professor: 'It's an all-year job with big chunks where you don't have to go into the office, but you still have to work.'
Don't expect your students to be you Many professors admit to having been a nerd who loved school and reading and writing and history. It's important to realize that the majority of your students will not be as scholastically geared as you were; and some may be total disasters. Most of them won't think like you. Some will skip class, blow off assignments, and then claim that they were not clearly told what was required. So, as a professor you have to find ways to discover what motivates each student. Your ultimate goal is to have every student be better at the end of the semester than they were at the beginning.
Getting tenure is a grind A tenured appointment is pretty much lifetime employment with great benefits and no performance evaluations. There is a catch, though: the years leading up to tenure will be the longest and most stressful job interview of your life. While professors on the tenure-track receive guidelines regarding research and publication requirements and evaluation criteria, there are also some unknowns, because ultimately your fate lies in the hands of the tenure committee, which will inevitably be composed of some members who like you and others who do not.
Grading papers takes forever Consider this scenario. You have 40 students in three classes. They all turn in one assignment per week. If you are going to consistently give valid – and important – feedback to each student, you are very likely going to be working at least six days a week.
Bad things happen to young people It's something that does not automatically come to mind for aspiring professors. Considering the number of students you teach and make connections with, you will eventually encounter some sad stories. Injuries, viruses, infections, mental illness, anxiety, depression, paranoia, and grief. Your compassion will be called upon, even as you must continue doing your job.
You'll spend a lot of time with your colleagues The goal of tenure means that not a lot of people leave academia. The ability to get along with colleagues, therefore, is paramount, because there is a real possibility that you could be working with them for a rather long time. While senior faculty can provide mentorship and guidance, they can also prove to be frustrating if they are stuck in the past. How do you deal with this? You just do. Because you have to.
Students are the best part As articulated by one professor: 'Because they're young, because they're excited, because they're naive, because they're hilarious. Because when they are kind to each other, it makes your heart happy. Because they say thank you at the end of the semester, or even at the end of class. Because they laugh at your jokes or roll their eyes at appropriate times. Because they tell you their secrets. Because they push back. Because they ask good questions. Because they force you to bring it, every day. Because they have great ideas. Because they give your life meaning.'
A life of learning 'I became a professor because I needed a job that encouraged a life of learning. I must continue reading and investigating in order to do my job well. I knew I wanted to influence young people to be interested in ideas and to be curious about first principles. I wanted to push students to really learn how to think.'
It's a competitive field The reality is that getting a professorship is extremely difficult. Job prospects differ tremendously based on your field. Those who get their doctorates in professional fields like business or public administration or in the scientific or technical disciplines typically have positive job outlooks. Competition in the social sciences and humanities is generally very strong. The overall job market is somewhat protected by the ABD factor. There are many people who get as far as the all but dissertation stage; but far less who actually complete it.
Universities are communities In a perfect world, all schools prize teaching and character formation of students; and they look for professorial candidates with a passion for the classroom and mentoring. While teaching skills, experience, and dedication are naturally important, those in the field know that universities are communities, and they like to hire like-minded people. Academic freedom is the utopia. The facts are this: conservatives like conservatives and liberals like liberals.
Publish or Perish Many schools are highly research driven and therefor seek out faculty members with a number of scholarly publications. In academia, you publish and move up or you move out.
Research versus teaching Faculty at teaching oriented schools typically teach four courses per semester. At research focused institutions, professors may teach only two courses, but will be expected to produce significant research.
The worst part of the job As noted above, the majority of professors will tell you that the best part of the job is teaching students who care and want to learn. They will also say that the worst part of the job is teaching students who don't care. In the words of one interviewee, 'You may think we don't care if you've checked out, but we do. This is heart and soul stuff for us.'
What I wish I knew when I was a student I wish I knew… …that professors get paid a nine-month salary for twelve months of work …that college students are essentially kids …that the discipline can be very political …that universities get rid of bullies and other serial troublemakers by waiting for them to retire …that university communities are often old boys clubs
The best advice
• Use the papers you write while completing coursework to build a foundation for your dissertation. This way, it won't seem so unconquerable. Don't make your dissertation your masterwork. Focus on finishing.
• As a graduate student, do not be anonymous. Form relationships with your professors. They are the people you will need as advocates when you begin to look for work.
How to become a Professor
The most common educational background for fulltime, tenure-track university professors includes a Doctoral Degree in their chosen field, teaching experience, professional certification, and prominent academic presence established through independent research and publications in scholarly journals.
It should be noted that the importance of the research component of the university professor's academic path is continually growing. There was a time when tenure could be achieved with as little as two or three peer-reviewed articles. This is most definitely no longer the case. Educational institutions are increasingly seeking professors who have conducted fieldwork or clinical experiences and bring significant ground-breaking research to the faculty table.
The absolute minimum level of education for a professor is a Master's Degree. This credential, however, generally qualifies an individual to teach at a community college and not at a full-fledged university. Some community colleges that consider hiring professors with only a Master's may seek out those who are doctoral candidates.
Aspiring professors at both universities and colleges generally gain their initial teaching experience as a graduate teaching assistant while they are enrolled in a graduate program.
The rise of professional schools, in particular in the business and communications sectors, has created some demand for professors with practical experience and not necessarily with a Ph.D. and/or a resume that comprises independent research. These schools may also place a premium on professorial candidates who understand analytics and social media, who have launched their own business, or who have created a successful app.