What is a Sign Language Interpreter?
A sign language interpreter is someone who helps hearing impaired or deaf individuals understand a spoken language by converting it into sign language. Interpreters are needed in both one-on-one situations as well as group settings. This service is needed in a variety of settings, such as the performing arts, schools, hospitals, doctors offices, court rooms, law offices and the government.
What does a Sign Language Interpreter do?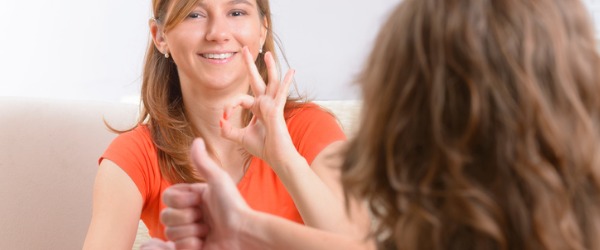 A sign language interpreter needs to fully understand the subject at hand and be able to accurately translate the information to the recipient. Not only are excellent skills in both sign language and the English language necessary, but listening and communication skills are imperative. A good memory is equally important, since the interpreter will need to remember what is being said in detail in order to translate the information accurately.
There are many times where the interpreter will have to do research ahead of time if there is complicated or technical information that needs to be interpreted. Many times, he or she will need to refer to dictionaries, encyclopedias or other reference materials in order to be as accurate as possible, and to have a good understanding of the subject.
What is the workplace of a Sign Language Interpreter like?
There are generally three different areas a sign language interpreter can work in:
Education - These interpreters work in schools, from elementary school right through to the university level. Their work schedule is the same as the school's schedule, and they typically work with one or two students at a time. Their job is to take the spoken language of the teacher and interpret the lesson into sign language for the deaf student(s). This type of interpreting can be very fruitful as the progress and growth of the student can be seen and the interpreter is part of an educational team environment.
Community - These interpreters work in banks, hospitals, offices, courthouses, colleges etc. There is no typical day, therefore the job is never boring. Their schedule may include some evenings or weekends, depending on their client's needs, so they need to be flexible. They also need to be very discreet and trustworthy, as a lot of their interpreting will be of a private nature.
Video Relay Service (VRS) - This challenging type of work involves interpreting between a deaf person that needs to connect to a hearing person on the telephone. In order to do this, the deaf caller will use a video telephone and connect to a hearing person in real-time. The phone calls can be made for a variety of reasons. For example, to make a doctor's appointment, to inquire about a job application or school application, to make bank inquiries or credit card inquiries etc. This service is open seven days a week, 24 hours a day, so the interpreter would need a flexible work schedule.
Sign Language Interpreters are also known as:
ASL Interpreter American Sign Language Interpreter Deaf Interpreter