What is a Skincare Specialist?
A skincare specialist is a professional who specializes in the care and treatment of skin. Skincare specialists are trained and licensed professionals who provide a range of services to improve the health and appearance of skin. Their main goal is to help clients achieve healthy, beautiful skin through personalized treatments and skincare advice.
Some of the common services provided by skincare specialists include facials, chemical peels, microdermabrasion, waxing, and makeup application. They may also provide advice on skincare routines, recommend products, and offer tips on how to maintain healthy skin. Skincare specialists may work in various settings, such as spas, salons, dermatology clinics, or even their own private practice. They typically work with clients of all ages and skin types and may specialize in treating certain skin conditions, such as acne or rosacea.
What does a Skincare Specialist do?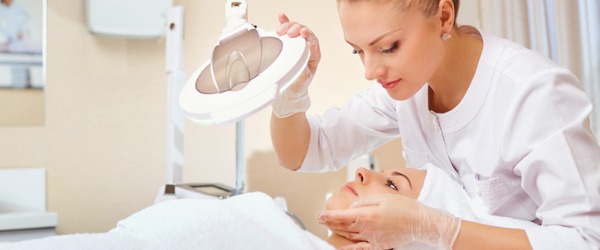 Duties and Responsibilities
The duties and responsibilities of a skincare specialist may vary depending on their workplace and specialization. However, some common tasks and responsibilities that a skincare specialist may have include:
Assessing clients' skin conditions: Skincare specialists typically begin their services by assessing their clients' skin type, concerns, and conditions. They may use various tools and techniques, such as skin analysis machines, to evaluate the client's skin and determine the appropriate treatments.
Recommending skincare treatments: Based on their assessment, skincare specialists may recommend appropriate skincare treatments, such as facials, chemical peels, or microdermabrasion. They may also suggest specific products or homecare routines to help clients maintain healthy skin.
Performing skincare treatments: Skincare specialists may perform a range of skincare treatments on clients, depending on their training and expertise. These treatments may include cleansing, exfoliating, moisturizing, and applying masks or serums.
Educating clients on skincare: In addition to providing treatments, skincare specialists may also educate clients on skincare practices and products. They may provide tips on how to cleanse and moisturize effectively, recommend specific products, and suggest lifestyle changes to improve skin health.
Maintaining cleanliness and hygiene: Skincare specialists must maintain a clean and hygienic workspace, including properly sterilizing tools and equipment between clients.
Keeping accurate records: Skincare specialists may keep records of their clients' skin conditions, treatments, and progress to track improvement and provide better services.
Adhering to safety protocols: Skincare specialists must follow safety protocols and guidelines when performing treatments, such as wearing gloves and masks, to ensure the safety and well-being of clients.
Types of Skincare Specialists
There are several types of skincare specialists, each with their own specialized training and expertise. Here are a few examples:
Aesthetician: An aesthetician is a skincare specialist who is trained to perform a range of cosmetic skincare treatments, such as facials, chemical peels, and waxing. They may work in salons, spas, or skincare clinics.
Medical Aesthetician: A medical aesthetician is a skincare specialist who has additional training in medical skincare procedures, such as laser treatments, micro-needling, and chemical peels. They may work in dermatology clinics, medical spas, or plastic surgery practices.
Oncology Aesthetician: An oncology aesthetician is a skincare specialist who is trained to provide skincare treatments for individuals who are undergoing cancer treatments. They are trained to work with clients who may have sensitive or compromised skin and provide treatments that are safe and effective.
Holistic Aesthetician: A holistic aesthetician is a skincare specialist who focuses on a more natural approach to skincare, using plant-based products and treatments. They may also incorporate lifestyle and dietary recommendations to improve skin health.
Master Aesthetician: A master aesthetician is a skincare specialist who has completed advanced training and education in esthetics. They may have expertise in advanced skincare treatments, such as microdermabrasion and chemical peels, and may work in high-end spas or clinics.
What is the workplace of a Skincare Specialist like?
As a skincare specialist, your workplace can vary depending on your job and work setting. Here are some possible workplace environments for a skincare specialist:
Spas and salons: Many skincare specialists work in spas or salons where they provide a range of facial treatments and services. These settings typically have a relaxed and peaceful atmosphere, with soothing music, dim lighting, and comfortable treatment rooms.
Medical offices: Some skincare specialists work in medical offices, where they may provide medical-grade skincare treatments such as chemical peels or laser therapy. Medical offices may have a more clinical environment, with bright lighting and a focus on providing medical treatments.
Retail stores: Many skincare specialists work in retail settings, such as department stores or beauty supply stores, where they offer product recommendations and skincare advice to customers. These environments can be fast-paced and may require a lot of interaction with customers.
Freelance: Some skincare specialists choose to work as freelance professionals, providing skincare services on a mobile or independent basis. This may involve traveling to clients' homes or providing treatments in rented spaces.
Skincare Specialists are also known as:
Certified Skin Care Specialist