What is a Sports Broadcaster?
A sports broadcaster is someone who provides coverage of sporting events using a variety of different media outlets, such as radio, television, and the internet. That being said, the actual job of a sports broadcaster can vary quite a bit. Some will specialize in one particular sport, doing commentary, while others will specialize in research, production, and the presentation of many different sporting events and competitions.
What does a Sports Broadcaster do?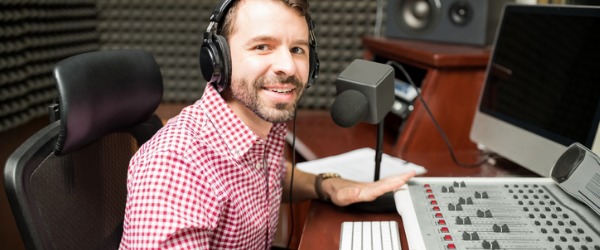 One of the best-known and most recognized occupations within the sports broadcasting career field is that of the game announcer or commentator. Typically, commentators work in pairs, consisting of the play-by-play announcer and the colour commentator.
Play-by-play announcers describe the play and explain what is happening to the viewers, while the game or event is in action. The colour commentator takes over during the times when the game is not in action, to share personal knowledge and game experiences. Frequently this is transitioned by the play-by-play announcer asking the commentator a question, in a sort of tag team effort to keep the viewers engaged and entertained for the entire sporting event.
This is probably the definitive sportscasting career that many people think of, and it's one of the most lucrative jobs in the field. However, this position only makes up a small percentage of people working in sports broadcasting.
What is the workplace of a Sports Broadcaster like?
It would probably not surprise you to learn that over 80% of sports broadcasters are male, but it's interesting to note that female sportscasters are narrowing that gap every year. In some events, female broadcasters are well represented; ice skating and gymnastics, which receive more coverage than in years past, are two examples of this. Other events, such as football, rugby, basketball and hockey, have stayed more true to the stereotypical male broadcaster, though newer productions such as those broadcasting on the internet or via podcast, do not hold as tightly to this business model.
The very largest sporting events, such as the Olympic games, can literally keep thousands of sports broadcasters employed for the duration of the competitions, if you consider each sporting event and ceremony will be broadcast in dozens of countries, translated, and then disseminated to local broadcasters, internet and podcasts, and other mediums.
Television networks are one of the largest employers for full-time sports broadcasters. Major television networks, as well as sport-specific channels and newer "niche" television channels that specialize in only one sport, keep a number of sports broadcasters and commentators on staff, typically on contract. Radio work is still common, though not as prevalent as it was in the past. Webcasting and other internet-based sports broadcasting opportunities are becoming more widespread, however currently these positions tend to be not as lucrative as other mediums.
The typical sports broadcaster's "office" might be the stadium press box, a television studio, the sidelines or even the locker room, interviewing players and coaches after a game.
Sports Broadcasters are also known as:
Sports Commentator Game Announcer Sports News Anchor Sports Anchor Television Sports Anchor Sports Announcer Sports Host Sports Radio Announcer Play-by-Play Announcer Color Commentator Colour Commentator