What is a Systems Architect?
Are you interested in developing and implementing computer systems and networks for organizations? You may want to consider a career as a systems architect!
Systems architects define the architecture of a computer system in order to fulfill certain requirements. Defining the architecture could mean breaking down the system into components, defining component interactions and interfaces, and/or deciding on the technologies and resources to be used in the design.
What does a Systems Architect do?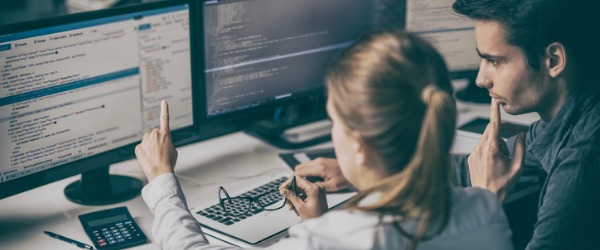 Systems architects devise, configure, operate, and maintain networking and computer systems. These systems operate as part of a company infrastructure and allow a company to function.
Similar to how civil architects or civil engineers have an excellent understanding of how bridges need to be used and how much stress they can take, systems architects are proficient in understanding how computer systems need to be used, how much stress they can take, and what is needed for system designs to hold up.
Systems architects consider a company's business objectives as well as its size, budget, and resources in order to figure out what kind of computing power it needs. They also consider how much data storage the company needs, the size and speed they require, and the best user experience a company wants to create for their employees.
A systems architect will design the technical infrastructure such as hardware (computers), software (programs), web portals, Internet and intranet connections, firewalls, servers, and systems security. The job may also involve installation of both the hardware and the software during the setup and maintenance of these systems, technical research and development, process improvement, and long-term system road mapping.
Systems architects ensure that client and company needs are met, offering technical support and creating installation instructions for users. Establishing rapport with other staff and developers is essential.
A systems architect usually has the following responsibilities:
Overall design
Steps for creation
Customization for customer needs and explaining in layman terms
System definition requirements
Cost analysis
Integration constraints and solutions
Adherence to standards
Server cluster administration
Provisioning and maintenance across multiple locations
System backup management
Troubleshooting/diagnosis
What is the workplace of a Systems Architect like?
Systems architects are hired by all types of companies, since any company that relies on its own computer network needs someone to ensure infrastructure is properly designed. Companies also need systems architects on staff to make ongoing improvements and troubleshoot problems.
Systems architects can find work in telecommunications, wireless communications, health care, finance, government and contracting, defense, computing, eCommerce, and retail. Top companies hiring systems architects include IBM, HP, Intel, Northrop Grumman, Amazon, Dell, Oracle, Cisco, Apple, Nvidia, Microsoft, Cisco, Lockheed Martin, GE, and Bank of America.
Systems Architects are also known as:
System Architect Computer Systems Architect Information Systems Architect