What is a Tree Service Technician?
A tree service technician is someone who looks after trees, and is specially trained in identifying disease and pests. Using sophisticated climbing and rigging techniques, he will cut away dead or excess branches from trees or shrubs to maintain clearance for roads, sidewalks or utilities, or to improve the appearance, health and value of the tree.
What does a Tree Service Technician do?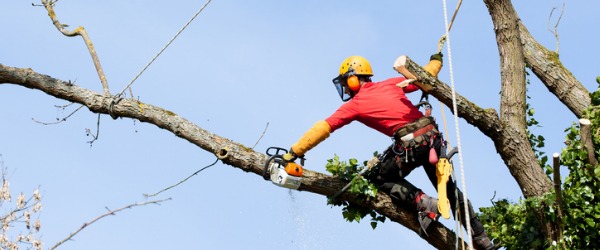 A tree service technician holds a variety of jobs, all relating to the care and maintenance of trees. They may be employed by the government, a landscaping firm, lawn care companies, and botanical gardens. They care for trees through pruning, trimming, securing broken branches, diagnosing pest problems or plant diseases, and fertilization. They might specialize in one particular type of tree, or focus more on tree planting or tree removal. 
A tree technician may also work closely with urban planning, municipal administrators, lawn care specialists, landscape architects, and horticulturists, who need their help and expertise. They are trained to scale trees securely and safely in order to do their work. It can be very dangerous removing a tree, so service technicians think through all the cuts and ties they have to make so that a tree can be felled safely. 
There could be a number of reasons why a tree service technician might be called. They may need to cut back or remove trees due to disease, environmental factors, proximity to houses or power lines, storm damage, or even aesthetics. They may even be called in to remove trees that block sidewalks, roadways, or trails. Because of their expertise using climbing gear to scale trees, a technician may even be hired to rescue cats that have climbed too high and can't get down.
Other duties of a tree service technician may include: 
Scaling up a tree and removing certain branches 
Evaluating trees for pest problems or diseases
Repairing breaking branches by securing braces and cables to big limbs
Calculating the monetary value of trees
Developing and planning budgets for tree maintenance
Presenting tree health seminars to schools
Working with dangerous power tools
What is the workplace of a Tree Service Technician like?
Tree service technicians use dangerous power tools and chemicals. This job also entails a lot of lifting, climbing, and twisting, so they need to be in good shape. Tree service technicians typically work in teams of two or more, therefore communication is a vital part of this role. They work regular hours, unless there has been an emergency, like a windstorm or flood.
Tree Service Technicians are also known as:
Tree Care Technician Tree Care Service Technician Tree Technician