What is a Woodworker?
Woodworkers build a variety of products, such as cabinets and furniture that are made out of wood and synthetic wood materials. They build furniture either directly for clients through their own business or as part of a larger manufacturing team.
Despite the abundance of plastics, metals, and other materials, wood products continue to be an important part of our daily lives. Many of these products are mass produced, including most furniture, kitchen cabinets, and musical instruments. Other products, however, are custom made with specialized tools in small shops.
What does a Woodworker do?
Although the term "woodworker" may evoke the image of a craftsman who builds ornate furniture using hand tools, the modern woodworking trade is highly technical and relies on advanced equipment and highly skilled operators.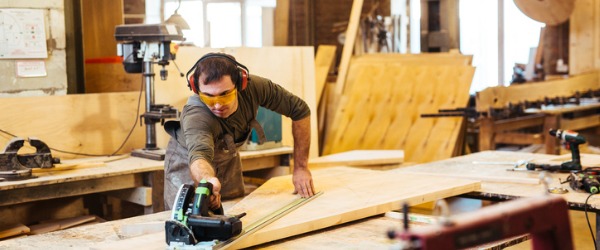 Woodworkers typically do the following:
Read detailed schematics and blueprints
Prepare and set up equipment
Lift wood pieces onto machines, either by hand or with hoists
Operate wood-making and cutting machines
Listen for unusual sounds or detect excessive vibration
Ensure that products meet specifications, making adjustments as necessary
Use hand tools to trim pieces or assemble products
Remove and replace dull saw blades
Workers use automated machinery, such as computerized numerical control (CNC) machines, to do much of the work. Even specialized artisans generally use a variety of power tools in their work. Much of the work is done in a high-production assembly line facility, but there is also some work that is customized and does not lend itself to being made in an assembly line.
Woodworkers are employed in every part of the secondary wood products industry, from sawmill to finished product, and their activities vary. They set up, operate, and tend all types of woodworking machines, such as drill presses, lathes, shapers, routers, sanders, planers, and wood-nailing machines. Operators set up the equipment, cut and shape wooden parts, and verify dimensions, using a template, caliper, and rule.
After wood parts are made, woodworkers add fasteners and adhesives and connect the pieces to form a complete unit. They then sand, stain, and if necessary, coat the wood product with a sealer, such as a lacquer or varnish.
What is the workplace of a Woodworker like?
Working conditions vary, depending on specific job duties. Often, workers have to handle heavy, bulky materials, and they encounter a lot of noise and dust. Workers must often wear earplugs, gloves, and goggles to protect themselves. Most work full time during regular business hours.
Woodworkers are also known as:
Certified Custom Woodworker Master Custom Woodworker