What is a Railroad Operations Degree?
Railways play a vital social and economic role throughout the world. They are responsible for 43 percent of all intercity freight transportation in the US.
Railroad operations training programs produce the conductors, dispatchers, mechanics, and laborers that keep these complex systems working. The typical curriculum covers the history of the railroad industry, government rules and regulations pertaining to rail transportation, operating and inspection procedures, hazardous materials handling, and career opportunities in the field.
Program Options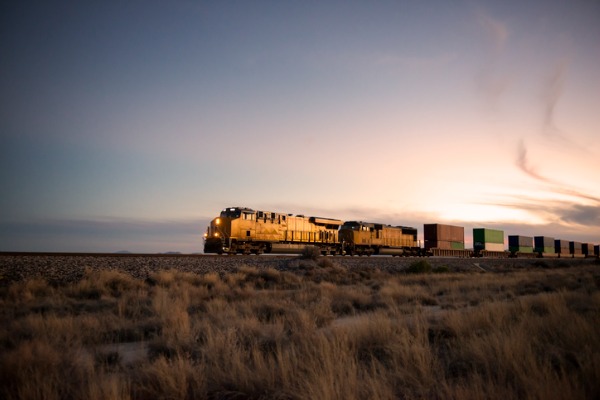 Students are encouraged to select a program approved by the American Association of Railroad Superintendents (AARS).
Certificate in Railroad Operations – Varying Durations
Certificate programs teach only subjects in the major. They are focused exclusively on the various aspects of railroad operations. Some programs may concentrate on one particular aspect of the field such as freight operations, locomotive operations, maintenance operations, or railroad conductor training, allowing students to earn a certificate in as little as ten weeks.
Associate Degree in Railroad Operations – Two Year Duration
A railroad operations associate program combines courses in the major with general education classes in subjects such as English, mathematics, physics, and computer science.
Despite the differences described above, railroad operations courses like the following are at the heart of both of these programs:
Introduction to the Railroad Industry – an overview of the railroad industry, covering:
Development and evolution of the railroad industry in North America
Economic impact of railroads in North America
Various career opportunities in railroading
Occupations in the industry, their functions, and requirements
Major characteristics of the North American rail industry's operations, processes, and structure
First aid, automated external defibrillator (AED), and cardiopulmonary resuscitation (CPR) training
Hazardous materials practices and handling
Railroad Operations and Safety Rules – safe train practices and operations, covering:

Railroad operations and safety rules
The importance of safety, personal health, and environmental awareness
Important techniques for improving safety operations and conditions
Various safety measures and tools such as operating rules, signals and their indications, block signals, track warrants, track bulletins, and railroad radio rules

General Code of Operating Rules (GCOR) – learning the GCOR; students must pass a GCOR test to advance in the program and must demonstrate proficiency in:

Employee responsibilities
Protocol for dealing with accidents and the safe movement of trains
Railroad radio rules, timetables, train handling
Signals and their use
Movement of trains and engines
Territories including centralized traffic control system (CTC), track warrant control (TWC), automatic train supervision (ATS), automatic cab signaling (ACS), etc.

Yard Switching Operations – an overview of the railroad operations that are unseen because they take place in industrial facilities and railroad yards:

Breaking up, spotting / making up trains, and releasing them to their proper destination
Rules governing safety in rail operations and what special precautions need to be taken when working with heavy equipment, engines, and freight cars
Field application of Federal Railroad Administration (FRA) rules

Air Brakes and Train Handling Rules – hands-on experience with locomotives and freight cars:

Inspecting and testing brake equipment
Air brakes and their operations and inspection processes
Mechanics, major structural components, problem-solving of brake systems, and the FRA rules and regulations
Coupling and uncoupling rail cars and locomotives
Conducting daily inspections of freight cars and locomotives according to federal regulations

Railroad Field Operations – on-the-job training in a working railroad environment:

General Code of Operating Rules (GCOR), timetables, special instructions, general orders and track bulletins, and track warrants on a railroad system
Students will make up trains, switch, and spot rail equipment
Students will couple and uncouple rail cars and locomotives, troubleshoot air brake systems and lining track switches, and inspect damaged tracks

Hazardous Materials, Practices, and Handling – regarding 'substances or materials that the Department of Transportation (DOT) has determined to be capable of posing unreasonable risk to health and safety when transported in commerce':

Federal regulatory agencies
DOT's Hazardous Materials Regulations
Recognition and identification of hazardous materials in transportation
Using the Emergency Response Guidebook
Chemical properties
How to use online resources
National Institute for Occupational Safety and Health (NIOSH) Pocket Guide
Hazardous Substances Fact Sheets and Material Safety Data Sheets
Introduction to toxicology and DOT-required security awareness training

Freight Car and Locomotive Daily Inspection – inspection of locomotives in active service by a qualified inspector, covering:

Conducting inspection of freight cars and locomotives according to federal regulations
Writing an accurate and detailed inspection report

Preparing for the Job Application and Interview – preparation and practice for gaining entry into the railroad industry:

How to write an effective cover letter and resume and complete an employment application
Interviewing protocol and techniques
Focusing on career goals to advance and move beyond entry-level positions
Using the internet to explore career opportunities and research potential employers in the railroad industry
Degrees Similar to Railroad Operations
Aircraft Maintenance Technology
Aircraft mechanics and technicians keep airplanes in safe operating condition. Degree programs in aircraft maintenance technology teach students how to inspect, maintain, and repair aircraft.
The typical curriculum covers both the airframe (structural) and power plant (engine) components of aircraft. Students learn about aircraft metal structures, fuel systems, electronics, hydraulics and propulsion systems, landing gear systems, and maintenance and inspection regulations.
Automotive Mechanics
Automotive mechanics training programs prepare students to work in the servicing and maintenance of cars. Coursework covers preventative maintenance, brake systems, suspension systems, steering systems, wheel alignment, drive lines and axles, and electrical fundamentals.
Machine Shop Technology
Machinists support manufacturing industries by making and modifying metal parts. Degree programs in machine shop technology teach students about the machining industry's production methods, materials, and processes.
Skills You'll Learn
Graduates with a railroad operations degree gain this valuable set of transferable skills:
Ability to adapt to working with new systems
Ability to identify and solve technical and sometimes complex problems
Ability to read and understand technical information, follow guidelines, and conduct technical inspections
Ability to read gauges, dials, and other instruments
Ability to work both independently and as part of a team
Ability to work to deadlines
Attention to detail
Critical and analytical thinking
Customer service skills
Decision making skills
Focus / concentration
Hand-eye coordination and manual dexterity
Mechanical skills
Physical strength
Safety awareness
Spatial perception
Verbal and written communication
Visualization skills
What Can You Do with a Railroad Operations Degree?
The very specialized nature of an education in railroad operations means that the vast majority of graduates work directly in the field, that is to say for the more than five hundred companies that make up the US railroad industry and provide the nation's freight and passenger transportation service on a network of some 300,000 route-miles of track.
Below are descriptions of the most popular railroad operations jobs, some of which may be referred to by more than one title. Some roles may require further education and/or on-the-job training.

Yardmaster - is the overseer of the rail yard or train depot; manages all yard personnel to make sure that each train gets organized according to various schedules and cargo manifests
Signal Maintainer – services the electrical components of railway systems that are used for signals, including rail switches, lights, and wiring; opportunities exist with passenger and freight rail lines and subway systems
Locomotive Electrician / Diesel Locomotive Electrician – services and maintains all electrical equipment onboard trains and on track systems
Locomotive Engineer / Railroad Engineer / Train Engineer – is the train driver and is the top ranking official on the train; controls the speed of the train and follows instructions provided by train dispatchers; locomotive engineers are typically promoted from conductor positions
Train Dispatcher – directs and coordinates train traffic for a region using computer programs to plan and direct train traffic and communicate with conductors and engineers onboard the trains
Rail Car Loader – works for companies that transport goods on rail lines; works in warehouses and distribution centers and manages the loading and securing of goods into rail cars for transport; unloads arriving goods; coordinates with railroad companies regarding delivery of shipments
Railroad Mechanic / Diesel Mechanic – maintains the train engine, typically diesel-electric engines
Railroad Conductor / Train Conductor – oversees all train operations, cargo, and crew; inspects the train to ensure it functions properly and complies with all regulations; maintains communication with railroad crew members and stations by radio and telephone
Track Laborer – works for passenger or freight railroad companies, performs inspections, maintenance, and repairs on rail tracks and some train equipment; this is an entry-level job
Brake Operator / Brakeman – operates train brakes, usually airbrakes; may ride on trains or be stationed with the switchmen on the ground at junctions; considered an assistant to the conductor or engineer; on passenger trains, the brake operator may also collect tickets at stations or make announcements
Switchman – operates the switches at railway intersections to change the direction of trains; coordinates with train dispatchers and engineers to ensure that trains pass through intersections safely and on the correct track; computers and hydraulic engines control modern switches