What is an Account Manager?
An account manager serves as the primary point of contact for clients within a company or organization. Their main responsibility is to build and maintain strong relationships with clients, ensuring their satisfaction and addressing any concerns or issues that may arise. Account managers act as advocates for their clients within their own organization, working closely with different departments to ensure that client needs and expectations are met. They provide guidance and support to clients, offering solutions and strategies to help them achieve their goals and maximize their business outcomes.
Additionally, account managers are responsible for managing the overall account relationship, including contract negotiations, upselling or cross-selling products or services, and monitoring account performance and profitability. They often collaborate with sales teams to identify new business opportunities and generate leads. Effective communication and interpersonal skills are vital for account managers, as they must be able to understand clients' needs and effectively convey information to both clients and internal teams.
Get online training through our partner:
What does an Account Manager do?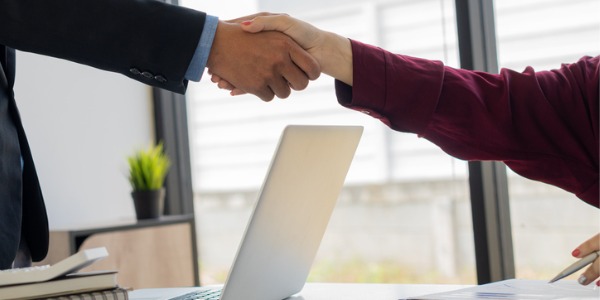 Account managers play an important role in building and maintaining successful client relationships. By understanding client needs and effectively addressing their concerns, account managers ensure client satisfaction and loyalty. Their expertise in communication, relationship-building, and problem-solving makes them essential in fostering long-term partnerships and maximizing customer value.
Duties and Responsibilities
Here are the duties and responsibilities of an account manager:
Building Relationships: An account manager's main job is to build strong relationships with clients. They get to know the clients and understand their needs, preferences, and goals. By building a good relationship, they create trust and ensure client satisfaction.
Client Support: Account managers are there to support clients and help them with any questions or issues they may have. They act as a bridge between the clients and the company, making sure that clients' concerns are addressed promptly and effectively.
Communication: Account managers need to be excellent communicators. They listen to the clients, understand their requirements, and convey information clearly and accurately to both clients and their colleagues in the company. They also provide advice and guidance to clients, helping them make informed decisions.
Account Management: Account managers are responsible for managing the overall relationship with their clients. They negotiate contracts and agreements, ensuring that both the client and the company's interests are protected. They monitor the performance and profitability of the client's account and take appropriate actions to maximize results.
Upselling and Cross-selling: Account managers identify opportunities to increase business with existing clients. They suggest additional products or services that can benefit the client, thus increasing revenue for the company.
Collaboration: Account managers work closely with different teams within the company. They collaborate with sales teams to identify new leads and potential clients. They also coordinate with customer support, marketing, and product development teams to ensure that client needs are met efficiently.
Business Development: Account managers actively look for new business opportunities and potential clients. They research industry trends, attend networking events, and participate in marketing activities to expand the client base and contribute to the company's growth.
Types of Account Managers
There are various types of account managers, each specializing in different areas based on the industry and client needs. Here are a few common types of account managers and a brief overview of what they do:
Key Account Manager: Key account managers focus on managing relationships with a company's most important clients or key accounts. They work closely with these clients to understand their specific needs, develop customized solutions, and ensure their overall satisfaction. Key account managers often handle high-value accounts and play a critical role in maintaining long-term partnerships.
Sales Account Manager: Sales account managers are responsible for driving sales and revenue growth within their assigned accounts. They identify new business opportunities, develop sales strategies, and negotiate contracts. Their main objective is to meet or exceed sales targets and expand the customer base by building strong relationships with clients and delivering value through products or services.
Technical Account Manager: Technical account managers work in industries that offer technical or complex products or services. They possess specialized technical knowledge and serve as a liaison between clients and internal technical teams. Technical account managers provide technical support, troubleshoot issues, and ensure the smooth implementation and ongoing usage of the company's solutions.
Customer Success Manager: Customer success managers focus on ensuring the success and satisfaction of the company's clients. They work closely with clients to understand their goals, help them achieve desired outcomes, and maximize the value they receive from the company's products or services. Customer success managers provide ongoing support, conduct regular check-ins, and offer guidance and training to help clients derive the most value from their investment.
National or Global Account Manager: National or global account managers handle accounts that span across different regions or countries. They have a broader scope of responsibility and manage complex, multi-location client relationships. These account managers coordinate with various teams across different regions to provide consistent service and support to clients on a larger scale.
What is the workplace of an Account Manager like?
The workplace of an account manager can vary depending on the industry and company they work for. Generally, account managers have a combination of office-based and client-facing responsibilities. They often work in a professional office environment, either within their company's headquarters or regional offices. Their workspace typically includes a desk, computer, phone, and other necessary office equipment.
Account managers spend a significant portion of their time communicating with clients and colleagues. This involves a mix of in-person meetings, phone calls, video conferences, and email exchanges. They may also travel to meet clients at their own offices or attend industry events, conferences, or trade shows.
The nature of their work requires account managers to be adaptable and flexible, as they need to balance their time between managing client relationships, collaborating with internal teams, and completing administrative tasks. They may have a set schedule for regular meetings or check-ins with clients, but they must also be prepared to handle unexpected client inquiries or urgent issues that may arise.
The workplace culture for account managers can vary, but they often work in a fast-paced, dynamic environment. They interact with colleagues from different departments such as sales, marketing, and customer support. Collaboration and teamwork are essential, as account managers need to coordinate with these teams to meet client needs and ensure seamless service delivery.