What is an Audio Visual Technician?
An audio visual technician is responsible for the setup, operation, and maintenance of audio and visual equipment used in various events, presentations, and productions. Their primary role is to ensure the seamless integration of audio and visual elements to create an immersive and engaging experience for the audience. These technicians are typically found working in a wide range of settings, including conference centers, theaters, concert venues, corporate events, educational institutions, and broadcasting facilities.
Audio visual technicians handle a variety of equipment, such as microphones, speakers, amplifiers, projectors, video screens, cameras, lighting systems, and control boards. They possess extensive knowledge of audio and video signal flow, connectivity options, and troubleshooting techniques to ensure that all equipment is functioning properly. Additionally, audio-visual technicians may also be involved in recording and editing audio and video content, managing multimedia libraries, and assisting in post-production tasks.
What does an Audio Visual Technician do?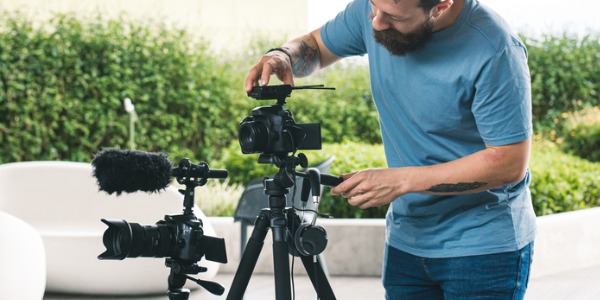 An audio visual technician plays an important role in creating a captivating sensory experience by combining audio and visual elements effectively. Their technical expertise, attention to detail, and ability to adapt to different environments make them essential contributors to the success of events, presentations, and productions that rely on high-quality audio and visual production values.
Duties and Responsibilities
Here's a detailed description of the duties and responsibilities of an audio visual technician:
Equipment Setup and Maintenance: The audio visual technician installs, sets up, and operates a wide range of audio visual equipment, including projectors, sound systems, microphones, speakers, cameras, and video conferencing systems. They conduct thorough testing and troubleshooting to ensure proper functionality. Routine maintenance tasks such as cleaning, calibration, and software updates are performed to keep the equipment in optimal condition.
Event Support: During live events, meetings, conferences, and presentations, the audio visual technician provides technical support. They collaborate with event organizers to understand their audio visual requirements and offer appropriate solutions. This involves setting up and configuring audio visual systems based on event specifications, ensuring proper connectivity and integration. Throughout the event, they monitor and adjust audio and video levels to maintain high-quality output and troubleshoot any technical issues that may arise.
Technical Assistance and Training: The audio visual technician assists users in operating audio visual equipment, providing guidance on proper usage. They troubleshoot technical issues and offer prompt solutions to minimize disruptions during presentations or events. Additionally, they conduct training sessions or workshops to educate users on the operation and maintenance of audio visual systems.
Media Production and Editing: The audio visual technician captures, records, and edits audio and video content for various purposes such as training videos, promotional materials, and online presentations. They use software tools and applications to edit, enhance, and format media files, ensuring a polished and professional outcome. During the editing process, they ensure synchronization of audio and video elements and optimize file formats and resolutions for different platforms and distribution channels.
Troubleshooting and Problem Solving: Identifying and resolving technical issues related to audio visual equipment and systems is a key responsibility of the audio visual technician. They conduct diagnostic tests and employ troubleshooting techniques to address connectivity, audio, and video problems. In cases where complex technical issues arise, they collaborate with other technical staff or external vendors to ensure smooth operation of audio visual systems.
Safety and Compliance: The audio visual technician adheres to safety protocols and guidelines while setting up, operating, and dismantling audio visual equipment to prevent accidents or injuries. They ensure compliance with copyright regulations and intellectual property rights when using audio visual materials, respecting licenses and permissions.
Documentation and Reporting: Accurate documentation is a crucial aspect of the audio visual technician's role. They maintain comprehensive records of equipment inventory, repairs, and maintenance activities. This includes generating reports and documenting audio visual operations, usage statistics, and equipment performance.
Types of Audio Visual Technicians
There are several types of audio visual technicians, each specializing in different areas of audio visual technology and performing specific roles.
Audio Technicians: Audio technicians specialize in the sound aspects of audio visual productions. They are responsible for setting up, operating, and maintaining audio equipment such as microphones, speakers, mixers, and sound systems. They ensure proper sound reinforcement, adjust audio levels, troubleshoot issues, and synchronize audio with visuals.
Video Technicians: Video technicians focus on managing the video components of audio visual productions. They operate video cameras, video switchers, projectors, and other video equipment. Their tasks include setting up video displays, managing video signals, operating video recording equipment, and ensuring synchronized audio visual presentations.
Lighting Technicians: Lighting technicians are responsible for designing and controlling lighting setups for audio visual productions. They create lighting designs to enhance the visual experience, set up lighting fixtures, operate lighting control systems, and collaborate with other technicians to achieve desired lighting aesthetics.
Projection Mapping Technicians: Projection mapping technicians specialize in projecting images and videos onto irregular surfaces. They prepare content using specialized software, calibrate projectors, align projections with surfaces, and operate projection systems during events or installations. They work closely with other professionals to synchronize projection mapping with other audio visual elements.
Multimedia Technicians: Multimedia technicians deal with the integration of various media elements, including video, audio, graphics, and interactive content. They set up and operate multimedia systems such as displays, projectors, and interactive interfaces. They manage multimedia software, ensure seamless integration of media components, and troubleshoot issues during events or presentations.
Control System Programmers: Control system programmers focus on programming and configuring audio visual control systems. They design and implement control interfaces, program automation functions, and integrate devices within audio visual systems. They test and troubleshoot control system operations to ensure smooth functionality and user-friendly control interfaces.
Live Event Technicians: Live event technicians handle the technical aspects of live productions, such as concerts, conferences, and corporate events. They set up and operate audio, video, and lighting equipment, manage multiple technical elements simultaneously, ensure smooth transitions between audio visual elements, and provide on-site support and troubleshooting during events.
What is the workplace of an Audio Visual Technician like?
The workplace of an audio visual technician can encompass a variety of environments depending on their specific role and industry. One common workplace is event venues and production companies. Audio visual technicians often find themselves working in conference centers, convention halls, hotels, or theaters. In these settings, they are responsible for setting up and operating audio visual equipment, ensuring everything is in working order, and providing technical support during events to ensure a seamless experience for attendees.
Educational institutions also provide a significant workplace for audio visual technicians. They play a crucial role in supporting the audio visual needs of classrooms, auditoriums, lecture halls, and other learning spaces. From setting up projectors and sound systems to assisting instructors with multimedia presentations and recording educational content, technicians contribute to creating a conducive learning environment.
Corporate environments employ audio visual technicians to support their internal audio visual requirements. Large corporations often have dedicated audio visual departments or technology teams responsible for setting up equipment in boardrooms, training rooms, and conference rooms. Audio visual technicians in these settings ensure the smooth operation of audio visual systems during meetings, conferences, and important company events.
Broadcast and media production studios are another workplace where audio visual technicians are found. In these dynamic environments, they work with complex audio mixing consoles, video switchers, and specialized broadcast equipment. They contribute to the setup, operation, and maintenance of audio visual systems for live broadcasts, recording sessions, and post-production activities.
Additionally, many audio visual technicians choose to work as freelancers or independent contractors. They provide their services on a project-by-project basis, allowing them to work in a variety of venues and industries. This freelance work can involve supporting events and productions in diverse settings such as conference centers, concert halls, and outdoor event spaces.
Regardless of the specific workplace, audio visual technicians often find themselves in dynamic and fast-paced environments. They need to be adaptable, as they may be required to travel to different locations based on the event or project. Effective communication and collaboration skills are crucial, as they interact with clients, event organizers, presenters, and other technical professionals to meet the audio visual needs of the situation.
Audio Visual Technicians are also known as:
AV Technician Audiovisual Technician Audio-Visual Technician