What is a Bookkeeper?
Love numbers and digits? There are plenty of careers that demand number skills, and bookkeeper is one of them.
A bookkeeper produces financial records for businesses or organizations. They record financial transactions, update statements, and check financial records for accuracy.
Get online training through our partner:
What does a Bookkeeper do?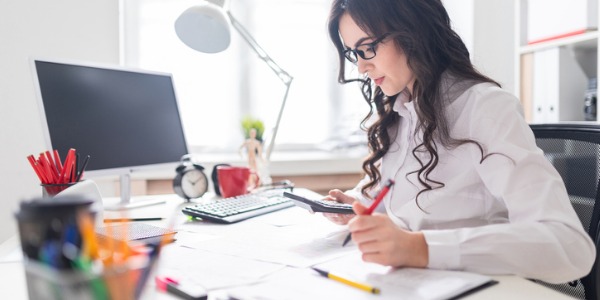 A bookkeeper is often responsible for some or all of an organization's accounts, known as the general ledger. They record all transactions and post debits and credits. They also produce financial statements and other reports for supervisors and managers.
The records that a bookkeeper works with include:
- expenditures (money spent)
- receipts (money that comes in)
- accounts payable (bills to be paid)
- accounts receivable (invoices, or what other people owe the organization)
- profit and loss (a report that shows the organization's financial health)
Bookkeepers prepare bank deposits by compiling data from cashiers, verifying receipts, and sending cash, checks, or other forms of payment to the bank. In addition, they may handle payroll, make purchases, prepare invoices, and keep track of overdue accounts. Many of these functions require bookkeepers to communicate with clients.
As organizations continue to computerize their financial records, many bookkeepers use specialized accounting software, spreadsheets, and databases. Most bookkeepers now enter information from receipts or bills into computers, and the information is then stored electronically.
A bookkeeper will typically do the following:
- Use bookkeeping software as well as online spreadsheets and databases
- Enter (post) financial transactions into the appropriate computer software
- Receive and record cash, checks, and vouchers
- Enter amounts into the software, assigning each entry to an appropriate account
- Produce balance sheets (costs compared to income) and income statements
- Check figures, postings, and reports for accuracy
- Reconcile or note and report any differences they find in the records
Accounting bookkeepers typically work for larger companies and have more specialized tasks. Their titles, such as accounts payable clerk, or accounts receivable clerk, often reflect the type of accounting they do. Often, their responsibilities vary by level of experience.
Entry-level bookkeepers may post details of transactions (including date, type, and amount), add up accounts, and determine interest charges. They also may monitor loans and accounts to ensure that payments are up to date, and note errors for accountants to fix.
What is the workplace of a Bookkeeper like?
Bookkeepers are found in most every industry, as well as schools, government, and firms that provide accounting, tax preparation, bookkeeping, and payroll services.
A bookkeeper's work schedule often depends on the size of the business they work for. Small businesses may only need a bookkeeper to pay expenditures, reconcile income and deposits, and manage bank statements. This only entails a few hours a month, therefore these businesses may not need to staff a bookkeeper full time.
Larger businesses, on the other hand, may need debit and credit balancing completed on a daily or weekly basis, and would therefore need the support of a full time bookkeeper.
Some bookkeepers prefer to have freelance businesses and to service clients through intermittent financial support, consulting services, or even training a company's in-house accounting staff.
Bookkeepers are also known as:
Accounting Clerk Accounts Payables Clerk Accounts Payable Clerk Accounts Receivable Clerk Account Receivable Clerk Payroll Clerk Book Keeper