What is a Bus Driver?
If a desk job is just not for you, and you love interacting with people, this may be a perfect fit for you!
A bus driver transports people between a variety of places including work, school, shopping, and across country. Some bus drivers have regular routes, and others transport passengers on chartered trips, or sightseeing tours.
What does a Bus Driver do?
A bus driver will typically do the following:
- Check the bus tires, lights, and oil
- Pick up and drop off passengers at designated locations
- Follow a planned route on a time schedule
- Help disabled passengers get on and off the bus
- Follow traffic laws and state and federal transit regulations
- Follow safety procedures to make sure they and all passengers are safe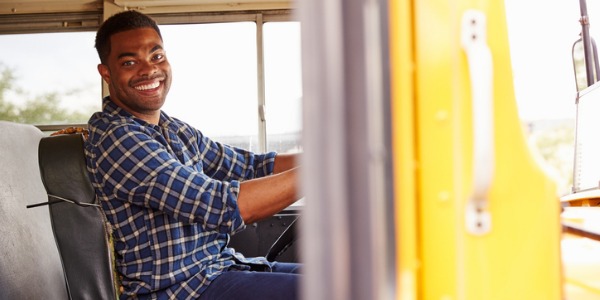 Local transit bus drivers follow a daily schedule while transporting people on regular routes along the same city or suburban streets. They usually stop frequently, often only a few blocks apart and when a passenger requests a stop.
Local transit drivers typically collect bus fares, sometimes making change for passengers, answer questions about schedules, routes, and transfer points, and report accidents or other traffic disruptions to a central dispatcher.
Intercity bus drivers transport passengers between cities or towns. They may travel between distant cities or between towns only a few miles apart. They usually pick up and drop off passengers at bus stations, where passengers buy tickets.
Increasingly, intercity buses are using curbside locations in downtown urban areas instead of stations. Intercity bus drivers ensure all passengers have a valid ticket to ride the bus, may sell tickets to passengers when there are unsold seats available, follow a central dispatcher's instruction when taking an alternate route, and help passengers load or unload baggage.
Motor coach drivers transport passengers on chartered trips or sightseeing tours. Their schedule and route are generally arranged by a trip planner for the convenience of the passengers, who often are on vacation. They are usually away for long periods of time because they usually stay with vacationers for the length of the trip.
They typically listen to and sometimes address passenger complaints, ensure the tour stays on schedule, sometimes act as tour guides for passengers, help passengers load or unload baggage, and account for all passengers before leaving a location.
School bus drivers transport students to and from school and other activities. On school days, drivers pick up students in the morning and return them home or to the designated bus stop in the afternoon. They also drive students to field trips, sporting events, and other activities.
They ensure the safety of children getting on and off the bus, take care of the needs of children with disabilities, keep order and safety on the school bus, understand and enforce the school system's rules regarding student conduct, and report disciplinary problems to the school district or parents.
Some school bus drivers work at school in other occupations, such as janitors, cafeteria workers, or mechanics, between morning and afternoon trips.
What is the workplace of a Bus Driver like?
A bus driver will typically start the day by checking in to work, getting keys, filling out the log book if there is one, punching a time clock, and doing a daily pre-trip safety check.
Weather conditions vary, and it is important the bus driver be comfortable driving in all types of weather.
Bus Drivers are also known as:
Bus Operator Transit Bus Driver Transit Operator Chartered Bus Driver Public Bus Driver School Bus Driver Intercity Bus Driver Local Transit Bus Driver