What is a Camera Operator?
Lights! Camera! Action!
A camera operator is employed by film production companies, video production houses, and television and cable companies to capture footage for our favorite TV shows, motion pictures, music videos, documentaries, and news and sporting events.
What does a Camera Operator do?
Camera operators work with a variety of technical equipment including cranes, mobile mountings, portable cameras, remote-control cameras, and digital cameras.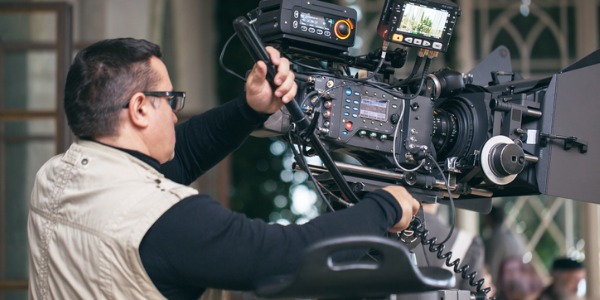 A camera operator will typically do the following:
- work with a director to determine overall vision of a production
- discuss filming and editing techniques with a director to improve a scene
- prepare and rehearse scenes
- select the appropriate equipment, from type of camera to software for editing
- assemble and set up equipment
- follow camera scripts
- respond quickly to directions
- creatively frame and capture footage
- collaborate with the lighting and technical crews
- shoot or edit a scene based on the director's vision
Many camera operators have one or more assistants working under their supervision. The assistants set up the camera equipment and may be responsible for storing it and caring for it. They also help the operator determine the best shooting angle and make sure that the camera stays in focus.
The increased use of digital filming has changed the work of many camera operators. Many prefer using digital cameras because these instruments give them more angles to shoot from. Digital cameras have also changed the job of some camera assistants: instead of loading film or choosing lenses, they download digital images or choose a type of software program to use with the camera.
The following are examples of types of camera operators:
Studio camera operators - work in a broadcast studio and videotape their subjects from a fixed position. There may be one or several cameras in use at a time. Operators normally follow directions that give the order of the shots.
They often have time to practice camera movements before shooting begins. If they are shooting a live event, they must be able to make adjustments at a moment's notice and follow the instructions of the show's director.
Electronic news gathering operators - work on location as part of a reporting team. ENG operators follow events as they unfold and often record live events or breaking news. To capture these events, operators must anticipate the action and act quickly to shoot it. They sometimes edit their own footage in the field and then send it back to a studio to be broadcast.
Cinematographers - work on films and motion pictures. Some cinematographers specialize in filming cartoons or special effects. They usually have a team of camera operators and assistants working under them. They determine the best angles and types of cameras to capture a shot.
They may use stationary cameras that shoot whatever passes in front of them or a camera mounted on a track that moves around the action. Some operators sit on cranes and follow the action. Others carry the camera on their shoulder while they move around the action.
What is the workplace of a Camera Operator like?
Electronic news gathering operators usually travel locally and may have to stay overnight to cover a major event. Cinematographers and camera operators who film movies or TV shows may film on location and be away from home for months at a time.
Some camera operators work in uncomfortable or even dangerous conditions, such as severe weather, military conflict situations, and natural disasters. They may have to stand for long periods waiting for an event to take place. They often carry heavy equipment.
Work hours vary with the type of camera operator, though most work full time. Those who work in broadcasting may have to work long hours to meet a deadline. Those who work in the motion picture industry may have long, irregular hours while filming but go through a period of unemployment after their work on the film is complete and before they are hired for their next job.
Camera Operators are also known as:
Cameraman Camerawoman Professional Video Camera Operator Video Camera Operator Television Camera Operator Studio Camera Operator Cinematographer Electronic News Gathering Operator