CareerExplorer's step-by-step guide on how to become a dental assistant.
Step 1
Is becoming a dental assistant right for me?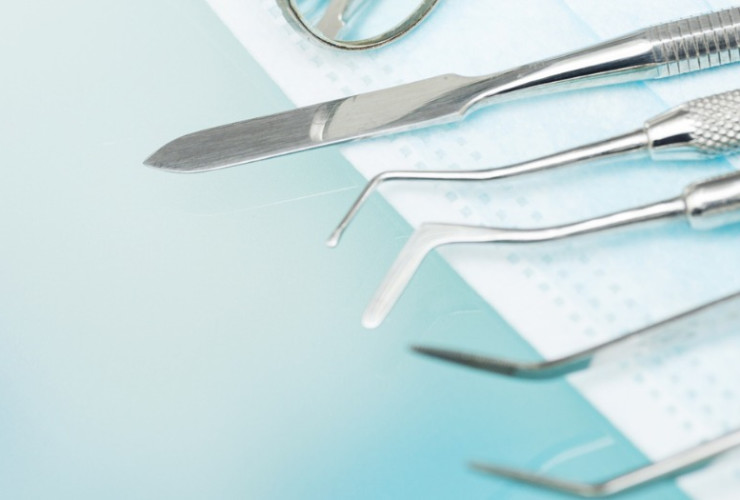 Step 2
High School
While it may be possible, in some jurisdictions, to get a dental assistant position without a high school diploma or GED, job candidates who have one invariably enhance their employability. In addition, a high school diploma is generally necessary for certification in the profession, especially for assistants who train on the job.
Throughout high school, aspiring dental assistants should focus on biology, chemistry, and anatomy classes. They should also consider volunteering or working in a customer service field to begin developing interpersonal and communication skills, which are regularly called up on in this occupation.
Step 3
Formal Post-secondary Education & Externship
Where permitted by law, dental assistants can train entirely on the job.
Students who reside in jurisdictions which mandate formal education to enter the field, or who voluntarily choose to complete a post-secondary program should be sure to select a program accredited by the Commission on Dental Accreditation (CODA). These programs are commonly available through community and private colleges and vocational and technical schools. Some high schools may also offer dental assistant programs.
Diploma and certificate programs are designed for students seeking to enter the workforce quickly and who do not foresee undertaking further education. Associate's Degree programs are targeted at individuals who think that they may at some future date be interested in becoming a dental hygienist, specifically because Associate level credits can be transferred to a Bachelor's Degree program, if desired.
Diploma and certificate programs are comprised of a number of overlapping courses and equip graduates with the foundational skills needed to be competitive for entry-level positions. Coursework generally includes the following:
Oral Anatomy
Focus
Familiarization with the oral cavity and surrounding facial structure, covering topics such as anesthesia, mastication, and occlusion
Target Skills
• Identifying oral anatomical features
• Understanding anatomical variations
• Applying knowledge to the clinical setting
Radiology
Focus
Introduction to digital radiography and X-ray techniques, highlighting advanced technology and proper techniques
Target Skills
• Positioning X-ray for best results
• Recognizing usable versus unusable images
• Developing awareness of latest radiographic technology
Dental Materials
Focus
An overview of materials used in dentistry, including cement, porcelain, bonding agents, metals, and implants
Target Skills
• Evaluating correct materials to use for procedures
• Establishing proper application techniques
• Understanding properties of individual materials
Clinical Dental Assisting
Focus
Clinical experiences, often on a rotational basis, to gain knowledge of common assisting responsibilities
Target Skills
• Practising assisting functions
• Understanding emergency procedures
• Developing professional and ethical assisting skills
Associate's Degree programs cover the same topics that certificate and diploma programs do, but provide a more holistic and in-depth education, including general education coursework as well as core dental assisting classes.
After completing an Associate level program, graduates' skill sets will also include:
Administrative skills
In addition to assisting dentists with routine and specialty procedures, dental assistants often work with office managers to ensure all records are properly maintained and accurately filed. Graduates should understand common dental terminology and be familiar with dental practice management software.
Ability to record medical histories
Dental assistants often record patient medical histories, ensuring dentists have a full account of any previous surgeries, current prescriptions, allergies, or pre-existing medical conditions. Attention to detail is a crucial component of this skill set, both when recording information initially and when transferring medical records.
Chairside manner
Just as doctors and other direct care providers are expected to have an excellent bedside manner, dental assistants must understand how to provide professional, compassionate care to patients. Given the close proximity of this type of care, dental assistant graduates should learn how to set their patients at ease while administering services.
Numerous academic programs at both the certificate/diploma and degree levels include an externship component, which allows students to hone their real-world skills in the areas of chairside assisting, oral anatomy, dental pathology, radiology, oral hygiene, and dental pharmacology. Students aiming to work in a specialized area of dentistry, such as pediatric or orthodontic care, can focus on these areas during their externship.
Step 4
On-the-job Training
Where permitted by state law, prospective dental assistants can train entirely on the job after earning their high school diploma. Instruction is provided by dentists, dental hygienists, and senior dental assistants. However, even in jurisdictions that do not require any post-secondary education, some dental assistant positions will demand a year or more of experience and/or completion of a certificate or diploma program. For state by state detailed information, click on the link to the Dental Assisting National Board (DANB) website, in the Licensure section below.
Step 6
Certifications (optional)
Step 7
Advancement
Among the potential advancement opportunities for dental assistants are:
Specialized Dental Assistant
Some areas of specialization: orthodontics, geriatric dentistry, pediatric dentistry
Dental Assistant Trainer
Depending on state regulations, experienced dental assistants may be able to train entry-level assistants in educational settings.
Dental Hygienist
Dental assistants who obtained an Associate's Degree during their initial academic training can often transfer existing education credits to a Bachelor's Degree program in dental hygiene.
Dental Insurance Claims Processor
Insurance companies seeking to hire personnel to process claims often consider experienced dental assistants as potential candidates.
Dental Products Sales Representative
Dental assistants can sometimes take their knowledge and skills and transition into lucrative sales positions.
Frequently Asked Questions
How long does it take to become a Dental Assistant?
In the U.S., the length of time required to become a dental assistant can vary considerably from state to state.
In jurisdictions where post-secondary education is not required to enter the field, individuals may qualify for jobs after earning a high school diploma or GED.
Most formal training programs exist at the community college or vocational/technical school level. Diploma and certificate programs generally last between nine months and a year. Some schools may offer accelerated training or longer part-time options. Students can earn an Associate's Degree in dental assisting in two years.
What are Dental Assistants like?
Based on our pool of users, dental assistants tend to be predominately investigative people. They prepare patients for treatments and cleanings; take and develop x-rays; measure blood pressure and pulse rates; and sterilize equipment. Our finding, therefore, is perfectly in line with the dental assistant job description, many aspects of which are examination-, inquiry-, and investigation- centric.
Steps to becoming a Dental Assistant
In the U.S., the path to becoming a dental assistant is determined by state requirements. In general, though, individuals aspiring to enter the field earn at least a high school diploma and many undergo some formal post-secondary training, even if not mandated by the jurisdiction in which they wish to work.
Should I become a Dental Assistant?
One way to start answering this question is to consider which personality traits and skills are typical among dental assistants:
Teamwork and communication skills Camaraderie and collaboration are essential in a dental office so that staff can focus on providing excellent customer service. Dental assistants must be team players and effective communicators, working closely with dentists and dental hygienists, who provide direct supervision.
Empathy and interpersonal skills Dental assistants spend a great deal of time interacting with patients. They must be comfortable working with people of all backgrounds, including many who are anxious or in pain. A pleasant, calming personality goes a long way in establishing rapport with patients.
Detail-oriented Patients' safety depends on the ability of dental assistants to closely follow very specific rules and protocols.
Technology skills Dental assistants need to be comfortable using evolving technology, as well as tools, sterilizing equipment, and a variety of chemicals.
Organization and administrative skills Assistants need to have all tools and materials laid out for the dentist or hygienist when a procedure begins. This may involve sterilizing tools and preparing certain materials beforehand. As patients move through the cycle of service, dental assistants must pay close attention as they collect and record important medical histories and data.
For further insight into the profession, take a look at the top five reasons that dental assisting school alumni decided to pursue it:
It is an in-demand career The need for dental assistants is expected to continue to grow, largely for two reasons. The first is that research has revealed a closer link between oral health and general health than was previously believed to exist. Studies have shown that the mouth and body are closely integrated; that many oral health issues share common risk factors with other chronic diseases and conditions. As the public becomes more aware of this, the demand for preventative dental care will increase. Secondly, there is a greater overall need for dental care, based both on general population growth and the fact that elderly people are now more likely to retain their teeth than in years past. In addition, opportunities for dental assistants exist not only with general practitioner dentists, but with specialists including endodontists, oral surgeons, and orthodontists. Furthermore, all of these professionals often employ more than one single assistant.
Income potential Considering the relatively minimal amount of education required to become a dental assistant, this career pays rather well.
Opportunity for growth After some time in their role, dental assistants understand what it takes to run a dental practice, from administration to patient care and more. Sometimes, dental assistants transition into other healthcare positions. With experience and further education and training, some go on to become dental hygienists, dental office managers, or insurance claims processing and coding professionals. It is also interesting to note that certain states are amending their regulations to allow dental assistants to handle expanded dentistry functions, thereby increasing demand in the field.
Working environment Typically, no two days are exactly the same in the dentist office environment. On the other hand, the occupation generally offers a consistent, traditional 9-to-5 schedule or part-time opportunities that allow for an appealing work/life balance.
The work is rewarding Dental assistants can make a real difference in patient's lives. One of the responsibilities of the job is to listen to patients' concerns and make sure that they feel comfortable. Accomplishing this can be a source of great pride.
How to become a Dental Assistant
The duties of dental assistants vary widely across the U.S., largely because some states allow for a wider scope of practice than others. Because of this disparity of responsibility, the training required to enter the occupation also varies considerably from state to state. Some states stipulate that aspiring dental assistants must graduate from an accredited education program and pass a state-administered exam. In jurisdictions that do not require any college education to work in the field, training occurs solely on the job. Licensure requirements differ among states, as well.
Even within a single state, there may be different regulations regarding training, registration, and permits or licenses, depending on the level at which a dental assistant is working. For example, in California, there are four professional dental assistant categories, each of which has a different set of required qualifications and in which only specific duties can be performed.
Students who do enter dental assistant education programs generally learn in classroom, laboratory, and real-world externship settings. They typically earn a diploma, certificate, or Associate's Degree. Curricula in these programs include courses in orofacial anatomy, dental sciences, infection control, dental pharmacology, dental radiography, dental materials, dental office administration, and dental health education.
Even dental assistants who complete a formal educational program will undergo significant on-the-job training regarding both the treatment and administrative procedures specific to the dental office in which they will be working. This orientation may be provided by a dentist, dental hygienist, or by an already-trained dental assistant.
Dental assistants may pursue a variety of voluntary credentials through the Dental Assisting National Board (DANB).