What is a Diagnostic Medical Sonographer?
Are you interested in working in healthcare? Particularly in assessing and diagnosing medical conditions? You may want to consider a career as a diagnostic medical sonographer!
A diagnostic medical sonographer uses special imaging equipment that directs sound waves into a patient's body (in a procedure commonly known as an ultrasound, sonogram, or echocardiogram) to assess and diagnose various medical conditions.
What does a Diagnostic Medical Sonographer do?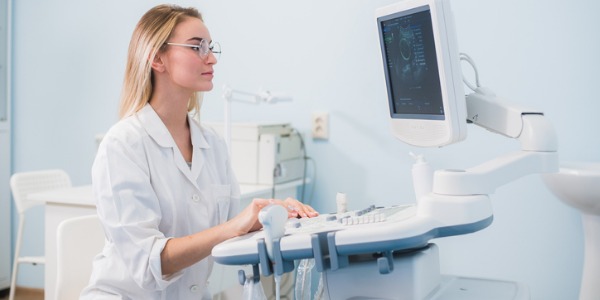 Diagnostic ultrasound uses high-frequency sound waves to produce images of the inside of the body. The diagnostic medical sonographer presses an instrument called an ultrasound transducer to the parts of the patient's body that are being examined. The transducer emits pulses of sound that bounce back, causing echoes. The echoes are then sent to the ultrasound machine, which processes them and displays them as images.
Some responsibilities of a diagnostic medical sonographer include:
Preparing patients for procedures by taking a patient's history and answering any questions about the procedure
Preparing and maintaining imaging equipment
Applying a gel to aid the sound waves' ability to show the inside of the body
Operating equipment to get diagnostic images of areas in the patient's body
Analyzing the images to check for quality and adequate coverage of the area needed for diagnosis
Recognizing the difference between normal and abnormal images
Analyzing images to provide preliminary findings for physicians
Recording findings and keeping track of patients' records
Diagnostic medical sonographers specialize in different parts of the body. The following are examples of specific types of sonographers:
Abdominal sonographers - specialize in imaging a patient's abdominal cavity and nearby organs, such as the kidney, liver, gallbladder, pancreas, or spleen.
Breast sonographers - specialize in imaging a patient's breast tissues. Sonography aids mammography in the detection of breast cancer. Breast sonography is also used to track tumours in breast cancer patients.
Musculoskeletal sonographers - specialize in imaging muscles, ligaments, tendons, and joints.
Neurosonographers - specialize in imaging a patient's nervous system, including the brain.
Obstetric and gynecologic sonographers - specialize in imaging the female reproductive system. Many pregnant women receive ultrasounds to track the baby's growth and health.
Cardiovascular and vascular technologists - use sonography to assist physicians in diagnosing problems with a patient's heart, arteries and veins
What is the workplace of a Diagnostic Medical Sonographer like?
Most diagnostic medical sonographers work in hospitals. Some work in physicians' offices or imaging clinics.
Diagnostic medical sonographers do most of their work at diagnostic imaging machines in dimly lit rooms, but they may also perform procedures at patients' bedsides. Sonographers may be on their feet for long periods and may need to lift or turn patients who are disabled.
Diagnostic Medical Sonographers are also known as:
Sonographer Ultrasonographer Registered Diagnostic Medical Sonographer Abdominal Sonographer Breast Sonographer Cardiac Sonographer Musculoskeletal Sonographer Neurosonographer Obstetric and Gynecologic Sonographer Cardiac Vascular Sonographer