What is an Endoscopy Technician?
An endoscopy technician is someone who works closely with doctors and nurses to solve issues relating to a patient's gastrointestinal organs. They gather patient data and are also responsible for troubleshooting any issues pertaining to endoscopes, an instrument with a camera attached to its end. They also communicate with appropriate health staff in regards to findings, maintain a breadth of knowledge regarding the various endoscopic procedures and provide the patient with physical and emotional support during the procedure.
What does an Endoscopy Technician do?
Endoscopy technicians assist licensed physicians and nurses in treating patients with gastrointestinal disorders. Most of the work takes place in the endoscopy unit where the technician performs direct patient care activities under a physician's supervision. As well as assisting with medical procedures, the technician ensures that all equipment is functioning properly before use. He or she must be familiar with rules, standards, practices, and procedures and must hold good experience and sound judgment to accomplish the goals of the procedure.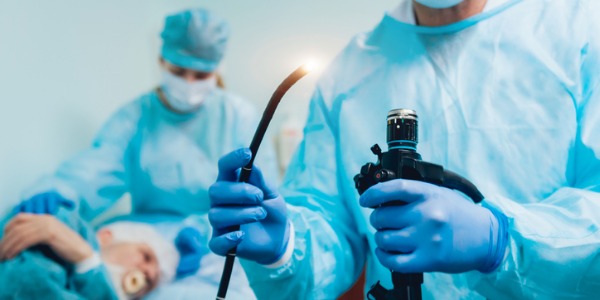 During the endoscopy procedure, an endoscope is used to give a view of the patient's gastrointestinal tract. The endoscope, a flexible fiberoptic instrument, is passed through one of the openings in the body, which allows the examination of a section or the lining organs in the gastrointestinal tract. While the endoscope is inserted through a natural opening in the body, it can also be done through an incision.
Endoscopy procedures offer a look into the organs and cavities within the body and the endoscope can be used to examine the esophagus, stomach, duodenum, colon, pancreas and the biliary tract. The endoscopy procedure can also be used to obtain samples for biopsies so that doctors can better examine and assess any disease and what needs to be done to promote the healing process. The endoscopy offers a direct look into the GI tract and helps detect inflammation, superficial lesions, ulcerations and other abnormalities.
The endoscopy technician plays an important role among the gastroenterology team and provides help and support for physicians and nurses throughout the endoscopy procedure by helping to prepare materials, obtain specimens, and maintain a sterile field during the procedure.
What is the workplace of an Endoscopy Technician like?
Endoscopy technicians work closely with other nurses and doctors who work in the gastroenterology field. Much of their work takes place in clinics or hospitals that hold a surgical or gastroenterology clinic, with some technicians finding jobs in nursing homes or long-term care facilities. Endoscopy technicians often find positions that require them to be on-call, which results in them working irregular hours.
The technician must also collaborate with other caregivers and supervisors, and is responsible for the technical functions related to assisting with GI procedures. The endoscopy technician helps by preparing the procedure room, assisting with the procedure, managing staff, troubleshooting any problems that may arise and also helps by cleaning equipment and instrumentation. They also help stock, order and track supplies and work under a direct supervisor, manager or administrator.
Endoscopy technicians must learn how to work fast in a busy environment and must understand the importance of teamwork. Many hospitals that specialize in endoscopy procedures may perform hundreds of procedures a month including colonoscopies, transesophageal echocardiography, echocardiograms, cardioversions, bronchoscopies and pain management.
Like any other job, there are physical requirements too, such as walking, standing, gripping, grasping, reaching below shoulder level, bed mobilization and understanding proper body mechanics, lateral transfers (bed to gurney), lifting up to 25 pounds, pushing and pulling over 100 pounds and carrying up to 25 pounds.
The endoscopy technician must be able to have proper assessment skills and be able to evaluate patient care needs, complete a physician's orders as directed, administer prescribed medications, change dressings for wounds, monitor vital signs, communicate a patient's condition as required, and instruct and educate patients and their families.
Endoscopy Technicians are also known as:
Endoscopic Technician Gastrointestinal Technician GI Technician