What is an Environmental Designer?
The best answer to this question is found in the dual definition of 'environmental.' For the environmental designer, the word refers simultaneously to two commitments – ecological sustainability and livable and inviting human spaces.
Environmental designers are focused on the interrelated variables that impact our natural environment and the built structures that we add to it. They are concerned with the four elements that drive environmental design. The first is architecture – buildings and other structures. The second is landscape – parks, gardens, courtyards, public squares, and recreational spaces. The third is interiors – spaces inside buildings. The fourth is environmental graphics – signage and information boards, exhibitions, public installations and interactive experiences, and identity and placemaking (creating a sense of place).
The consistent objective of the environmental designer – be they dealing with an architectural, landscaping, interiors, or graphics challenge – is to make decisions that simultaneously benefit humans and respect the natural environment. Solar lighting, energy efficiency, and the effective and innovative use of natural surroundings are common factors in such decisions.
Part scientist, part artist, the environmental designer understands how natural systems interact with human-made systems, and applies this knowledge to creating spaces where we live, work, and play – spaces that connect people, nature, and our built world with attention to social justice and economic vitality.
What does an Environmental Designer do?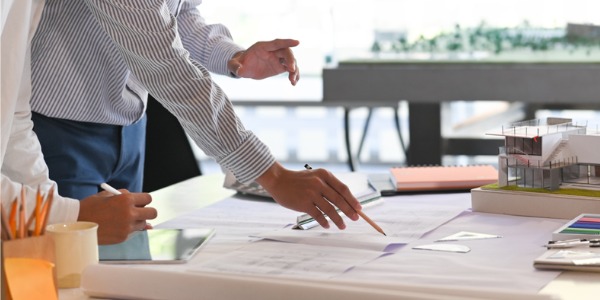 The responsibilities of the environmental designer are rather wide. They include:
Creating drawings of proposed designs for structures such as buildings, parks, playgrounds, trails, and other outdoor spaces
Coordinating with architects, engineers, contractors, and other designers to ensure that designs are functional and meet all legal requirements
Meeting with clients to discuss design goals and needs, and providing initial design concepts
Using computer modeling software, creating models of proposed structures to show clients how concepts will look in reality
Preparing construction plans for buildings or other structures, including interiors and exteriors, based on client requirements
Analyzing site conditions and client needs to create designs that meet environmental objectives while meeting regulatory requirements
Conducting environmental impact assessments to determine the potential effects of proposed projects on the surrounding environment
Communicating with clients about project progress, and providing project updates to management as needed
In addition to carrying out the tasks listed above, environmental designers need to remain aware of trends influencing environmental design to keep their skills relevant and to maintain a competitive advantage.
Here are three trends having an impact on the field:
Need for Greater Collaboration between Design and Construction
By working closely with contractors and builders, environmental designers can ensure that their designs are properly and fully implemented. Increased communication and collaboration between the design and construction fields leads to a more efficient process, which ultimately saves both time and money.
Increased Focus on Sustainability
Businesses and the world at large are becoming more aware of the importance of sustainability. This trend means that environmental designers will need to develop expertise in the practices of green design – the creation of buildings and other spaces which are energy-efficient, healthy, comfortable, flexible in use, and designed for long life. This will entail using innovative and environmentally friendly construction materials to reduce their carbon footprint.
Greater Emphasis on Health and Wellness
Spaces that promote health and wellness are in vogue – and not likely to lose their popularity. Creating spaces that support these values – through features like natural lighting, enhanced air circulation, and access to fresh food – is a trend prominent in both architecture and interior design. By virtue of their close working relationship with architects and other design professionals, environmental designers must adopt the trend as well.
What is the workplace of an Environmental Designer like?
Environmental designers work in offices and industrial settings, as well as on construction sites. They often use high-tech software to design the right infrastructures for commercial, residential, retail, hospitality, and institutional spaces. Depending on their specific position, they may spend time outdoors, assessing environmental sustainability factors that impact the design of a particular project.
The work of the environmental designer entails collaborating with architects, construction engineers, landscape architects, urban planners, and other professionals. It may also involve travelling to consult on out-of-town projects. In general, environmental designers work a standard 40-hour week, but may periodically need to work overtime or on weekends and holidays to meet deadlines.
Environmental Designers are also known as:
Environmental Planner