CareerExplorer's step-by-step guide on how to become a food critic.
Step 1
Is becoming a food critic right for me?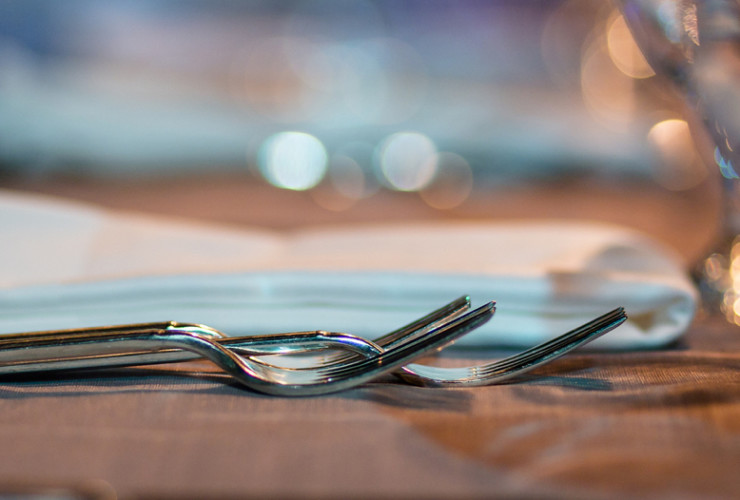 Step 2
Education
Successful food critics need both a sophisticated palate and sophisticated communications skills. Their mandate is to capture the taste, texture, appearance, and smell of the dishes they review. Serious students of the occupation – seventy percent of them, in fact – earn a journalism or journalism-related Bachelor's Degree after they graduate from high school or complete their General Education Diploma (GED). This formal education equips them to think critically and articulately communicate both favorable and unfavorable opinions. In addition, it helps them to compete and make connections in a demanding and sometimes cutthroat field.
Step 3
Experience
Broaden your culinary palate
Food critics need to familiarize themselves with diverse cuisines and ingredients. At restaurants, order unfamiliar dishes. Analyze the components and characteristics of everything you eat. Ask yourself: do the flavors work together? Which techniques did the chef use to create a particular dish? Try everything and anything, because food critics do not make it in the industry by reviewing only 'safe' foods.
Apply for entry-level writing positions
Even if your first writing job is not in the food or restaurant arena, use it as a stepping stone to building a food critic career. While earning a degree, write at your university's print or online publication. Ask your university publication if you can write a food column or local restaurant review column. Do not hesitate to write a few unpaid reviews to gain experience.
Familiarize yourself with accomplished food critics
Studying the techniques and styles of those who have already made it as critics is vital to ultimately finding your own voice and approach to the occupation. Read and listen to the work of critics who review diverse cuisines. Some contemporary food critics are Frank Bruni, Katie Lee, Andrew Zimmern, Anthony Bourdain, and Ruth Reichl.
Complete an internship
Seek out an internship with a food critic to gain relevant experience add to your portfolio. Interns typically conduct research and compose stories about restaurants, nutrition, or culinary news.
Begin writing your own sample articles
A successful food critic does more than critique food. Follow the lead of critics who address the wider restaurant experience, including food, atmosphere, and level of service. Write with honesty and confidence and avoid complicated culinary terms and jargon. Remember that your audience is diverse; not everyone is a foodie. Avoid mentioning yourself and using the first-person 'I.' Always focus on the restaurant.
Remain anonymous
Food critics prefer to keep a low profile so that restaurants do not recognize them and manipulate the usual food quality or service in their own favor. While it is not necessary to write under a pseudonym, announcing yourself as a food critic while dining out is both unprofessional and counterintuitive.
Pitch yourself as a critic to food publications
You will need to gain your ground as a food critic before landing a full-time job. Begin pitching yourself to various publications. Start with local publications before working your way up to more prestigious ones. Be sure to read publications' pitch guidelines – generally available on their websites – before contacting them.
Look for paid positions with print, broadcast, or web media
After gaining some experience, begin applying for full-time critic positions. Continue doing freelance work to bolster your resume and visibility in the field. You may eventually receive enough pitch acceptances to become a fulltime freelance food critic, a role which offers greater flexibility.
Step 4
Expertise
Network in the field
Join professional organizations such as the Association of Food Journalists and the Society of Professional Journalists. These affiliations provide access to resources, networking opportunities, industry guides, and conferences.
Start a blog
Posting reviews on your personal blog or website will help you gain a stronger writing platform. Review local restaurants or ones that you visit abroad. To gain traction and notoriety, consider adding other food-related posts. These may include tips for aspiring food critics, elements of the perfect dish, and newly discovered recipes.
Frequently Asked Questions
Are Food Critics happy?
There is a degree of awe associated with this career. Many people assume that food critics eat out for free every night, can take a guest with them to every assignment, and that everything they consume is delicious. Of course, this is not the case. The new and exciting restaurants are not always the best ones, and the food is not always inspiring. The job is certainly interesting and stimulating, but it is not without its drawbacks. For most of us, eating out is downtime, off-the-clock time. This is exactly the opposite for food critics and there are instances when the job becomes tedious and boring; even unpleasant.
One of the greatest intangible benefits of the profession is helping diners discover restaurants that they might not have otherwise considered or known about. Most food critics find great satisfaction in this. Providing comprehensive and balanced reviews and maintaining credibility are crucial to their professional happiness.
Building a loyal audience is vital for a food critic. Many critics enjoy receiving positive letters, e-mails, or online comments in response to their reviews. However, such engagement can also be negative. In rare instances, feedback can be mean-spirited and spark fear in the heart of an unsuspecting food critic.
This occupation may present some potential personal challenges. Food critics sometimes have to eat and drink more than they would like, or partake of foods and drinks that are not particularly healthful. Without a strict exercise regimen, this can lead to weight gain and poor health. In addition, if the critic is a freelancer or is not working for a well-established outlet, out-of-pocket expenses can add up.
Those who envy food critics may misunderstand the nature of the job. Simply stated, a food critic is not paid to enjoy luxurious cuisine, but to compose descriptive, informative reviews. And as is the case with all occupations, there are pros and cons to the career.
Should I become a Food Critic?
Fussy eaters need not apply. But that is not the only caveat. Before committing to this career, aspiring food critics should ask themselves if they fulfill some basic requirements of the profession:
Enthusiasm for food and the culinary arts A love of food; an appetite for adventurous eating; and an interest in food presentation and service experience are essential to becoming a successful food critic.
Superior analytical and sensory evaluation skills Of course, an ability to distinguish between tastes, textures, and flavours is essential for food critics. This may mean noticing something as simple as a delicate hint of lemon in a pasta dish or discerning the distinct qualities of a burger in its crispy lettuce and perfectly grilled beef on a soft brioche bun.
Capacity to remain objective Food critics must never lose sight of the fact that their objectivity is the foundation of their career. The reading and listening public looks for and expects honest and unbiased reviews and information.
Awareness of restaurant and food quality standards Without an understanding and appreciation for standards at all industry levels, a food critic will be unable to build trust among readers and/or listeners.
Expressive writing style This is a competitive occupation in which both print and broadcast media demand engaging and entertaining material from the food critics they hire.
Flexibility in terms of working hours and location This is not the occupation for anyone accustomed or dedicated to a nine to five routine at a downtown office.
Ability to meet deadlines Media outlets have publication deadlines and expect their contributors to meet them.
Strong interpersonal, communication, and networking skills Many food critics are freelancers whose capacity to connect and interact with potential employers is crucial to their success.
How long does it take to become a Food Critic?
Because there are no set entry requirements to become a food critic, there is no definitive length of time required to enter the field. However, as most prospective food critics earn a Bachelor's Degree in English, journalism, or communications, a minimum of four years of study is typical. A degree is often supplemented with culinary courses and must, of course, be combined with practical work experience, either as a freelancer or with an employer. It is therefore not uncommon for a food critic to spend five or six years before earning credibility, building a reputation, and becoming established in the field.
What are Food Critics like?
Many people think that being a food critic is about being critical. This is only partly true. The career is more about paying attention and noticing details. Just because a particular eating establishment is not preferred by one critic does not mean it will not be appealing to a certain segment of readers or listeners. No restaurant will please everyone. The job of a food critic is to present his or her experience as clearly as possible. One of the objectives in this line of work is to avoid misleading your audience.
The food critic's secondary audience is the restaurant itself. A thoughtful review is an opportunity for the establishment to consider, from an outsider's perspective, what is working and what is not. A constructive critique need not always dismay proprietors and managers; it can, in fact, result in positive change in food, service, and atmosphere. In some cases, it can even lead to gratitude to the critic.
The quintessential critic loves to write or speak publicly; has an eye for detail; enjoys eating new cuisine; is interested in all aspects of the food and restaurant industries; and is comfortable working in a fiercely competitive field. It is in developing these characteristics and qualities that critics derive their sense of professional integrity and cultivate longevity and respect among their peers and their audience.
Steps to becoming a Food Critic
Education. Experience. Expertise. As is true for most careers, these three words succinctly summarize the road to becoming a food critic.
How to become a Food Critic
Enjoying food is only one prerequisite to become a food critic. Prospective food critics require two different skill sets. They must possess both professional knowledge of the food and dining industry and polished writing and editing talents. So, while no formal education or degree is required to enter the field, many food critics earn a Bachelor's Degree in English, journalism, or communications. Some may choose to complete a Culinary Arts Bachelor's Degree or take courses to educate themselves in the areas of food composition, chemistry, cooking techniques, styles, and vocabulary. Food critics may also seek out schools that offer curricula in food media or food reviewing. Not all food critics work in the print media. Those who deliver their reviews for broadcast media, such as radio, television, or live internet must, of course, hone their spoken communication skills.
While food critics enjoy their share of fine dining at white tablecloth establishments, they also may find themselves chowing down at mom-and-pop family diners, and even balancing their food while standing in front of a food truck. Picky eaters do not make great food critics. The best critics are willing to try anything that broadens their palate and adds to their repertoire of culinary knowledge. Developing a palate for different foods and flavors is at the heart of the food critic's work of serving as the voice for the foodie community.