What is a Food Preparation Worker?
Food preparation workers perform many routine tasks under the guidance of culinary chefs, cooks, or food supervisors.
They prepare cold foods, slice meat, peel and cut vegetables, brew coffee or tea, and make sure things are ready to go for the kitchen staff.
What does a Food Preparation Worker do?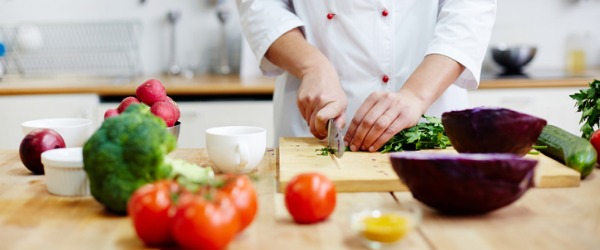 Food preparation workers perform routine, repetitive tasks under the direction of chefs, cooks or food supervisors. To help cooks and other kitchen staff, they prepare ingredients for complex dishes by slicing and dicing vegetables and by making salads and cold items.
In some kitchens, food preparation workers use a variety of commercial kitchen equipment, such as commercial dishwashers, blenders, slicers, grinders, and ovens.
Food preparation workers typically do the following:
Clean and sanitize work areas, equipment, utensils, and dishes
Weigh or measure ingredients, such as meat and cheeses
Prepare fresh condiments, including lettuce, tomatoes, and onions
Cut and grind meats, poultry, and seafood to prepare for cooking
Mix ingredients for salads
Store food in designated containers and storage areas to prevent spoilage
Take and record temperatures of food and food storage areas
Place food trays over food warmers for immediate service
Although most food preparation workers help prepare food, some are also responsible for retrieving cooking utensils, pots, and pans, or for cleaning and storing other kitchen equipment. Other common duties include keeping salad bars and buffet tables stocked and clean.
Those who work at hotels or full-service restaurants often use soda machines, coffee makers, and espresso and cappuccino machines to prepare beverages for customers. In fast food restaurants, food preparation workers may take customer orders and process payments using cash registers.
What is the workplace of a Food Preparation Worker like?
Food preparation workers are employed in restaurants, hotels, and other places where food is served, such as grocery stores, schools, hospitals, and cafeterias. They often work early mornings, late evenings, weekends, or holidays.
Food preparation workers spend most of their work time on their feet as they prepare foods, clean work areas, or lift heavy pots from the stove. The fast-paced environment in kitchens can be hectic and stressful, especially during peak dining hours.
Food Preparation Workers are also known as:
Prep Cook Preparation Cook Food Preparer Food Prep Worker