What is a Butcher?
The services of a butcher are needed to provide us with steaks for the barbecue, good quality ground beef for our hamburgers, or for the perfect filet of fish!
They know how to cut meat, poultry and fish properly so that it can be cooked and served for maximum tenderness and taste quality.
What does a Butcher do?
A butcher is a professional meat cutter who prepares a variety of cuts of meat, poultry, and fish for consumers to buy.
The duties of a butcher depend on place of employment. In most retail establishments, a butcher is responsible for receiving and storing meat products in accordance with sanitary and health regulations to maintain meat quality. They package and price meat items after cutting, and prepare meat displays.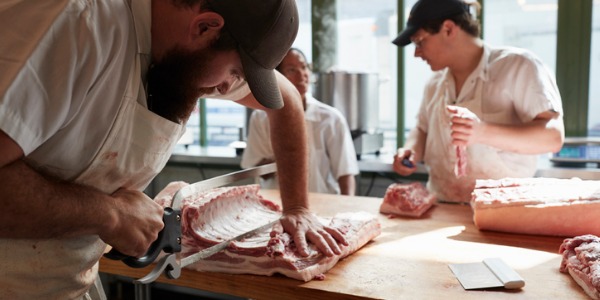 A retail environment includes customer service, negotiation with suppliers, special order cuts, record-keeping, and inventory. Butchers roll and tie roasts, prepare sausages, and cure meat. They are also very knowledgable on how to cook each cut of meat for maximum flavour, and can give helpful tips to their customers.
A butcher in a processing plant has a more comprehensive set of tasks. Special equipment is used to slaughter, break, cut, bone, and trim meats into cuts that will then be processed and sold in both domestic and international markets.
Animal carcasses must be broken down into smaller pieces or prepared for processing. Processing plants may involve the production of products like sausage and processed meats, and many times custom orders must be prepared to specifications for restaurants, hotels, or institutions.
Among the skills required to be a butcher:
- understanding of good hygiene practices
- good vision and depth perception
- hand-eye coordination
- concentration and the ability to pay close attention to tasks
- good health - a physical exam may be an employment pre-requisite
- stamina and strength to stand for long hours and work with heavy pieces of meat
- ability to work independently and in a team
- able to communicate with customers, supervisors, and coworkers
What is the workplace of a Butcher like?
Butchers are on their feet all day and must lift heavy items routinely. They work with sharp instruments like saws and knives, and must adhere to safety precautions, since there is a higher rate of injury in this profession. Shift work is often involved.
Butchers can work in meat processing plants or in retail businesses that can include delicatessens, supermarkets, and meat markets. In specialty shops the butcher often interacts with customers, providing information and education about how to use specific cuts of meat.
In a processing plant meat cutters often work on an assembly line, doing routine cutting work until they have learned more advanced skills. In these environments workers may be exposed to high temperatures and loud noise. They require the use of dangerous tools and machinery, and workers must observe safety and sanitation regulations.
There is opportunity for advancement into supervisory or management positions, and some meat cutters go on to open their own markets or delicatessens. Related industries also provide opportunities for sales, quality assurance, or meat inspection careers.
Butchers are also known as:
Meat Butcher Meat Specialist Meat Seller Meat Vendor