What is a Food Server?
Food servers perform a variety of customer service, food preparation, and cleaning duties in full-service restaurants, casual dining eateries, and other eating and drinking places.
They are employed in restaurants, schools, hospitals, cafeterias, and other dining places. The majority work part time, which often includes early mornings, late evenings, weekends, and holidays.
What does a Food Server do?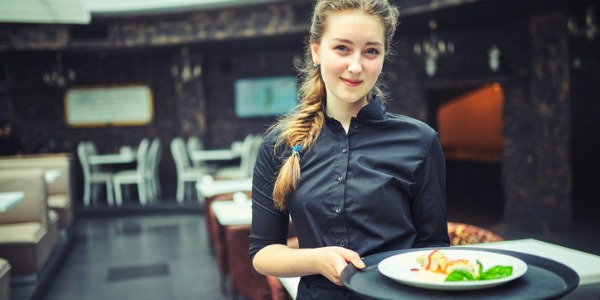 Food servers typically do the following:
Prepare and clean assigned work areas
Replenish and stock service stations, cabinets, and tables
Take customers' orders for food and drinks
Serve food and drinks to customers
Greet customers, escort them to their seats, and hand them menus
Answer customers' questions about menu items and specials
Accept payment from customers
Clean tables and dining areas
Set tables for new customers
Food servers, or waiters and waitresses, are the front line of customer service in full-service restaurants, casual dining eateries, and other food service establishments. Depending on the establishment, they might take customers' food and drink orders, and serve food and beverages. Most work as part of a team, helping their coworkers with the workflow and customer service.
Some food servers are referred to as counter attendants because they mainly take orders and serve food over a counter in snack bars, cafeterias, movie theatres, and coffee shops. They fill cups with coffee, soda, and other beverages, and may prepare fountain specialties, such as milkshakes and ice cream sundaes. They may take carryout orders from diners and wrap or place items in containers. They clean counters, write itemized bills, and sometimes accept payment. Some act as carhops, bringing orders to parked cars.
What is the workplace of a Food Server like?
Food servers work in full-service restaurants, casual dining eateries, coffee shops, and other eating and drinking establishments.
Food serving places can often be fast-paced and hectic during peak dining hours. Therefore, food servers need to work quickly and efficiently, while still maintaining a pleasant and relaxing environment for their customers.
Food Servers are also known as:
Waitress Waiter Server Restaurant Server Counter Attendant