What is a Glazier?
Glass has many uses in modern life. For example, insulated and specially treated glass keeps in warm or cool air and controls sound and condensation. Tempered and laminated glass makes doors and windows more secure. The creative use of large windows, glass doors, skylights, and sunroom additions makes buildings bright, airy, and inviting.
Glaziers specialize in installing these different glass products. A few glaziers also work with plastics, granite, marble, and other materials used as glass substitutes.
Get online training through our partner:
What does a Glazier do?
A glazier installs glass in windows, skylights, storefronts, and display cases to create distinctive designs or to reduce the need for artificial lighting.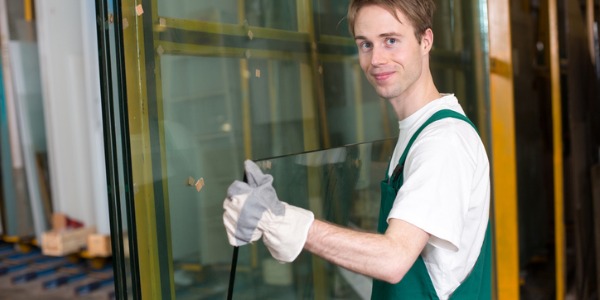 A glazier will typically do the following:
Follow blueprints or specifications for size, colour, type, and thickness of glass to be used
Remove any old or broken glass before installing replacement glass
Cut glass to the specified size and shape
Make or install sashes or moldings for glass installation
Fasten glass into sashes or frames with clips, moldings, or other types of fasteners
Add weather seal or putty around pane edges to seal joints
In homes, glaziers install or replace windows, mirrors, shower doors, and bathtub enclosures. They fit glass for tabletops and display cases. On commercial interior projects, glaziers install items such as heavy, often etched, decorative room dividers or security windows. Glazing projects also may involve replacing storefront windows for supermarkets, auto dealerships, banks, etc.
For most large-scale construction jobs, glass is pre-cut and mounted into frames at a factory or a contractor's shop. The finished glass arrives at the job site ready for glaziers to position and secure into place.
Using cranes or hoists with suction cups, workers lift large, heavy pieces of glass for installation. In cases where the glass is not secure inside the frame, glaziers may attach steel and aluminum sashes or frames to the building, and then secure the glass with clips, moldings, or other types of fasteners.
What is the workplace of a Glazier like?
As in many other construction trades, the work is physically demanding. Glaziers spend most of the day standing, bending, or stretching, and workers often have to lift and maneuver heavy, cumbersome materials, such as large glass plates. Most glaziers work full time.
Glaziers experience one of the highest rates of injuries and illnesses. Typical injuries include cuts from tools and glass, and falls from ladders and scaffolding.
Glaziers are also known as:
Journeyman Glazier Glass Installer Apprentice Glazier Combo Glazier Certified Glazier