What is a Golf Course Superintendent?
Golf course superintendents are concerned with the environmental health of a golf course, the sporting needs of the players, and the financial sustainability of the golf club or country club for which they work.
Reporting to the general manager, a golf course superintendent needs to be a proven leader in the industry and have a successful track record in the areas of turf grass management, human resources, and financial management.
What does a Golf Course Superintendent do?
A golf course superintendent is responsible for the landscaping and maintenance of the course grounds, which includes supervising all the workers and the operations needed to make this happen. This is exclusive to the course itself, and does not include restaurants, clubhouses, or businesses on the property.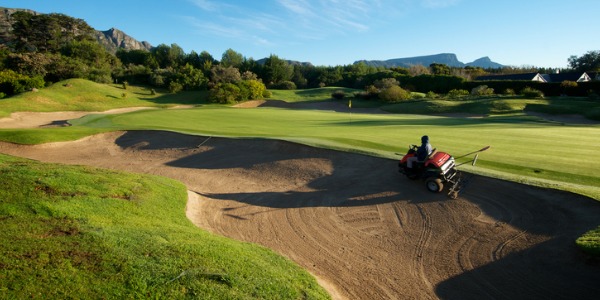 Golf courses have very specific standards to be maintained that are set up by the management or owner of the course — the golf course superintendent makes sure those standards are met.
Taking care of a golf course takes a substantial amount of work, especially a world class course that gets a great deal of traffic. It may take dozens of employees to manage a single course. The superintendent's responsibilities are to manage the employees by scheduling shifts and assigning jobs, such as mowing, fertilizing, and watering. Depending on the golf course, superintendents may also be responsible for the hiring of staff as well.
In some cases, superintendents are in charge of more than one course, such as within a resort facility. In that case, they typically have an assistant superintendent working with them.
Here are some responsibilities of a golf course superintendent:
Oversee the care and maintenance of the turf, ornamental plants, shrubs, trees, and wetlands on the grounds
Direct and assist the staff on the planting, replacing, spraying, and pruning of trees and shrubs
Provide a detailed plan for the property that provides the facility with a fresh, eye-catching, interesting, and pleasant atmosphere
Manage irrigation systems and provide monthly reports on retaining ponds, wells, and other water source usage
Recruit, supervise, and retain maintenance staff
Provide technical, operational, and safety training for employees 
Oversee employees in safe operation and maintenance of mechanical and power equipment
Develop annual budgets and plans for maintenance of the course
Order parts, supplies, and equipment as needed
Schedule maintenance practices around member play to minimize disruption to members
Coordinate snow removal and winter maintenance activities when necessary
What is the workplace of a Golf Course Superintendent like?
Golf course superintendents need to address issues or potential problems on the course and remedy them as quickly as possible.
Long work hours are required, especially during peak seasons. This often includes working weekends. Days often start at 5am before the sun comes up, and usually finish by late afternoon/early evening.