What is a Hand Therapist?
A hand therapist is an occupational therapist or physical therapist who evaluates and treats injuries and conditions of the upper extremities (shoulder, arm, elbow, forearm, wrist and hand). The recovery of hand and upper extremity injuries can be very complex and challenging; hand therapists use a number of therapeutic interventions to help return a person to their best level of function.
Through advanced continuing education, clinical experience and extensive knowledge in anatomy, physiology and kinesiology, hand therapists are experts in the treatment of upper extremity conditions resulting from disease, trauma, congenital or acquired deformity.
What does a Hand Therapist do?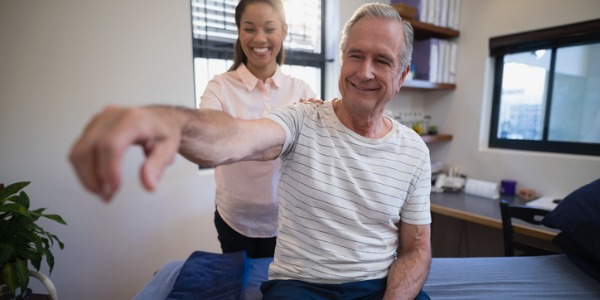 Hand therapists work with individuals that have a variety of upper extremity disorders, such as injured tendons or nerves, fractures, scars, burns, or amputations of the finger, hands or arms. They also treat clients who are disabled from the effects of repetitive motion disorders - for example, tennis elbow and carpal tunnel syndrome. They will also treat chronic problems such as arthritis or neurological conditions.
Surgeons that operate on the upper extremities have very specific procedures for their patients that need to be followed and/or adjusted. Hand therapists have specialized training specifically on the upper extremities and are skilled and capable in following a surgeons' protocols to treat pain and injuries. A hand therapist uses a variety of techniques and tools, such as management of pain and swelling, activity and exercise programs, custom orthotic fabrication, and wound and scar care.
Hand therapists can help individuals to eventually function normally in their daily lives by bridging the gap from medical management to a successful recovery. From simple finger injuries to complex replanted extremities, they can provide non-operative options, preventative care, and post-surgical rehabilitation.
A hand therapist provides:
Accurate assessments
Immediate care
Effective treatment to reduce treatment time
Elimination of the need for multiple medical providers
Faster recovery results
Faster return to work and productive lifestyle
Decreased medical costs
Comprehensive care for patients
The following list includes some of the most common conditions hand therapists treat:
Carpal tunnel syndrome
Ganglion cyst
Trigger finger
Sprains, fractures, and dislocations
Hand pain
Tennis Elbow
Golfer's Elbow
Trauma to the hand
DeQuervain's Tenosynovitis
Dupuytren's Contracture
Burns
Amputations
Cubital tunnel syndrome
Post stroke weakness
Wound care
What is the workplace of a Hand Therapist like?
Hand therapists can work in hospitals, schools, rehabilitation centres, assisted living facilities, home health care businesses, industrial medicine facilities, privately owned therapy clinics, sports medicine facilities, and in academia. A hand therapist can also be a consultant for various corporations and workplaces, training employees in healthy work habits.
Hand Therapists are also known as:
Hand Therapy Specialist