What is a Highway Maintenance Worker?
A highway maintenance worker is part of a team that makes sure our highways and roads across the country stay in safe and working order.
Highway maintenance workers have a variety of responsibilities on these roadways including regular maintenance, snow and ice removal, creating dividing lines, and fixing any defects in the road (such as potholes caused by wear and tear and extreme weather).
Get online training through our partner:
What does a Highway Maintenance Worker do?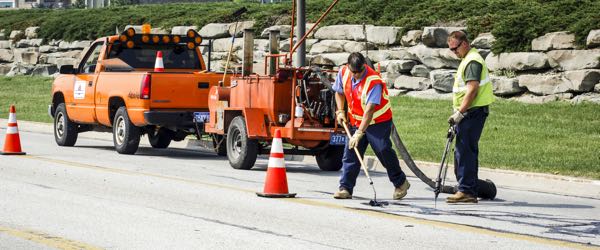 A highway maintenance worker generally spends their days on highway sites that are in need of repair. They travel to the problem area, assess the situation, and implement the proper solution. In terms of regular highway maintenance, they perform such duties as paving uneven or damaged highways, painting traffic lines and dividers, and even expanding upon the current highway infrastructure.
A highway maintenance worker is also called out during times of extreme weather. In northern climates they will salt the roads in preparation for snowstorms, and then operate plows to clear the roads during and after the storms. They also remove any trees, fallen rocks, or other debris that may block the highway and inhibit traffic.
A highway maintenance worker will need to acquire experience and the necessary certifications in order to operate certain heavy machinery such as single and two-man plows, salt trucks, blowers, mowers, forklifts, and cherry pickers, among others.
Highway maintenance workers will also be expected to learn how to care for these machines, including changing the oil, mounting and dismounting the plows, cleaning filters, and other regular maintenance activities. Most highway workers will need to have a valid class C and class D driver's license as well as be in good standing with the Department of Motor Vehicles.
A highway maintenance worker has a physically demanding job and will work in every kind of weather conceivable; most of their work time will be spent outdoors. They must be able to spend a great deal of time on their feet and lift heavy objects. They must also be able and willing to work along stretches of road where cars will still be traveling at high rates of speed and will often perform the action of directing traffic during construction or other incidents.
What is the workplace of a Highway Maintenance Worker like?
A highway maintenance worker will usually operate as a member of a team, and older and more experienced employees will train the new employees on the more specific aspects of the job.
Highway maintenance workers will usually be outside on the highway itself and therefore must be in good health and prepared to work irregular hours. Maintenance employees will have to work in rain, sleet, snow, heavy winds, and heat waves, as they must correct any problems to the highways that extreme weather may create. They sometimes have to work overnight in order to keep the flow of traffic free for morning and afternoon commuters and rush hour traffic.
Highway Maintenance Workers are also known as:
Highway Maintainer Highway Maintenance Technician Highway Maintenance Crew Worker Highway Worker