What is a Heavy Equipment Operator?
Heavy equipment operators are the drivers and handlers of various pieces of heavy equipment which are used in the building and maintenance of roads, bridges, airports, gas and oil pipelines, tunnels, buildings, and other structures, as well as in surface mining and quarrying and material handling work.
These are the types of machinery classified as heavy equipment:
Backhoe – often referred to as the Swiss army knife of heavy equipment, the backhoe is great for excavation and digging projects of all sizes; one end of the backhoe digs up dirt, the other end moves it around
Wheel loader – also known as a mobile shovel, this four-wheeled machine is used to move or load material such as soil, rock, sand, demolition debris, etc. into trucks or to transport it around a job site
Scraper – a machine used for moving earth over short distances of up to about two miles over relatively smooth areas
Excavator – often referred to as a digger, an excavator is used for all kinds of jobs like material handling, landscaping, demolition, mining projects, river dredging, and construction
Bulldozer – a powerful demolition and pushing machine used mainly for earth moving, including digging, excavation, and leveling dirt
Grader – also known as a motor grader or road grader, a grader is a heavy-duty machine with a long blade that is used to create a flat, smooth surface during grading
Rock truck – also known as an articulated dump truck (ADT), articulating hauler, or dump hauler, a rock truck is massive off-highway truck used to transport hundreds of tons of material at construction and mine sites; even empty rock trucks are too heavy for public roads
Skid steer – also called a bobcat, a skid steer is a smaller piece of equipment with a metal structure and two lifting arms on each side; its compact size makes it extremely maneuverable and ideal for smaller work projects and locations
All-terrain forklift – also known as a rough-terrain forklift, an all-terrain forklift is designed to work on construction sites and other areas without improved surfaces, such as soft ground, muddy ground, hills, ditches, etc.
Hydraulic truck crane – a mobile crane that relies on an internal hydraulic system to hoist and lift heavy loads
What does a Heavy Equipment Operator do?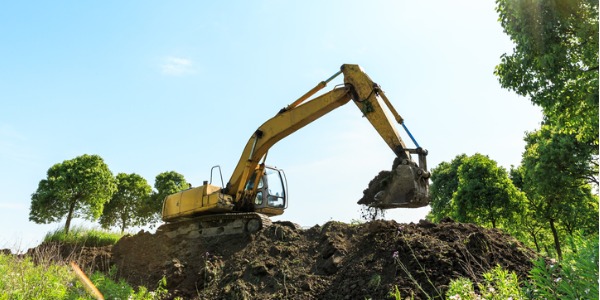 The exact duties of heavy equipment operators vary depending on the specific equipment they are trained to operate. Some operators work with several types of equipment while others choose to specialize. Common responsibilities, however, include:
Operate heavy equipment in compliance with the company's operating safety policies and procedures
Conduct proactive routine maintenance and perform minor repairs to avoid issues
Provide recommendations for maintaining and improving environmental performance
Load and unload equipment onto and off of vehicles and trailers, and properly secure it using chains and ratchet binders
Ensure company equipment, material, and the work site are maintained, kept clean, and stored in a safe manner; collect and dispose of scrap, excess materials, and refuse
Observe distribution of paving material to adjust machine settings or material flow, and indicate low spots for workers to add material
Complete required paperwork, reporting, and other documentation
Maneuver motorized heavy equipment to ensure the accurate removal and placement of materials
Load and offload rocks, debris, and other materials from heavy equipment
Communicate with coworkers to clarify project specifications, as needed
Report injuries and other accidents to the line manager
Advise the line manager of requisite upgrades, repairs, and replacements
Offer suggestions to refine workflow and boost efficiency
Conduct pre-operational checks on equipment and clean, lubricate, and refill equipment
What is the workplace of a Heavy Equipment Operator like?
The standard work week for heavy equipment operators is 40 hours (eight hours a day, 5 days a week). On projects that take place at all hours of the day or night, operators may have schedules that include late nights or weekends. As with many careers in the construction industry, there are peak periods that often necessitate working overtime. This, however, varies depending on the construction sector, the region of employment, and the employer.
Heavy equipment operators work outdoors in all types of weather. They may also be required to work in enclosed spaces and at heights of up to 80 feet. The job comes with a relatively high risk of injuries due to slips and falls. Regardless of their employer, heavy equipment operators are trained to work safely and take special precautions to protect against injury. Many employers require that job candidates pass a drug test.
The primary employers of heavy equipment operators are civil engineering construction firms, specialty trade contractors (logging, surface mining, pipeline construction, cargo-handling), heavy equipment contractors, and the public works departments of local governments. Most jobs in the field involve working closely with other equipment operators and ground crews.
Heavy Equipment Operators are also known as:
Surface Mining Equipment Operator Loader Operator Grader Operator Excavator Operator Bulldozer Operator Backhoe Operator