What is a Drywall Installer?
A drywall installer is trained to install drywall in order to prepare various surfaces for painting and finishing.
Drywall, made with two paperboards sandwiching gypsum inside, is used to create walls, ceilings, arches, and other architectural features inside homes and buildings.
Get online training through our partner:
What does a Drywall Installer do?
Drywalling involves both taping and hanging wallboard. Drywall installers attach drywall to walls and ceilings inside buildings, and then tapers prepare the drywall for painting by using tape and multiple coats of spackle to cover cracks, indentations, and any remaining imperfections.
Many drywall installers are proficient in both installing and taping. They will sometimes use a mechanical applicator, which is a tool that spreads sealing compound on the wall joint while dispensing and setting tape at the same time.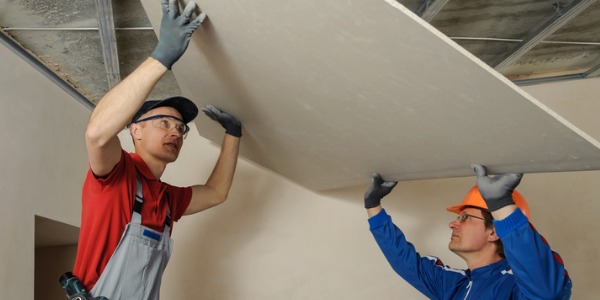 Drywall installers that attach drywall to walls and ceilings typically do the following:
Measure according to blueprints or drawings
Nail or screw supports
Put tiles or sheets of shock-absorbing materials on ceilings
Keep the tile in place with cement adhesive, nails, or screws
Review design plans to minimize the number of cuts and waste of wallboard
Measure the location of electrical outlets, plumbing, windows, and vents
Cut drywall to the right size, using utility knives and power saws
Fasten drywall panels to interior wall studs, using nails or screws
Trim and smooth rough edges so boards join evenly
Some drywall installers also do taping, which involves the following:
Preparing wall surface (wallboard) by patching nail holes
Applying tape and using sealing compound to cover joints between wallboards
Applying additional coats of sealing compound to create an even surface
Sanding all joints and holes to a smooth, seamless finish
What is the workplace of a Drywall Installer like?
Drywall installers and tapers work indoors. As in many other construction trades, the work is physically demanding. Workers spend most of the day standing, bending, or stretching, and they often must lift and maneuver heavy, oversized wallboards. To work on ceilings, drywall installers may have to stand on stilts, ladders, or scaffolds.
Drywall Installers are also known as:
Drywall and Ceiling Tile Installer Drywall Finisher Drywall Hanger Ceiling Tile Installer Drywaller