What is a Welder?
A welder specializes in joining metal parts together using various welding techniques. Welding is a process that involves melting the edges of two or more metal pieces and fusing them together to form a strong and durable bond. Welders work with a wide range of metals, including steel, aluminum, and stainless steel, and they use different methods such as arc welding, gas welding, and resistance welding, among others.
The work of a welder requires precision, technical knowledge, and the ability to interpret and understand blueprints, drawings, and welding symbols. Welders use specialized tools and equipment, including welding machines, torches, electrodes, filler metals, and protective gear such as helmets and gloves. Welders are employed in various industries, including construction, manufacturing, automotive, aerospace, shipbuilding, and oil and gas.
What does a Welder do?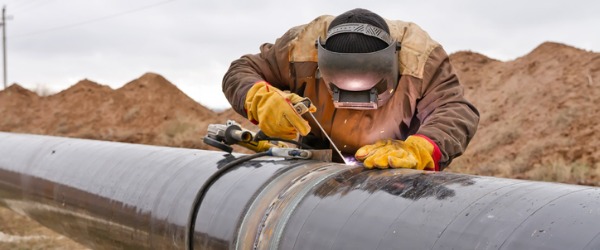 Welders play an important role in fabricating and repairing metal structures, components, and equipment. Skilled welders are in high demand, as their expertise is required to ensure the integrity and quality of welded joints, contributing to the construction and production of a wide range of products and structures.
Duties and Responsibilities
The responsibilities and details of a welder's job can vary depending on the specific industry and employer, but here are some general details and responsibilities of welders:
Welding Techniques: Welders are proficient in different welding techniques, including shielded metal arc welding (SMAW), gas metal arc welding (GMAW), flux-cored arc welding (FCAW), gas tungsten arc welding (GTAW), and submerged arc welding (SAW). They select the appropriate technique based on the materials being welded, joint design, and project requirements.
Reading Blueprints and Specifications: Welders interpret technical drawings, blueprints, and specifications to understand the welding requirements of a project. They identify welding symbols, dimensions, and tolerances to ensure accurate and precise welds.
Material Preparation: Before welding, welders prepare the materials to be joined. This involves cleaning, cutting, grinding, and shaping metal parts to the specified dimensions using tools such as grinders, shears, and plasma cutters. They also remove rust, paint, or other contaminants that can affect the quality of the weld.
Welding Equipment Setup: Welders are responsible for setting up and maintaining welding equipment and tools. This includes selecting the appropriate welding machine, electrodes, wires, shielding gases, and other consumables required for the specific welding process. They ensure the equipment is calibrated, in good working condition, and follows safety standards.
Welding Execution: Welders perform the actual welding process by applying heat to the metal parts to be joined and adding filler material, if necessary. They control the welding parameters, such as voltage, amperage, and travel speed, to achieve optimal weld quality and penetration. Welders must maintain accuracy, precision, and consistency while welding.
Quality Control: Welders inspect the completed welds to ensure they meet the required quality standards. They check for defects such as cracks, porosity, incomplete fusion, or excessive spatter. Welders may use visual inspection techniques, non-destructive testing (NDT) methods like ultrasonic testing or X-ray, and destructive testing methods when required.
Safety and Compliance: Welders prioritize safety throughout the welding process. They follow safety protocols, wear appropriate personal protective equipment (PPE) such as helmets, gloves, and safety glasses, and ensure proper ventilation in confined spaces. They are knowledgeable about safety regulations and codes related to welding operations.
Maintenance and Repair: Welders may be responsible for the maintenance and repair of welding equipment and tools. They troubleshoot equipment issues, perform routine maintenance tasks, and replace or repair faulty parts. Proper maintenance ensures the reliability and longevity of the welding equipment.
Collaboration and Communication: Welders often work as part of a team, collaborating with supervisors, engineers, and other tradespeople. They may need to communicate effectively to understand project requirements, report progress, and coordinate tasks. Good communication skills help ensure a smooth workflow and efficient completion of projects.
Continuous Learning: Welders stay updated with the latest welding techniques, materials, equipment, and safety practices. They may attend training programs, workshops, or pursue certifications to enhance their skills and knowledge. Continuous learning is vital in the welding profession to adapt to evolving industry standards and advancements.
Types of Welders
There are several types of welders, each specializing in specific welding techniques and industries. Here are some common types of welders and a brief description of what they do:
There are various career paths and specializations within the field of welding. Here are some common types of welder careers and a brief description of what they involve:
Structural Welder: Structural welders work primarily in construction and are responsible for joining metal components used in the construction of buildings, bridges, and infrastructure projects. They read blueprints, measure and cut materials, and perform welding operations to create strong and durable structural connections.
Pipe Welder: Pipe welders specialize in welding pipes used in industries such as oil and gas, power generation, and plumbing. They are skilled in welding different types of pipes, including carbon steel, stainless steel, and non-ferrous metals. Pipe welders often work with complex joint designs and must ensure leak-free and high-integrity welds.
Underwater Welder: Underwater welders are skilled professionals who perform welding tasks in underwater environments. They typically use dry hyperbaric welding or wet welding techniques. Underwater welders may work in offshore oil and gas industry, marine construction, and underwater repairs of structures such as bridges and dams. They require specialized training and equipment to work safely in underwater conditions.
Pressure Vessel Welder: Pressure vessel welders are involved in the fabrication and assembly of pressure vessels, which are used to store and transport fluids or gases under high pressure. These vessels are used in industries like chemical processing, oil refineries, and power plants. Pressure vessel welders follow strict codes and standards to ensure the safety and reliability of these critical components.
Aerospace Welder: Aerospace welders work in the aerospace industry, where they weld components used in aircraft manufacturing and maintenance. They must have a high level of precision and expertise to meet the stringent quality requirements and safety standards of the aerospace sector. Aerospace welders often work with specialized materials like aluminum and titanium alloys.
Automotive Welder: Automotive welders are involved in the production or repair of vehicles. They weld components such as chassis frames, body panels, exhaust systems, and other automotive parts. Automotive welders may work in manufacturing plants, auto body shops, or repair centers, ensuring the structural integrity and safety of vehicles.
Boilermaker: Boilermakers often perform welding as part of their job. While welding is a significant aspect of a boilermaker's work, their role extends beyond welding alone. Boilermakers primarily focus on the fabrication, assembly, installation, and maintenance of boilers, tanks, pressure vessels, and other large metal structures.
Robotic Welding Technician: Robotic welding technicians operate and maintain robotic welding systems used in manufacturing processes. They program the robots, set up welding parameters, and monitor the automated welding operations. Robotic welding technicians troubleshoot any issues that arise during production and ensure the robots operate efficiently and produce high-quality welds.
Welding Inspector: Welding inspectors play a crucial role in quality control and assurance. They inspect welded joints and ensure they meet specified codes, standards, and project requirements. Welding inspectors use various techniques, including visual inspection, non-destructive testing (NDT), and destructive testing to assess the quality and integrity of welds.
Welding Educator/Trainer: Welding educators or trainers work in educational institutions, vocational schools, or training centers. They teach aspiring welders the necessary skills, techniques, and safety practices required for a career in welding. Welding educators may develop curriculum, deliver lectures, provide hands-on training, and assess students' progress.
What is the workplace of a Welder like?
The workplace of a welder can vary depending on the industry and specific job requirements. Welders can be found in a range of environments, including manufacturing facilities, construction sites, repair and maintenance shops, and specialized welding workshops.
In manufacturing facilities, welders typically work in dedicated areas equipped with welding stations or booths. These spaces are designed to ensure proper ventilation, safety, and access to welding equipment and tools. The environment is often indoors, with a controlled atmosphere and organized workflow. Welders may work as part of a larger production team, collaborating with other professionals to complete projects.
On construction sites, welders are involved in joining metal components to assemble structures, bridges, and infrastructure projects. This means their workplace can be outdoors and subject to various weather conditions. They may work at heights, in confined spaces, or on elevated platforms. Welders in construction need to adapt to changing work environments and adhere to strict safety protocols to ensure their well-being and the quality of their work.
Repair and maintenance shops employ welders who handle tasks such as repairing equipment, machinery, or vehicles. These shops are equipped with welding equipment, tools, and other resources required for welding operations. Welders in these settings often work on a variety of projects, making repairs or modifications as needed.
Specialized welding workshops may be found in industries such as aerospace, automotive, or shipbuilding. These workshops are equipped with advanced welding equipment and technologies specific to the industry. Welders in these environments may work on intricate components, follow precise specifications, and ensure the highest quality standards.
Regardless of the specific workplace, welders are typically surrounded by welding equipment, tools, and safety gear. They may work with different metals, gases, and welding techniques based on the project requirements. Safety is paramount in their work, and welders are expected to adhere to safety guidelines, wear appropriate personal protective equipment, and follow proper procedures to prevent accidents and ensure the quality of their welds.
Frequently Asked Questions
Construction Related Careers and Degrees
Pros and Cons of Being a Welder

Becoming a welder can offer a rewarding career with opportunities in various industries. However, like any profession, welding has its pros and cons. Understanding these aspects can help individuals make informed decisions about pursuing a career in welding.

Pros:

High Demand: Skilled welders are in high demand across industries, making it easier to find employment and potentially enjoy job security.
Career Opportunities: Welding opens doors to a wide range of career paths, including construction, manufacturing, automotive, aerospace, and shipbuilding, among others.
Good Pay: Welders can earn competitive salaries, especially as they gain experience and expertise in specialized techniques or industries.
Hands-On Work: Welding is a hands-on profession that offers a sense of accomplishment as welders create tangible and lasting structures.
Creativity and Problem-Solving: Welders often face unique challenges that require creativity and problem-solving skills to overcome, making the work engaging and stimulating.
Career Advancement: With additional training, certifications, and experience, welders can progress to supervisory or inspector roles, or even start their own welding businesses.

Cons:

Physical Demands: Welding can be physically demanding, involving prolonged periods of standing, bending, and working in uncomfortable positions. It may also expose welders to hazardous conditions, such as high temperatures, fumes, or intense light.
Safety Hazards: Welders must adhere to strict safety protocols and wear appropriate protective gear to minimize the risks associated with welding, including burns, eye injuries, or exposure to toxic substances.
Work Environment: Depending on the industry and project, welders may work outdoors, in confined spaces, or at heights, facing varying weather conditions and challenging environments.
Work Schedule: Some welding jobs may require irregular work hours, including evening, night shifts, or overtime to meet project deadlines.
Skill Development: While entry-level welding skills can be acquired relatively quickly, becoming a highly skilled and specialized welder takes time, practice, and continuous learning.
Work-Life Balance: Certain welding jobs, such as those involving extensive travel or long hours, may affect work-life balance and time spent with family and loved ones.